Operation First Strike:
King Williams calls for is war minister Sir George Armstrong to meet him at the royal palace Buckingham immediately.
- Sir Armstrong, this morning when I woke up, I saw the map of Great Britain and something was not right there.
- What is wrong with the map Your Majesty?
- This is wrong! (he points his finger on Ireland), the irish defied us for too long because of the Northern Ireland, is time to reunite this country!
- Reunite? How, Your Majesty?
- Reunite them under our flag ofcourse. I will give them a ultimatum to surrender to us, and if they don't accept it, will make them surrender by force.
- Your Majesty wishes to invade Ireland? That will hurt our relation with the United Nation.
- I don't care about the United Nations! Send our troops to Northern Ireland and prepare a invasion plan immediately!
- As you wish, Your Majesty.
25 Feb 2024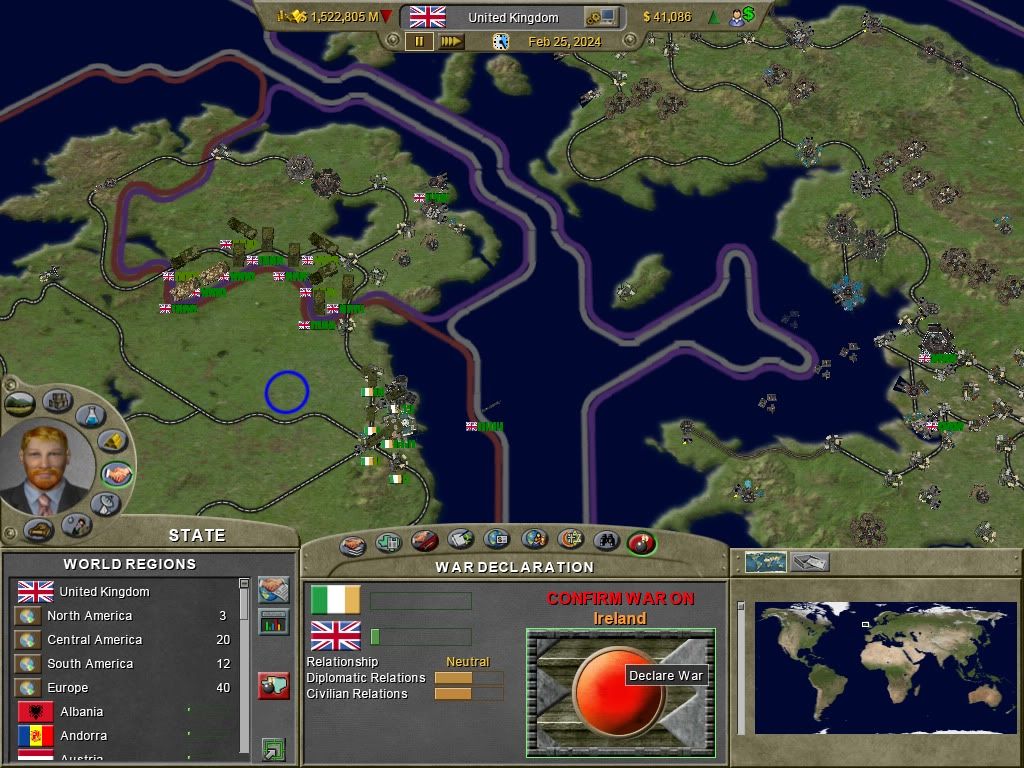 The british forces massed at the border with Ireland and wait the order to attack. The units present there are:
-2x Armoured Brigades (14x Challanger III-U mbt battalions)
-5x Infantry Brigades (35x FRES battalions)
-4x Supply Brigades (28x Supply battalions)
-3x Fighter Wings (21x Eurofighter squadrons)
-1x Submarine Wolfpack (7x Astute class attack subs)
Battle Plan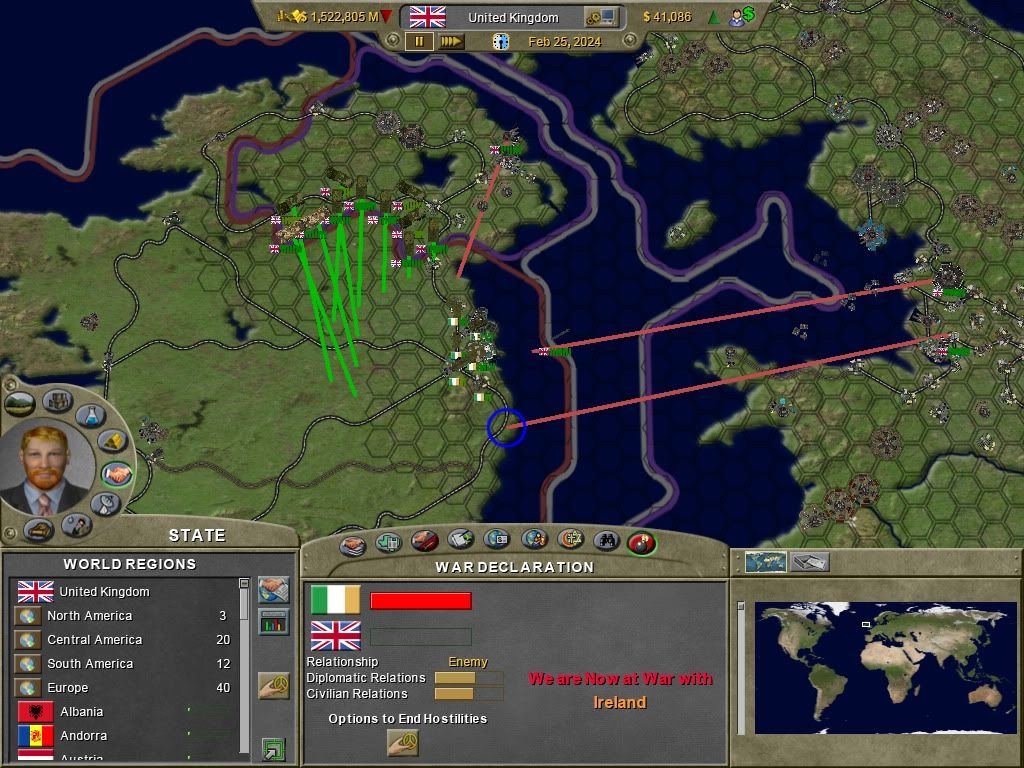 Our ground forces will perform a circling maneuver around the capitol (Dublin) while the air force will launch attacks against the irish army surrounding Dublin with AS-29 Foelie anti-armor missiles and the navy will have the role of destroing any ship that exits the sea pier using ASX-2 Snoeken AShM missiles.
25 Feb 2024
After Ireland refused the ultimatim given by King William, UK declares war on Ireland and the invasion begins at the same moment.
26 Feb 2024
The Phase 1 of the invasion is succesfull, the air force destroyed all combat units around the capitol, all that remained where the garrisons and 2 engineer battalions that wont pose to much of a threat.
The Phase 2 is ready to be launched, the main targets are 4 cities surrouning Dublin and the military base. After those objectives are taken, the capitol will be complitely surrounded by our ground forces. The air force will provide air support in the area.
27 Feb 2024
Two cities and the military base are secured, the other two will not last for too long, also 2 frigates are sunk in the port of Dublin by missiles launched from our submarines. Two Infantry Brigades begin the assault on the capitol.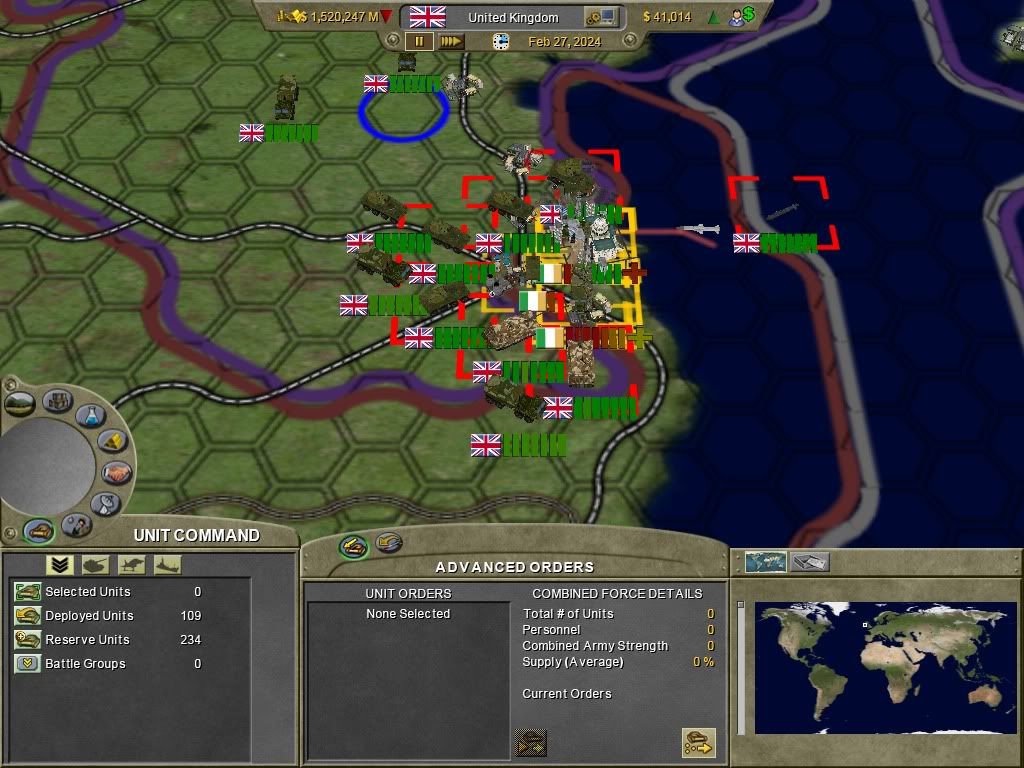 6 hours laters all objectives are secured and the capitol falls to our invincible invasion force.
The capitol moves south to Cork, an assault plan is already ordered.
28 Feb 2024
3 Infantry Brigades are ordered to launch a rapid attack on Cork while 2 Armored Brigades move south to attack the city of Waterford.
Ireland surrenders before our forces reach their new capitol.
Casualties
-The British Armed Forces reported 344 men dead or wounded, 0 units lost
-51 irish units where destroyed in the attack.
Next day Sir Armstrong, the minister of war, went to meet the King
- Hello, Your Majesty.
- Sir Armstrong, I congratulate you for your brilliant invasion plan!
- Thank you, Your Majesty.
- Today after I saw that Ireland surrendered to our Great Kingdom, an extraordinary idea came to me.
- What idea?
- To rebuild our Great British Empire that fallen a long time ago, and become a worl Superpower again.
- That will be a long road, Your Majesty.
- I don't care how long will take to rebuild our Empire but we will succeed at any cost!
- Yes, Yor Majesty, we will succeed.
- Right! Make the preparations for our expansion. You are dismissed.