Pyongyang (KCNA) -- The National Denfense Commission has announced the beginning of the end for the imperialist gangster-states of America. Our mighty offensive into the heart of the USA is under way. Several key outposts and strongholds have already been taken.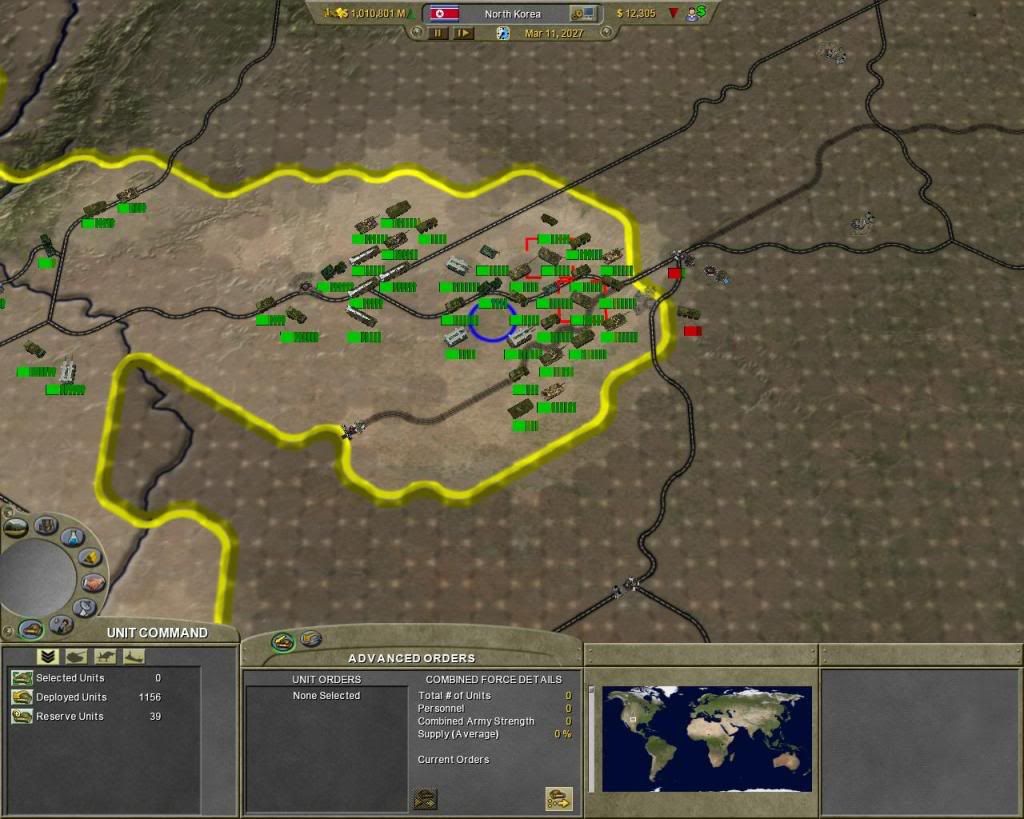 The cowardly enemy has concentrated his attacks on our spearhead, including a mass air strike with the remains of his feeble air force. The brave and courageous troops of the DPRK have proved unstoppable, however, and now stand just west of Oklahoma City.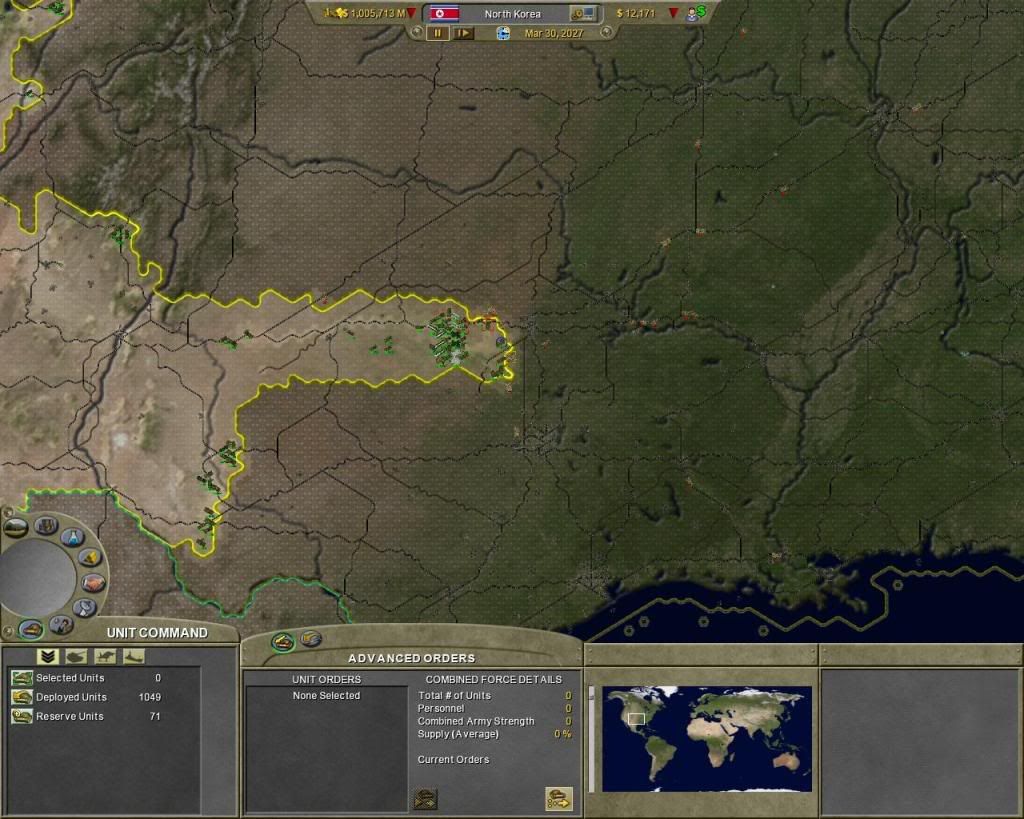 In light of the enormous number of American casualties incurred outside Fort Sill, our Dear Leader has proposed a temporary cease-fire to the USA in the name of humanity, so that both sides may take care of the wounded and prevent a humanitarian tragedy. Our Dear Leader has promised the USA that the DPRK will also take care of American wounded, wisely taking note of the American financial crisis.
--
While my spearhead was pushing into Oklahoma, the US AI decided to organise a congregation of my favourite mortar in Annapolis. They are clearly all headed towards Annapolis, not Washington D.C. as I first assumed. I have no idea what they are doing there. The AI appears to have given the "all units of this type" order, because they are coming from all over the country.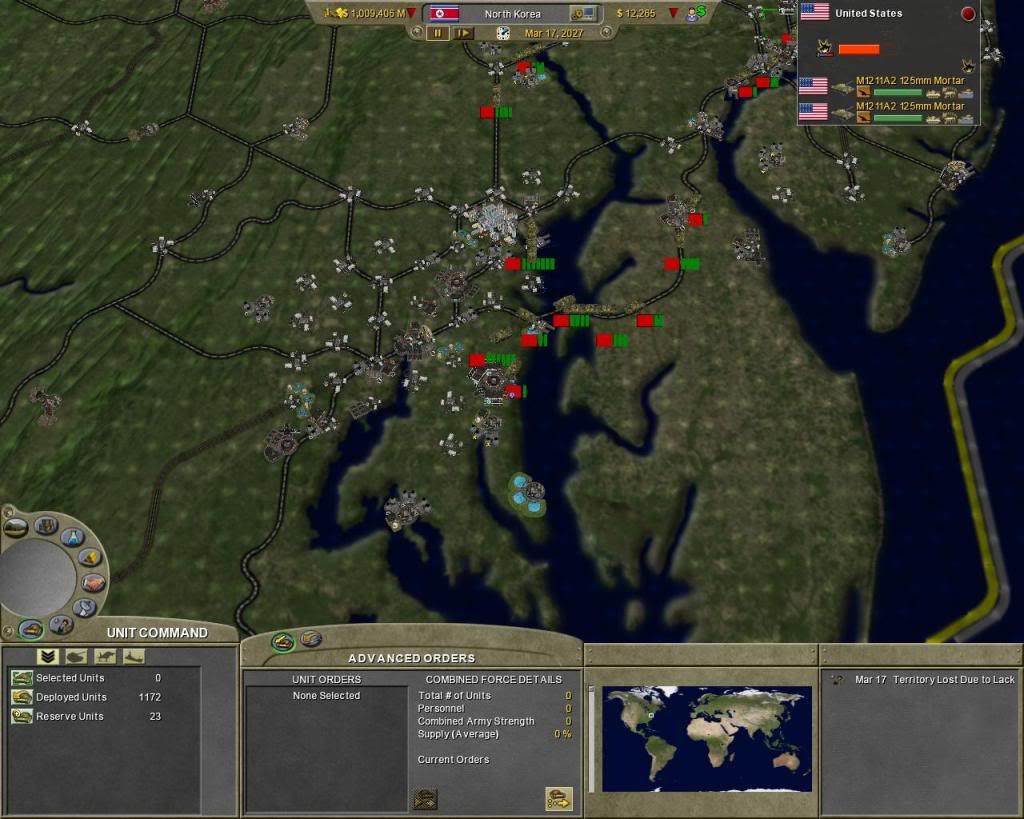 What I don't have a screenshot of is the situation there now that they are all assembled - they are all in continuous movement because they are still trying to get into Annapolis, even though there must be thirty of them on the city hex already. Then they get pushed out again and try to move back in.
I still don't know what to make of the whole thing. At first, I assumed they were going to defend Washington D.C., but then why move them to Annapolis and not to D.C. direct? I thought I saw a few units disappearing when they reached Annapolis, as if they might have loaded into a ship. But where would those ships be going? Alaska? California? I'm pretty sure they won't try to attack Japan or Korea. Anyway, it's interesting.
By the way, the cease-fire has much to do with my spearhead being exhausted as well. I still do not understand why the AI sometimes makes no effort at all to defend an objective, and then suddenly fights like a lunatic. The battle for Fort Sill was a pretty incremental process - I'll sketch out how it went. First my troops took Altus, with very little resistance except the usual three garrisons plus one infantry unit. I was being bombarded with those angels of death again, so I retaliated with my four MAZ-791 stacks and sprayed Fort Sill liberally with No Dong missiles. During this phase (while my spearhead was still several dozens of kilometers from Fort Sill), the enemy moved his artillery from Fort Sill closer to my troops to engage them.
I advanced another few hexes, destroying the enemy artillery, sighting an M270 south of Fort Sill, which was destroyed by No Dong missiles immediately, and then finally came into direct contact with the enemy forces at Fort Sill and Lawton. At first it seemed quite simple. I would have two or three infantry units heavily damaged, but I would win the fight.
And then, gradually, the enemy began sending in reinforcements. Recon units, infantry and tanks, and then - also incrementally - the air force. I had - what? six? - stacks of SA-12bs, two stacks of MIM-14s (captured in Japan), but the enemy air force was simply overwhelming. There were so many aircraft in the sky that my ground troops depleted their ammunition firing at them, leaving them vulnerable to the enemy ground forces. Eventually, I had to send in my reserves, and then my 2nd tier of reserves, and then the flank guards, and then finally Fort Sill (after changing hands about seven times) was finally secured. The enemy ordered even more tanks into battle, including some in my now-weak flanks, and that was when I decided I needed a short break on the American Front.
I am not yet sure how I will proceed. I need to rebuild my spearhead forces, and I lost a lot of irreplacable (for the time being) units from Japan as well. The good news is that the American treasury is now deep into the red and certain to stay there. The number of US land fabrication facilities has also dropped for the first time, back to 86 (thanks to my capturing five of them). I must replace a large number of artillery units and also desperately need more modern tanks and infantry units on the front lines.
I will go on a shopping tour through Russia, China and Pakistan later to see what possibilities they give me at tech level 97. I will reach tech level 98 before the end of the ceasefire (I think!), maybe there are some options there as well.