This is not a normal AAR.It will consist of movies showing how to use air units without having them get shredded (or even measureably hurt).
The plan is to have each post i make here contain a movie and a description of whats being done.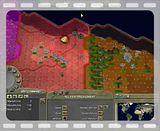 In this movie, you can see f-14Ds(the interceptor version of F-14) doing none stop bombing of enemy units holding up in a town hex.
The F-14s are set on air patrol in a pattern that lets them fly by the target hex, without entering it.
As they do so, they attack when in range.
As the movie shows, they come under no return fire.