I do have a github but it is an art repository only and chances are it will not become anything else.
link
I did originally consider doing more including adding designs and adjusting some of the odd stat choices BG have made. In the end I deciding to not spend the likely hundreds of hours a proper rebalance would take as there is a lot of stats that seems odd at best.
I mean just consider these tanks ground defence.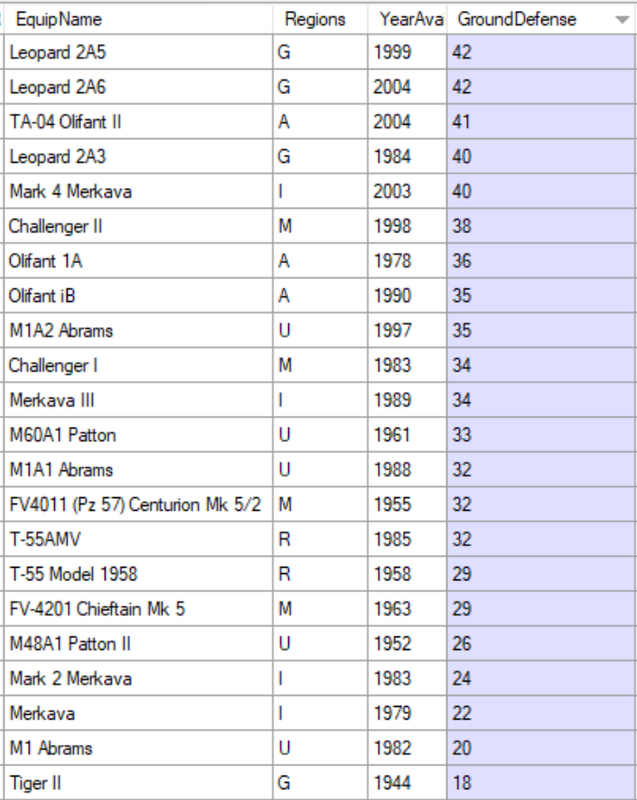 Where do I even start commenting on this?! This is wrong on so many levels it is both sad and hilarious!
The best part (or worst if you will) is I could just as easily make an example with aircraft air attack where say a 1950's F9F-6 Panther basically hits as hard a F-35A Lightning II or sub attack which is just in general a complete mess.
I guess I could simply do a picnum adjustment but I suspect the majority of people that download these have their own modded install anyway. Also I know I would have a hard time editing the unit database and not try and adjust stats like those above.
sparky282

wrote:

↑

Nov 05 2020

Sorry working now somehow I missed those 2 picnum off the list at the bottom
No worries it worked out in the end.
Also I am hoping to have the next set of models ready soon but so far I have kinda gotten derailed by a Type 627 November class SSN