I am slowly getting some default textures done for the above aircraft so they would actually be usable. Blank red does not work very well I find.
Also speaking of red textures here is an untextured C-5 Galaxy. Yet another "left too long incomplete" model. I decided to check when the C-5 was brought up and it turns out I have an incomplete version.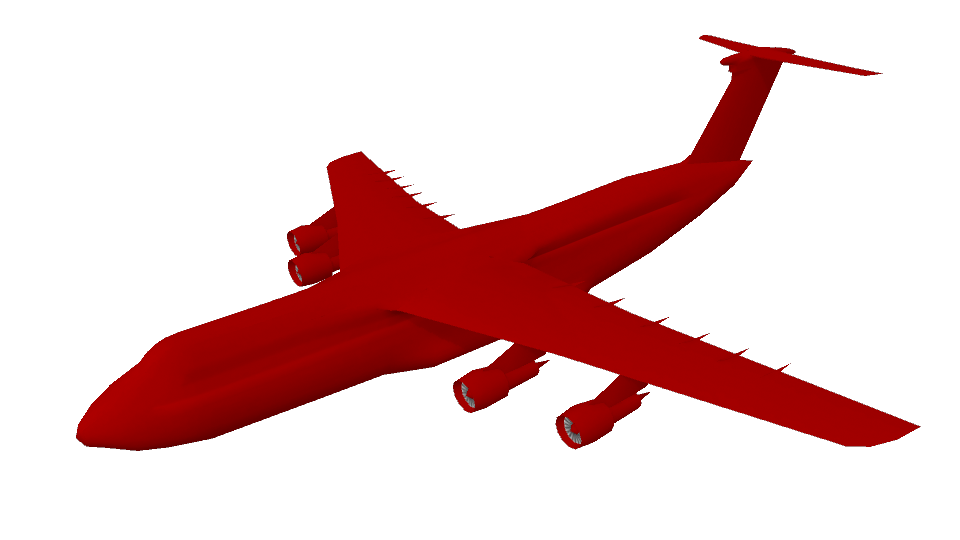 Here is the default version of the 747-400F. It is loosely based on an paintscheme used on some Atlas Air 747's. from what I can find they are the largest operator of cargo 747's. I mostly picked this as I did not want to make another flat grey aircraft (and with default aircraft I tend to try and avoid anything too distinctly related to any specific nation).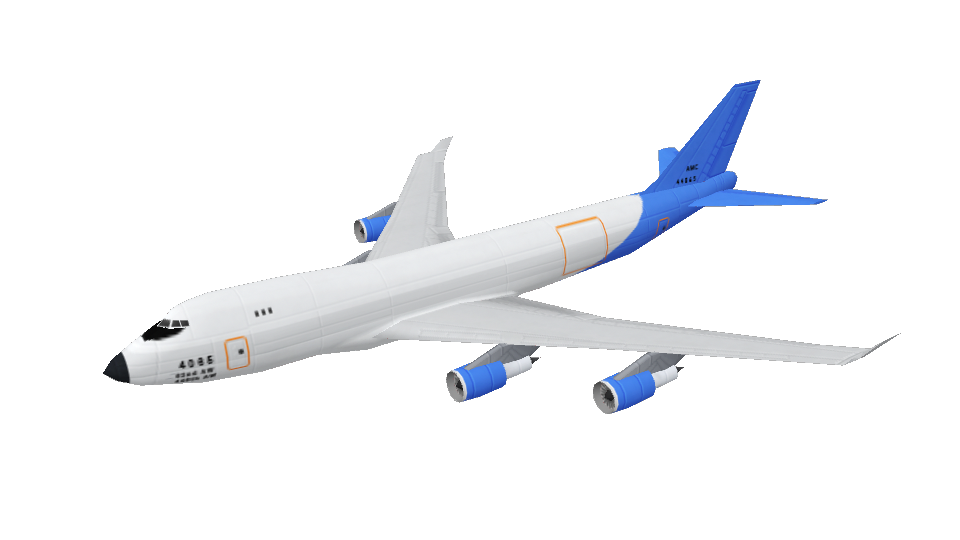 Not really sure I want to do anything else with the 747 model except maybe make a KC-747 aerial refueling aircraft. The US air force was considering it though it lost the McDonnell Douglas DC-10 based KC-10 Extender. The Imperial Iranian Air Force though bought a few and they are still in service with the Islamic Republic of Iran Air Force.
Making a passenger variant like the 400ER D or 8I feels pointless as they really are not military aircraft and all they can carry is ULD's and basic infantry. Basically in-game they would mostly just be supply flow.
I could make the YAL-1 sure but while the concept is interesting I do not find the model to be and the game really does not do the "flying ABM platform" as it most definitely is not a strategic bomber. The best representation would probably be an interceptor or recon with only high air attack and a ridiculous range of 600km. It is not designed to and would have a hard time engaging enemy aircraft. Chances are it would die to air to air missiles before it even knew the enemy was there as its target detection system was designed to detect ballistic missiles which are not exactly shielding their thermal emissions.
A more interesting question is regional variants of the 747-400F.
A lot of civilian companies operate it but having say ROK/South Korean aircraft painted say like this Korean Air Cargo aircraft just does not feel right.
Yes it could be a charter aircraft but really that is just something you would do in an emergency not in general. Also you would not build them just grab them out of the civilian sector.
Honestly the only ones I have found that does not feel too "civilian aircraft" other than naturally VC-25A would be something like these two (yes there are government operators like Saudi Arabia but that is such a wide group that doing too much with it is hard).
The first one is one of two 747-400 formerly operated by the Japanese government (hard to notice I know) and the second one while a civilian airliner is Air China back when that really meant "we are a state owned company operated by the PRC".
The basic colouring also reminds me of this Shaanxi Y-8 which for the record is what I based the PRC version of the An-12/Y-8 on.
That said except for the 5 star red flag it also resembles Russian Air Force Il76's but that is another story.