Description:
This mod was designed to fix many problems that my MP group encountered in the Cold War sandbox. It also includes some of
our most favorite ease of life wants. This mod was originally designed solely for multiplayer but but is now compatible in singleplayer
as-well. Many changes were based on historical and MP balancing decisions. Some things that we found to be incorrect were
things like how the soviets did not have long range rockets at start. The 10ks was a massed produced reversed engineered
V-1 rocket that was canned in the early 1950's. However it was still produced in the hundreds. As there are so many changes
you should really download the mod and read the README.txt.
There are 250+ custom events, and 750+ of edited events.
Website:
https://group.exxer.net/
Join our Discord:
https://discord.gg/bYvRMUP
Send a suggestion:
https://group.exxer.net/suggest
Scenarios:
Cold War Enhanced
: no units with new unit alterations.
Cold War Enhanced Units
: units with new unit alterations.
Cold War Enhanced Vanilla
: no units with vanilla units.
Cold War Enhanced Vanilla Units
: units with vanilla units.
Why are there scenarios with and without units?
This is done to simplify the game saves and help reduce file sizes on saves. Optimized for no units multiplayer starts.(Faster load).
Korean War:
-Whichever Korea wins wins, will have other Korea loyalty changed to it.
-Korea border set to 38th parallel and loyalties.
Indochina Wars:
-Whichever Vietnam wins wins, will have other Vietnam loyalty changed to it.
German Reunification War:
-Whichever Germany captures the other will have its loyalty changed to it.
-If Saarland still exist, it will be given to victor.
China now starts at war with Taiwan with the option to create a ceasefire or continue war.
New Map:
-Included missing islands from WW2 scenarios.
-Included balanced rubber.
-Many fixes.
Proper Decolonization in Africa:
-Oh boy this took FOREVER to fix.
Other:
Tons of others (See README.txt)
-All client states of Soviet Union are part of USSR. (USSR pop is larger and more accurate)
-Tibet & Uyghuristan is part of China. (Allows secondary major WARSAW PACT player)
-Inner Mongolia, Tibet & Uyghuristan land loyalty is gone
-Dalian becomes part of china regardless if USSR is a player. (Except in a war between the 2)
-Most countries at start have Tech From WW1 (May be officially patched eventually)
-Countries that should have certain WW2 and other techs have them. (EX: Soviets get Long Range Rockets)
-USSR & China do not send military goods at start to North Vietnam in multi-player. (Only gets goods in single player)
-Saarland is a French colony until its reunion with W.Germany. (Was Saar Protectorate)
-Alaska and Hawaii are colonies until their admittance to the US in 1959.
-Eastern Europe starts with the OT-810 Half Track, the Toldi IIa, and the S-199 interceptor.
-Yugoslavia starts with the R-11 Battleship design.
-France Starts with Dunkirk Class battle ship.
-Some countries start with basic missile trucks and early rocket designs. (USSR and US)
-Most poor countries get Elite/Royal Guard design.
-AT Rifles tech given to former major ww2 powers. Sweden is given M-48 Carl Gustaf AT.
-Fixed French Tech levels. Gave France AMX-12 and other WW2 units.
-Japan starts allied to US.
-N.Korea & S.Korea tech is equal.
-N.Vietnam given defensive unit designs.
-Finland tech groups expanded.
-Brought China to correct military tech level. (Includes ZTZ-58)
-Added Kangaroo unit to Australia and New Zealand.
-Whichever Korea wins the Korean war gains access to both units orgins.
-Natural leader deaths now work if playing as a country.
-Election leader change scripts work if playing as a democracy.
-Coup d'etat trigger on player countries.
-Adjusted USSR power-grid.
-Added dynamic flag changing to Egypt.
-Added modern clothing and early medical tech to all full nations-Gibraltar now part of UK.
-Changed loyalty of Guantanamo bay water to Cuba.
-Other tiny fixes.
-Scenario default settings tweaked to no units and Very Hard military.
-N.Vietnam tweeked for indochina wars.
-Added very difficult to find easter egg.
Tons of others (See README.txt)
Download:
USA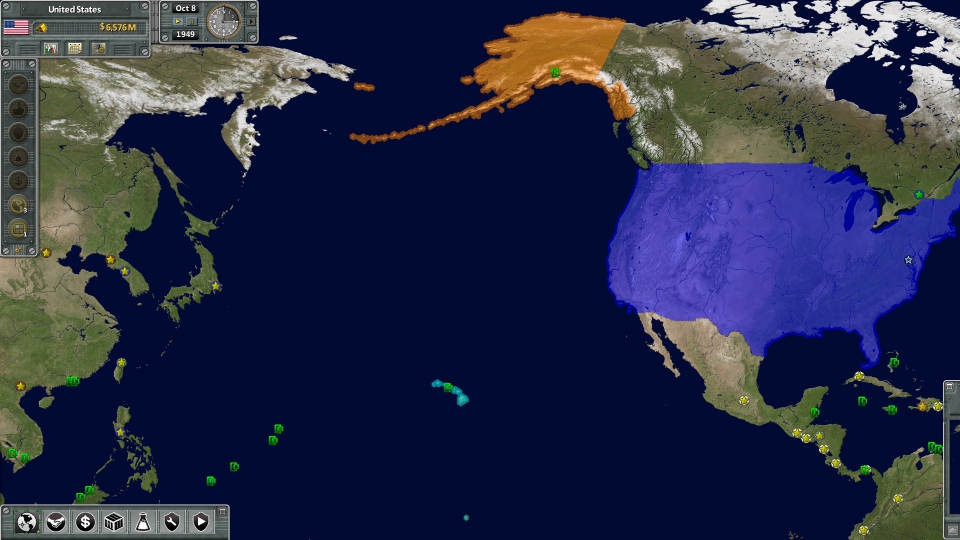 Union of Soviet Socialist Republics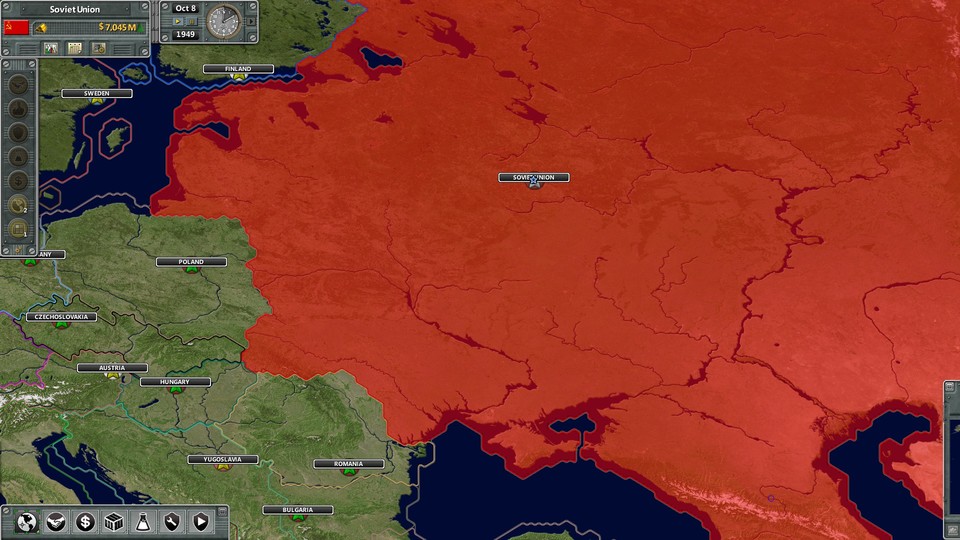 Korean 38th Parallel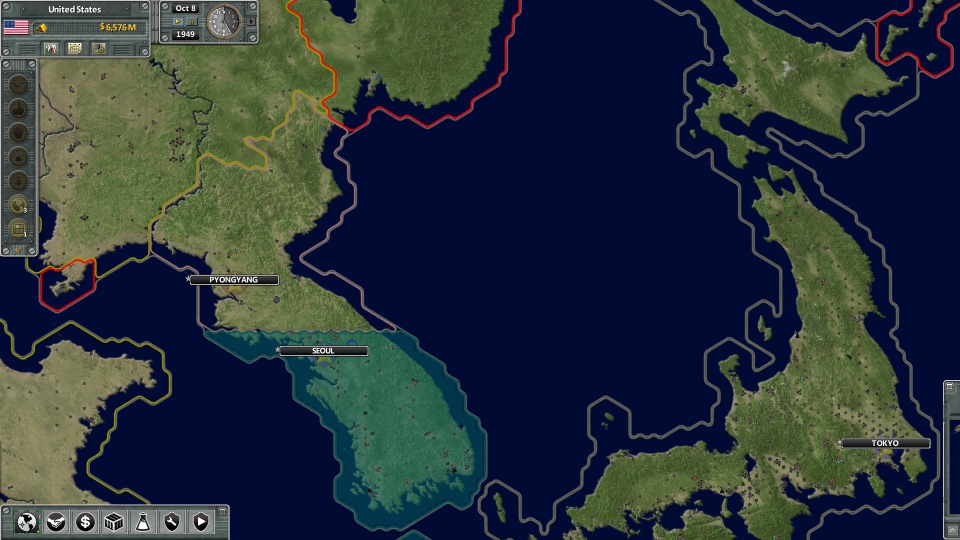 United China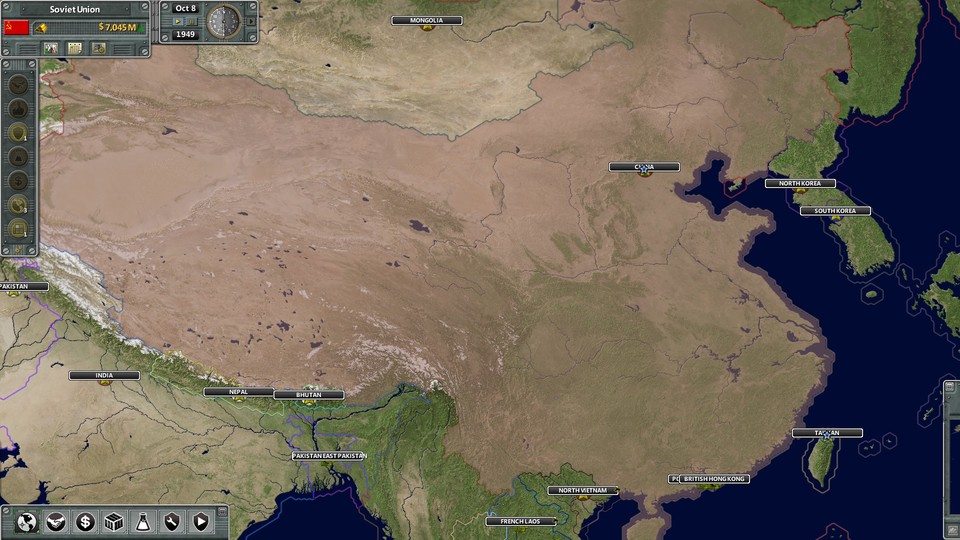 *Playable colonies development has been suspended until further notice.
Credits:
Viper151 - Lead Director / Scriptwriter
Screenblast89 - Historic Advisor / Map Editor
defcon252-2009 - QA
Duck - QA
Hogan007 - QA
Warvic - QA