Moderators: Balthagor, Legend, Moderators
No idea what the hotkey is, I don't really use them.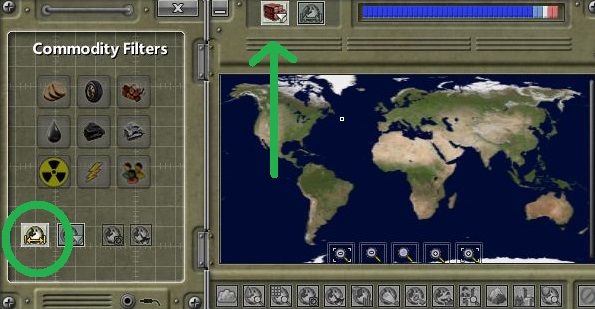 "That's O'neill, with two l's"
(Holds up 3 fingers)
---
Very nice, funny and unusual AAR - please continue.
---
Chile is my next target, a good sized country to take over. Most countries that can make military goods are out of fuel which is a requirement for all the goods factories so I still only encounter garrison units except for my initial attack on the sea port near their capital. A lot of ships came out and swamped my battleships, I lost 2 but the rest of the war was the usual easy. Fight slowly to their capital, take it, they give up. No real planning needed. 6 months later I took out the Philippines.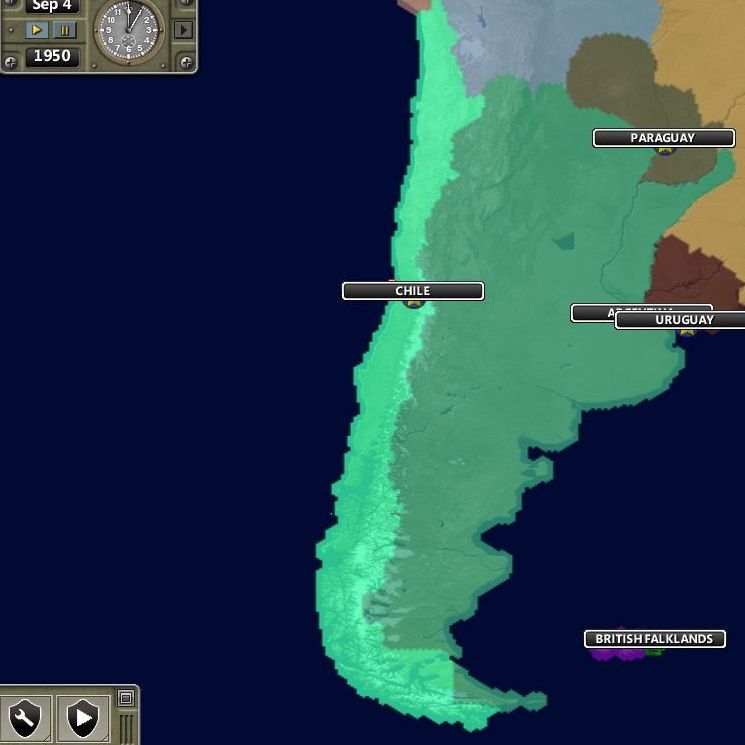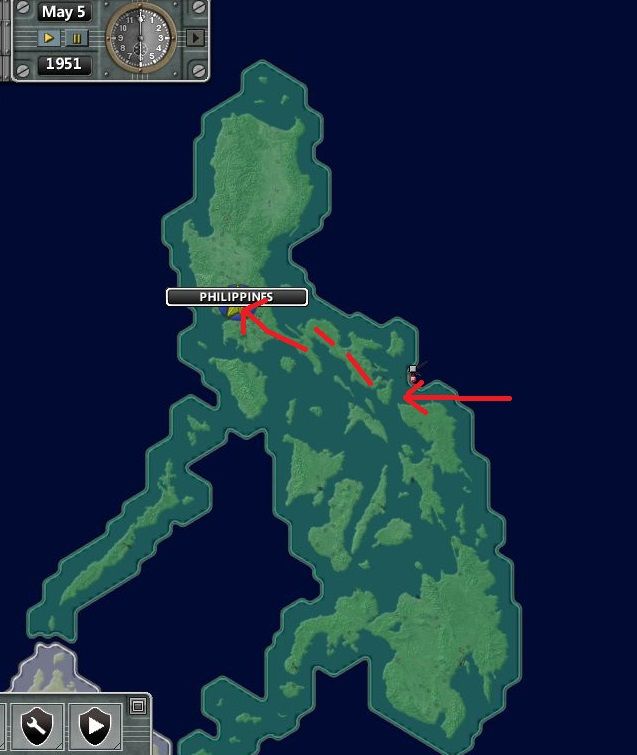 November 21, 1951.
I am stuck researching 3 non-tradable techs so I can break into the 1925-1930 unit techs which would be par with some of the units the major countries were using at the start of the game. I have 12 research facilities finished, 20 military goods, 20 industrial goods, 12 consumer, 36 coal plants, 35 uranium mines, 5 air production, 5 land production and just finishing my first naval production. Free floating with all the goods factories turned off and using stockpiles, this keeps my power and oil usage very low and I still make a profit of $1-2m/day. All production facilities turned off of course since even if I had good blueprints I couldn't afford to build ships for 2 years or planes for 150 days or have the manpower to activate all of the production facilites. Things are nice and quiet, just sitting and researching and waiting for casus belli so I can hit a new target.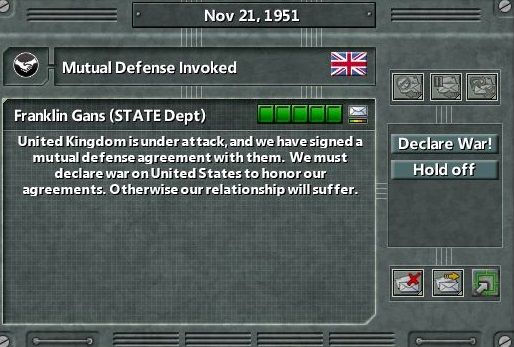 First reaction was not pleasant and involved 4 letter words. 2nd reaction was that I must help my ally UK out. 3rd reaction was that when starting this game I wanted to only use air units to conquer the world and the primary unit needed for that was a US unit so I want to keep them happy, they give me the best deals on tech right now - even better than the UK.
But I can't afford to get into THAT size of a war. I do have US ships in my coastal waters sometimes so I know they'll find a few units to toss at my homeland, probably at a place I don't expect and might not be able to dislodge. UK has no oil, when I give them a few million barrels they start moving units and producing a little bit of military goods but I can't support them in oil for a long war against the US, and I don't really want them to send all their units over to die. US has stockpiles of both oil and military goods, they control Mexico and Canada. So I go with plan C - proxy war vs the US. US soon declares war against El Salvador, Mexico (they were coming back pretty strong), Cuba and british colonies in the area (they have 62 freaking colonies). I choose Newfoundland to work with as they are the closest to me/UK, furthest from US.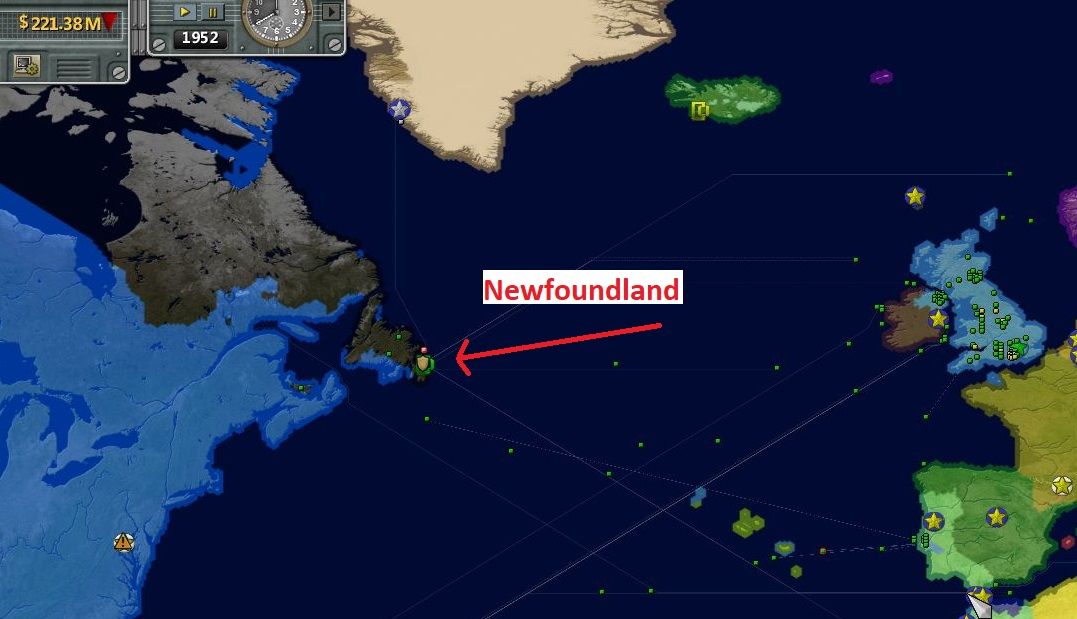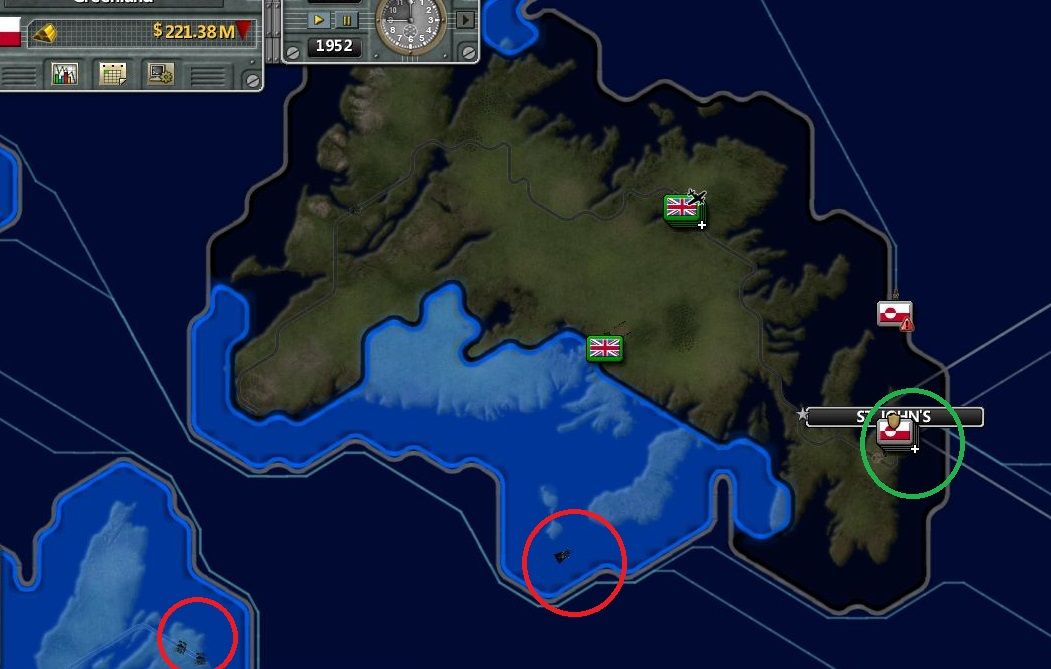 I move 7 Bren infantry to their capital and entrench them (basically they don't do combat until somebody moves a tile away) while 4-6 battleships sit nearby in international waters. (Entrenchment improves a unit's stealth, making it harder to target. Moving a unit resets its entrenchment value to zero. Forest, urban, and mountainous regions provide infantry the best entrenchment benefit, while plains and desert offer little value) 'Enemy' DD and FF suffer from rapid deconstruction rendering them unfit for human habitation and so do most BB I find. But once in a while... a BB sails in that just kicks my stack's butt. With only 8 battleships I can't repair them fast enough to keep a 24/7 watch on that capital but I do my best. I know that the US can declare war on me anytime now with the Unproved Attack Leads To War! excuse, but they still love me (although not enough for mutual defense so I can start buying their units). Unfortunately I think my subs have such a low range that they have to be in the same tile as a unit to attack it, and that means I'm no longer an enemy so I can't attack. Plus a lot of anti-sub ships around.... But I do love that I can be inside British colony waters and fire on US ships in international waters.
I still love that you can open a trade window with an enemy and see the size of their stockpiles.
////////
Mildly interesting fact. Prior to the 1975 ship reclassification, ships that are now classified as FF or FFG were classified as DE or DEG (destroyer escort). For the US at least, didn't look up other major country navies.
///////
"That's O'neill, with two l's"
(Holds up 3 fingers)
---
Nicaragua. Senegal. Syria. All fall to me and I strip their countries of everything but asphalt. I continue to nibble on the US fleet when I can, and I am sure the battleship always next to my capital 'for my own protection' is a dual message.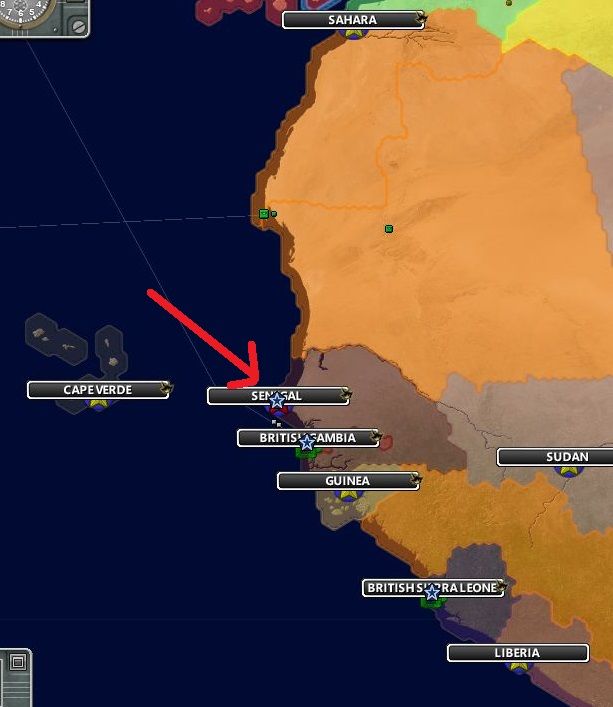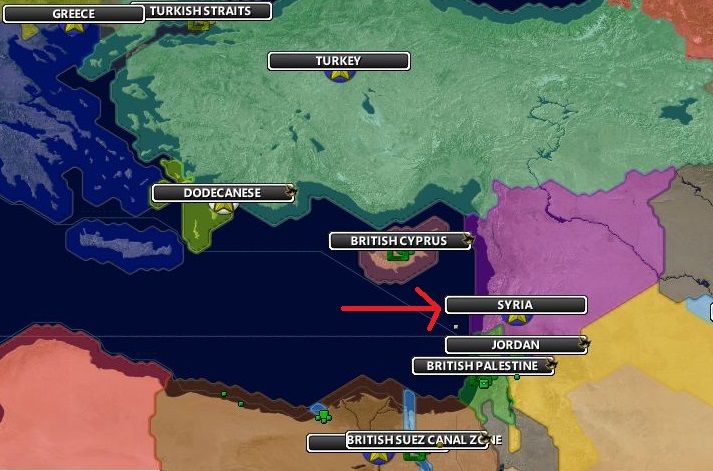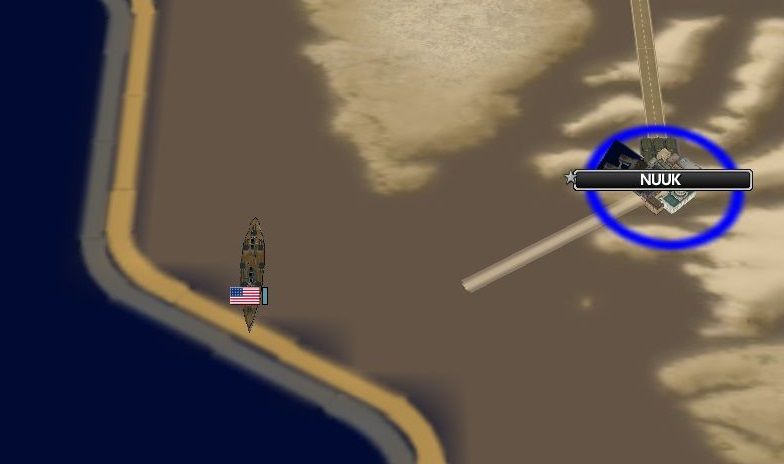 The time is now December, 1956.
There is no real shortage of any good in the world although coal is pretty low. The only wars are the US vs UK and all their allies, no real progress has been made except 2-4 of the 60! uk colonies have been taken over. US smacks down cuba or mexico once in a while when they try to return. My part in the war is to be quiet and work in the shadows by attacking US ships by proxy where I can with my aging 20 year old fleet, and I have been purchasing every transport I can lay hands on to pirate military goods from the US to sell BACK to the US for cash, which I then give to the UK in return for techs while I research the non-tradable ones or very short (under 90 day to research) techs.
Right now I am still using the
Mark II Bren Carrier
x 35, about 5 of the
Nelson Class
Battleship left, a half dozen decent subs with very poor range, a half dozen good escorts (that die almost instantly in any combat), and my transports.
My pirate fleet has grown to 3
Implacable Class
CV, 1
Dale Class
that I wish somebody would kill because it is so slooooow (honestly think blueprint stats on it are wrong), 1
Wave Class
that moves MUCH faster and loads MUCH faster than the Dale, 4
AMC Carinthia Class
(some were sunk), and now 41
AE Civilian Cargo
. All told i can grab 110,000 tons per trip but always have to wait for the Dale to get there, to load, to get back.. it's just very very slow at everything. Odd thing is that the bad AE civilian cargo ships cost the most to purchase yet can not haul much, slow, not amphibious, only 30 days to build. But Australia had a lot of them to sell... The US has over 1m military goods stockpiled and I don't drop that amount by much so they must be making a lot, they have taken over mexico, Canada, cuba, parts of central America after all.
My military forces were purchased 20 years ago and while they have experience bonuses they are no match for a good sized modern military. So I am trying to catch up on research and find cutting edge/at least modern units to replace them with - but that means they must be in reserve and not active with the UK, Romania, Australia, New Zealand. US civilian perception of me is still pretty poor although i've done a lot of trading with them, so no mutual defense treaty with them.
I am losing 1m people per year due to emigration and down from 21m in 1952? to 12m now. I produce and purchase no consumer goods so I save a lot of money there, and I still have the scraps of Germany under my control. I suppose I'll have to let them go and find a new country to annex for a tax base someday but not yet. Total military personnel are around 140k and I have 5 land, 5 air, 4 naval production that are all offline. Number 16 in tech and can finally build the units i bought at the game start, but not much else - however i have broken out of the non-tradable blockage and the only thing holding me back now is $$$ for research or buying techs.
I condemn every military coup, every nuclear advance to try and gain casus belli but it isn't working well. Meanwhile the world just hates me except for UK, Australia, New Zealand, Romania, their allies. I am almost allied to South Africa and they hate me: US loves me but they are not an allied nation so no alliance or mutual defense because of that I think.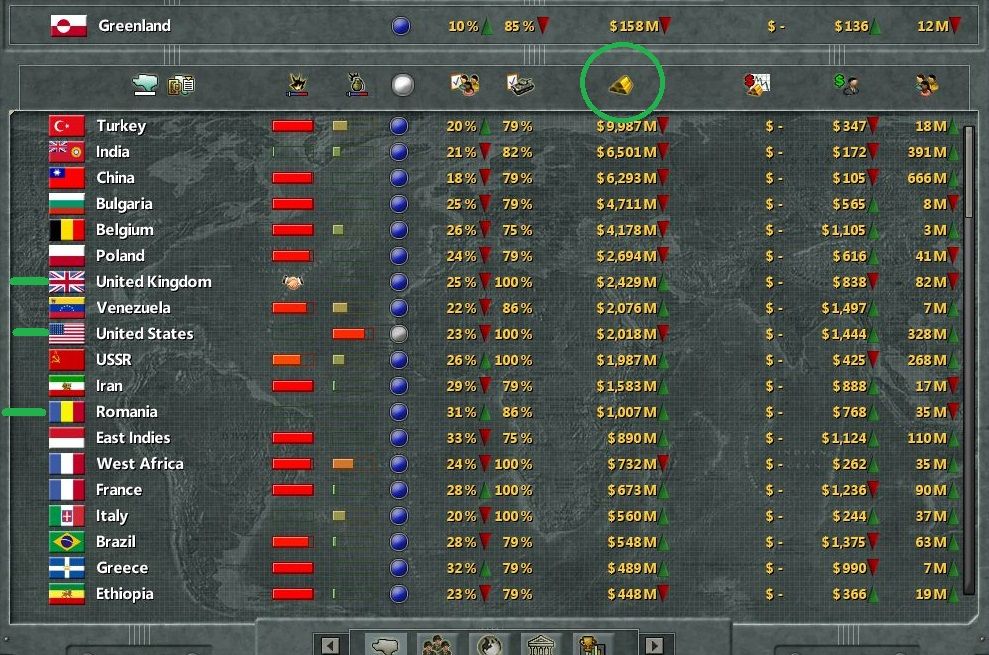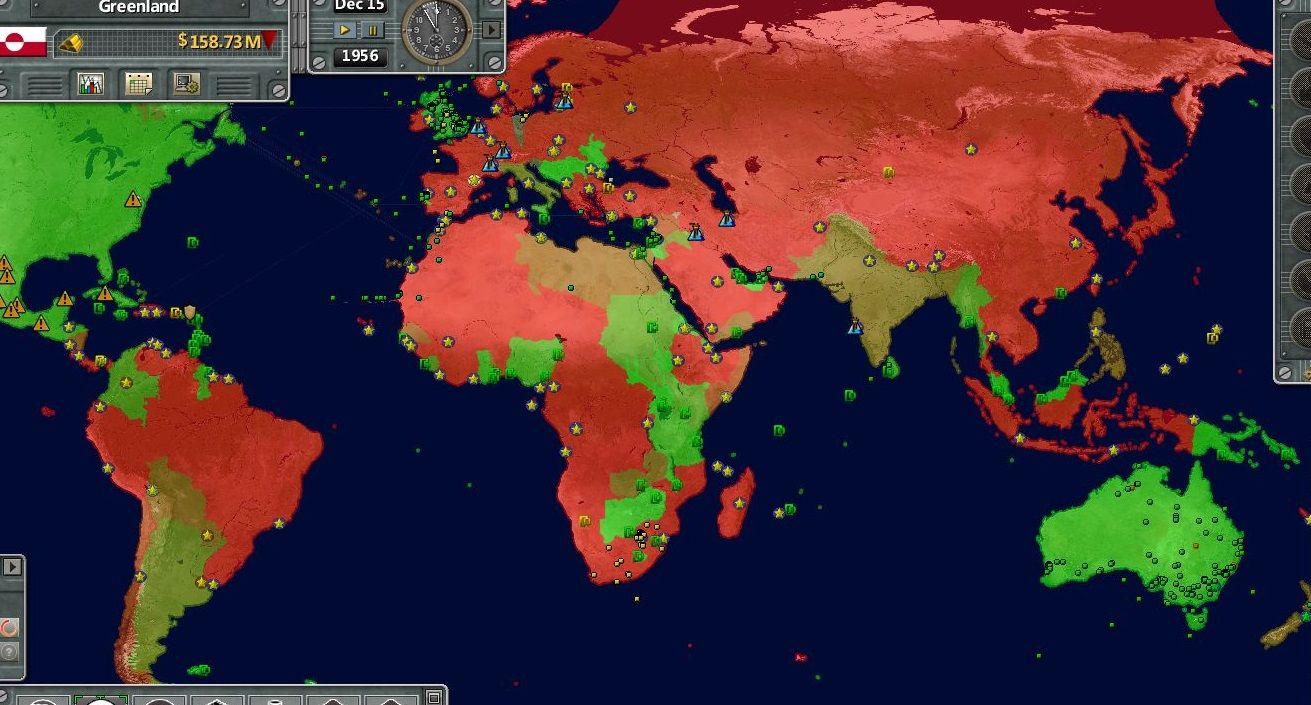 Things are not going badly. I have an underhanded way of helping my ally and hurting their enemy, while pushing forward my tech increases decently fast. My military is 20 years old and nowhere near modern - i think - but I can't really see what the modern countries are making, my techs hold me back.
"That's O'neill, with two l's"
(Holds up 3 fingers)
---
February, 1958.
It has been a slow 2 years of researching, I am at rank 9 now but the techs are getting very expensive. Either they cost $900m+ to buy or cost $2,000m+ to research and I can't afford those so things are slowing down. I have seen the US using M-60 tanks and jet fighters since around 1952 so I know I'm still far behind with my 1930s military. I lose a transport every month or three because my route for the military goods and UK's route to attack with merchant marines crosses, and the US isn't picky about collateral damage to shipping in the area.
Or maybe they are just trying to whittle down my transport fleet, they are still 'guarding' me.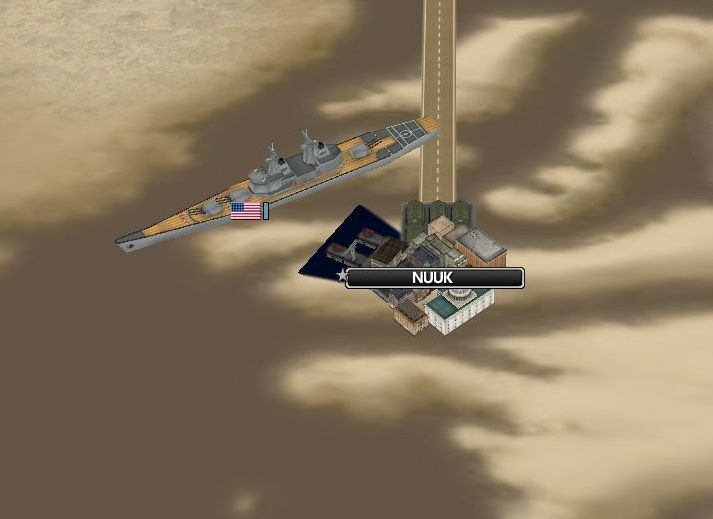 But I decide it's time to replace my German/Croatia population with some fresh citizens. Hungarian perhaps since Romania is an ally, I have 90% casus belli, and that lets me sail into the Med and unload in Romania and go north to the border with Hungary. My trusty experienced Bren Mk II will destroy the enemy garrisons with ease like they have all over the world.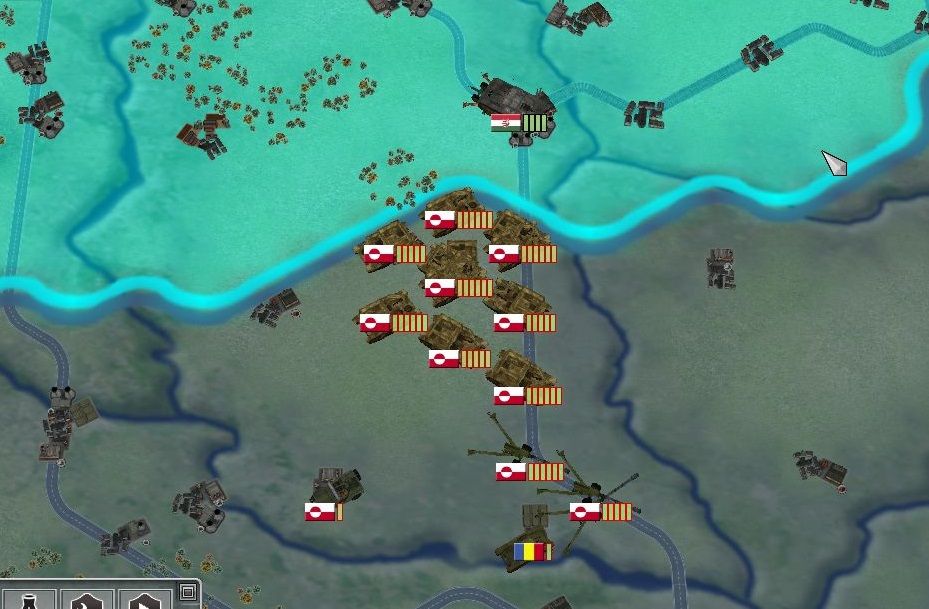 Hungary seems to have their military under control, I find a lot of motorcycle recon and motorized engineers, some artillery from WWI coming to defend when I cross the border. Easy going, pew *destroyed* pew *destroyed* pew *destroyed* pew *unit lost* - whaaaat????
Seems Hungary fields a few
43M Zrinyl
anti-tank units doing real damage to my
Mk. II Bren
. Not hard to see why, I have enjoyed using infantry that are a hard target against garrisons and piddly little engineers, they are not good at all against hard targets and I haven't really met any. But this anti-tank is modern and has 14 attack vs my 5 attack. Soo.... I buy 3 stacks of artillery from the UK and plant them with 1 tile between them and the border and I attack along that little front until they show up, then 'advance to the rear' back into Romania while the artillery pound on them until they go away again. Standard artillery, 25 soft/12 hard damage at 41km with 4 combat time. I also buy a dozen
Combat Engineers
from USSR, engineers are usually the best infantry used by everyone for decades anyhow.
Romania sends old mounted infantry, mounted engineers, motorcycle recon, WWII artillery, supply trucks, some really bad ancient armor to the border every time there is fighting going on. They have a LOT of units and they displace mine, sometimes the wrong way over the border where I lose them. Basically it's just a giant mess and nobody is making any progress.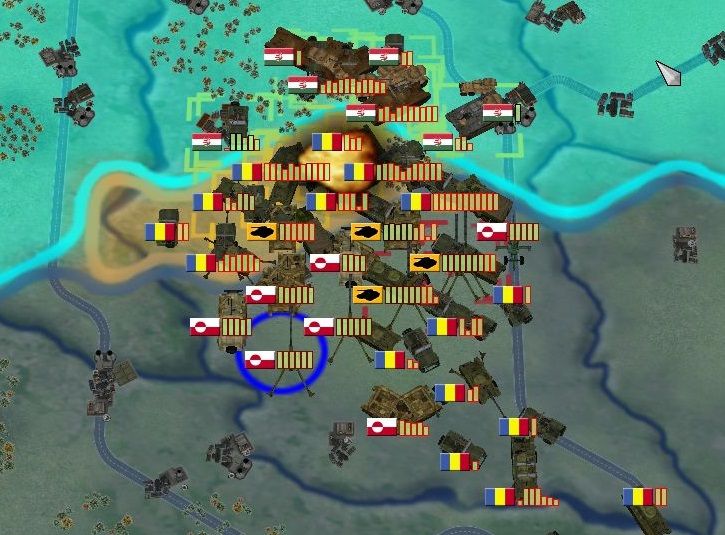 Eventually one of the tactics I try is to send stacks of 4-5 Bren along a 4 tile front inside the Romanian border - but leaving them there. Run one unit into Hungary and back, wait for their response and just annihilate them all. Except those pesky Zrinyl which are really hurting me, but my artillery damage them and destroy a few while they are retreating. Suddenly Romania makes a push and almost gets to Budapest, I roll in behind them and that's when Hungary counterattacks from Budapest, driving both of us back out with more losses. But the writing is on the wall, Romania pushing that far into Hungary means they are almost finished and we jointly attack again and take over Hungary. The time is December, 1959 and this has been an 18 month campaign. I release Croatia/Germany and scrap all the facilities in my new nation of money producing farmers.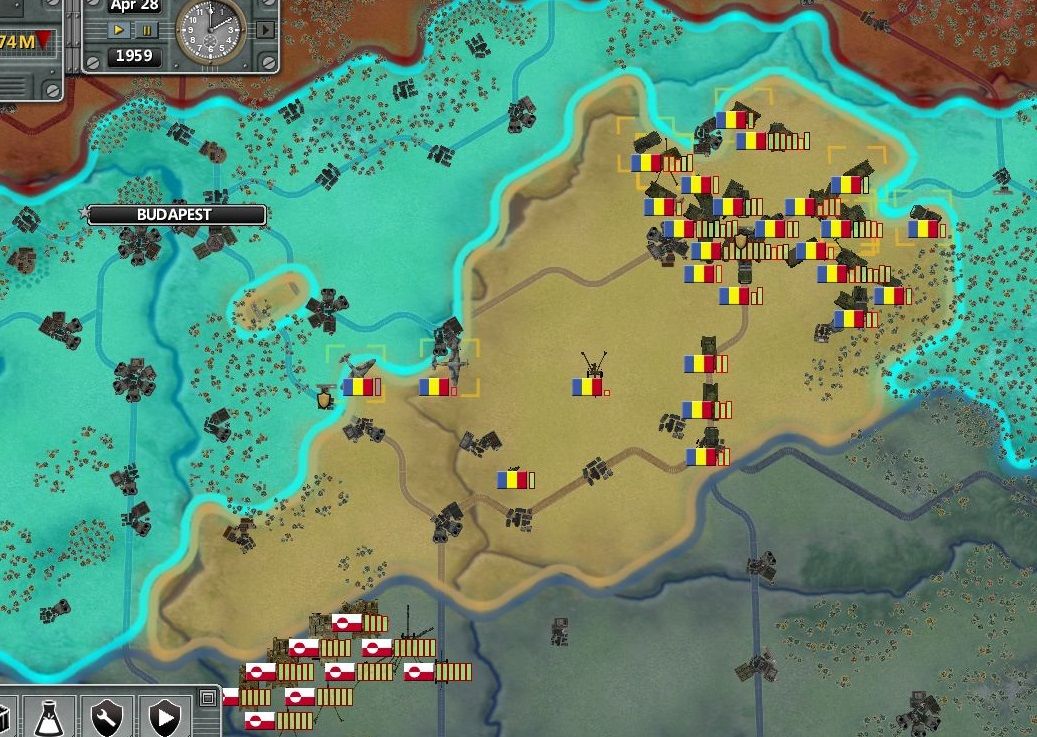 Last edited by
Leafgreen
on Aug 07 2018, edited 1 time in total.
"That's O'neill, with two l's"
(Holds up 3 fingers)
---
August, 1961.
US has been asking for a uranium trade deal every few months, I have no idea if they are trying to make nuclear carriers, cruisers, subs or just some nukes to stockpile. But I tell them no every time and have 93 million uranium stored now. They have a daily production of 0 and want to use 10k tons/day but the only country other than me producing uranium at all is Congo at 2k tons/day.
After seeing how eager Romania was to help me in Hungary and being a little bored, I have declared war on the 8 countries I have the highest casus belli with. Angola, Comoros, Mayotte, Guiana, Curacao, etc - all places I wouldn't really bother with but if the UK/Romania/Australia/New Zealand want to take them over for me I won't say no.
April, 1962.
Still bored reselling military goods and researching old techs while time ticks by, I try something new by going legit. Almost. I release Hungary and now control only Greenland, raise social services and start producing consumer goods. My population is overjoyed but scared by all these new things like 'pens' and 'fire', consumer goods production/trading has been locked at 0 for 25 years. I have 47k active military and 23k still in reserve, daily income of $2m and expenditures of $3m, but research is around $25m so I must still go after military goods to resell. I do have 300k of industrial goods though for a nice cushion, I can sell those if needed and start a few more naval production facilities.
But if I am going to seriously try to be a big boy nation, I need a population so I decide on the 2 Moroccos first. Cruise up and down the coastline with my Nelson battleships eliminating all coastal forces then landing troops. It works well, both of them fall fast. I might just go for all of Africa. And then I run into that old problem which I strangely haven't had yet this game. Partisans. Guerilla sabotage. I make peace with the little central American islands I declared war on earlier and boost law enforcement up to 90% which puts a stop to that, but it takes 4 months for the rating to rise high enough to stop partisans from spawning.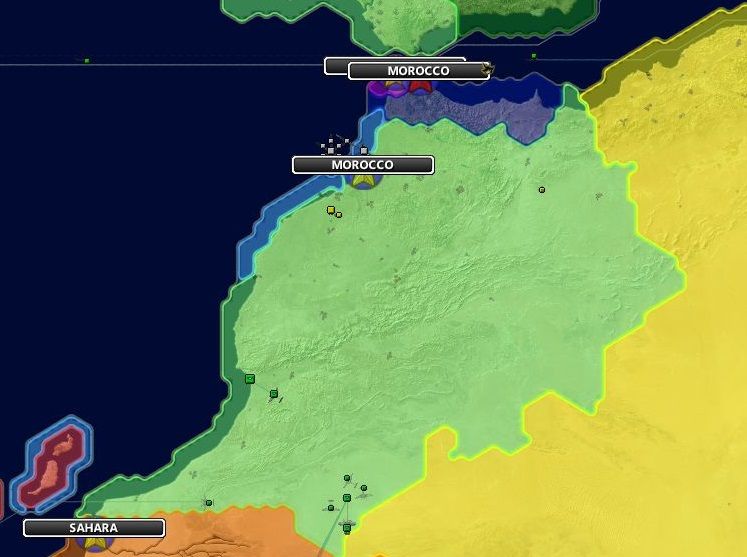 Next is West Africa which looks like a beast to take over because of the land they own, but after taking all coastal cities and their capital they fall like most everybody else has. I follow this with taking over Senegal, Angola, Mozambique. The island of Mayotte is just one city but Comoros is a problem, they have 2 cities but their capital does not have a pier/port. I take one of their cities and all the sea area, they control one tile now and maybe they'll give up after a year.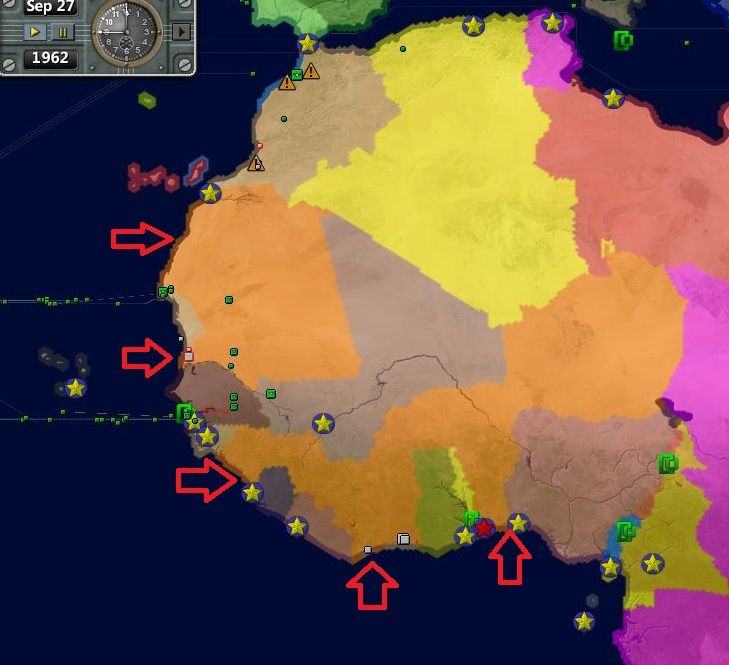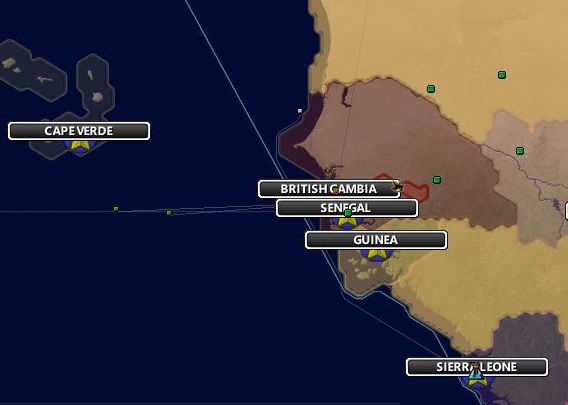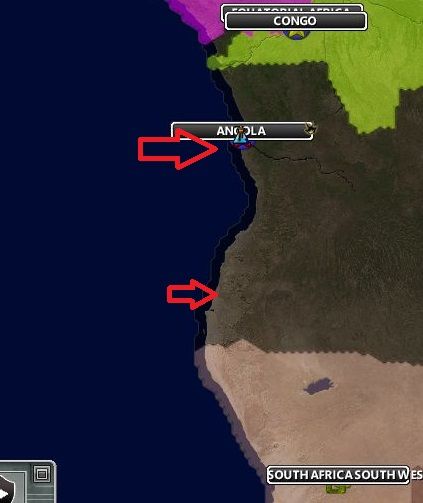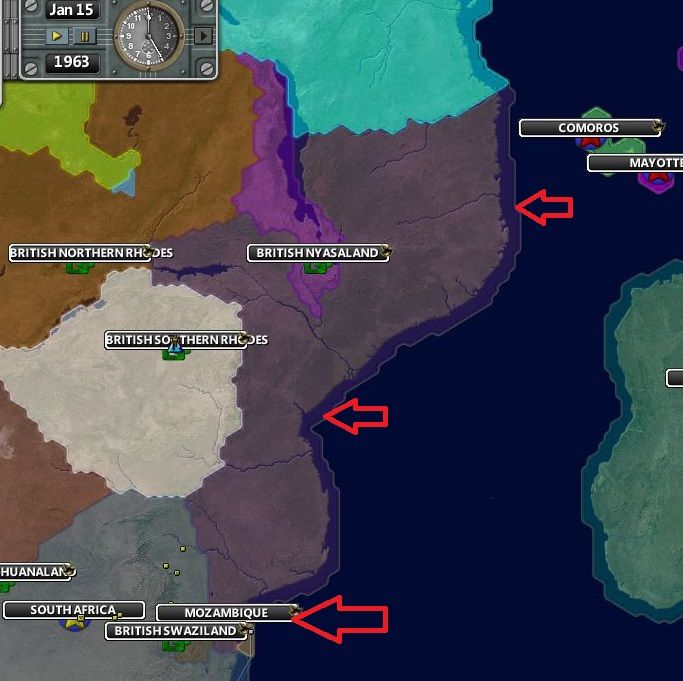 Meanwhile the US must have been bored with sending battleships to watch over me, now I get a 4 dot Midway with a silver experience star. No planes on it of course.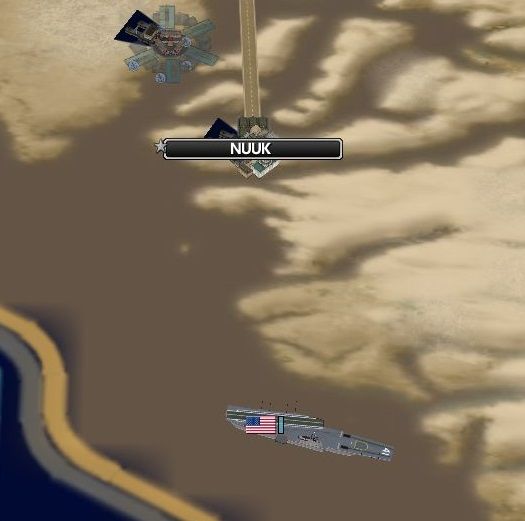 Next are 2 of the 3 Somaliland nations. The second is easy but there's a large problem with the 1st one because they only have 1 port/pier. I take what I can and move on.
I now have a population of 62 million. South Africa is still my ally although they hate me and UK has at least a dozen colonies in Africa so I should be okay with holding it without troops. Low supply and few facilities are the problem of course, but I can fix that. Eventually. As usual I have declared war on 30 countries, annexed 20 countries, have a pathetic military but nobody does anything about it because I have a few allies.
////////////////////////////////////
Supreme Ruler Ultimate - Version Changelog (Update 9.1.76)
Updated August 2nd, 2018
- Fixes and additions to existing sandboxes and campaigns (1936 & Modern)
- Regional data and relationship updates in all maps
- Significant AI updates around idle units, artillery units, and more
- Naval AI improvements including patrols and idle unit handling
- Performance improvements on maps with large numbers of units
- Resolved 3-month AI deployment issue
- Many UI updates and improvements, including more accurate unit pics, leader pics
- AI Improvements in facility building, facility repair
- AI will now build research facilities
"That's O'neill, with two l's"
(Holds up 3 fingers)
---
It has been both a very boring and a very eventful 2 work days for my playthrough. My old tablet runs the game slow when I have line of sight treaties (like with allies, which you need to survive) and that leads to boredom, which leads to crazy ill-thought out schemes...
This is the major advantage of the AI I think. If they don't have the money or goods to build something, they wait or get it somehow handed to them. Me? I can afford to build 20 land production factories.. a month later i'm bored again, lets build another twenty! Wait, why am I suddenly broke a month after that and can't afford petroleum or make enough industrial/military goods?
Libya is next, and this is all I am going to conquer in Africa for the moment.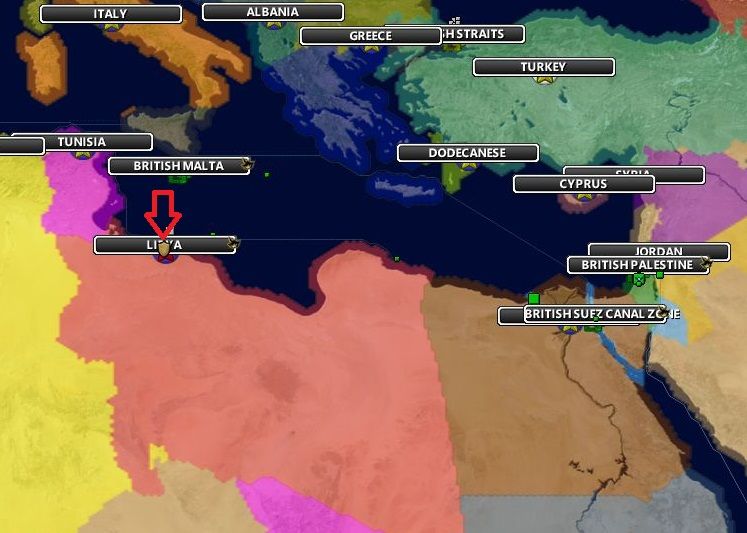 October 1963.
Still pilfering military goods from the USA, losing the odd transport due to UK/US conflict and being in the wrong place, behind on research and far behind on units. Maybe I should find a new place to take over for industrial goods, someplace juicy.... but where? I only have casus belli against islands, british colonies, small central America nations. Oh yeah, and china. And since they have taken out Japan maybe that facility rich area is able to be taken over since they are still mostly using pre-century type units.
Oops. Maybe the human player should have thought this out a little bit beforehand. Where will I stage my units from? Where will my navy resupply at? What ground forces are available and which are 4 months away? Do I have enough artillery? No. But before I declared I saw they produce 200k petroleum and use 1.1 million per day, and their military supplies on-hand vary from 0 to 30k. Maybe ancient units coupled with low supplies will make this doable.
Well then. Improvise as we go! The island of Formosa (Taiwan) looks a lot easier than the Japanese home islands to take over and is not part of china, so i'll take them over first. Declare war, invade, annex, scrap everything but one pier and base from there. I lost a few transports getting to Formosa because there are Chinese ships all over the place. Pre-century cruisers, armed merchant ships, sloop patrol boats - but a lot of them. Oh, and when I declared war on Formosa the UK broke our alliance. I had 90% casus belli but I guess it was the last straw for Britain, I haven't been doing trades with them for a few years because they are flat broke. Meanwhile the US just adores me - but not enough for an alliance.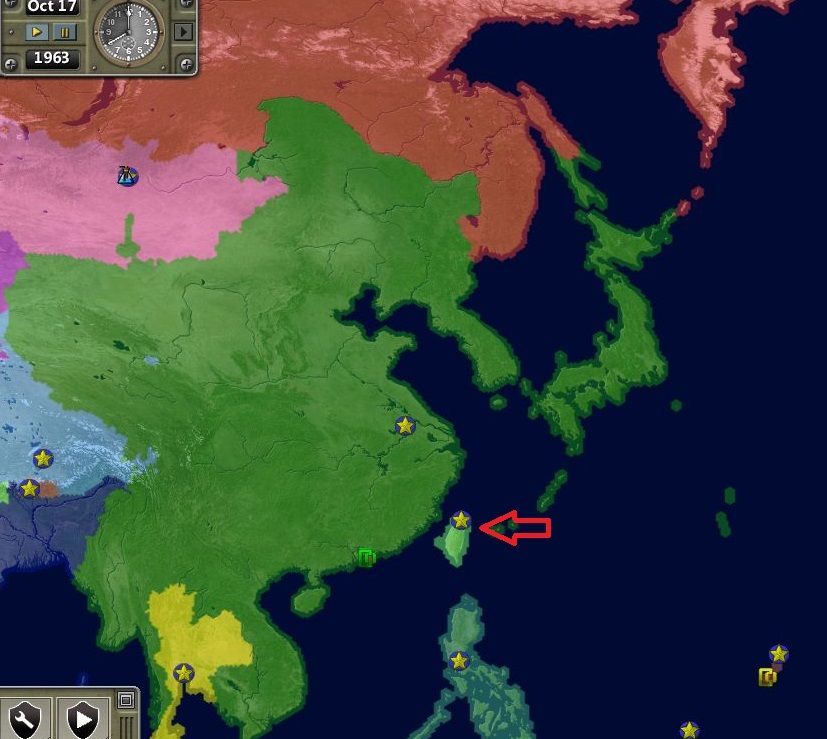 Eventually my Nelson battleships die but I have killed at least 50-60 enemy ships, somehow china has some subs that finally eliminate my ships. It was a great run though, Chinese ships would sail to Formosa and be spotted by my village garrisons so my battleships could target them while staying out of sight. The seas are relatively clear now for my transports to run around at least, and I move them to a better area inside the USSR. I make peace with everyone but china and release Formosa.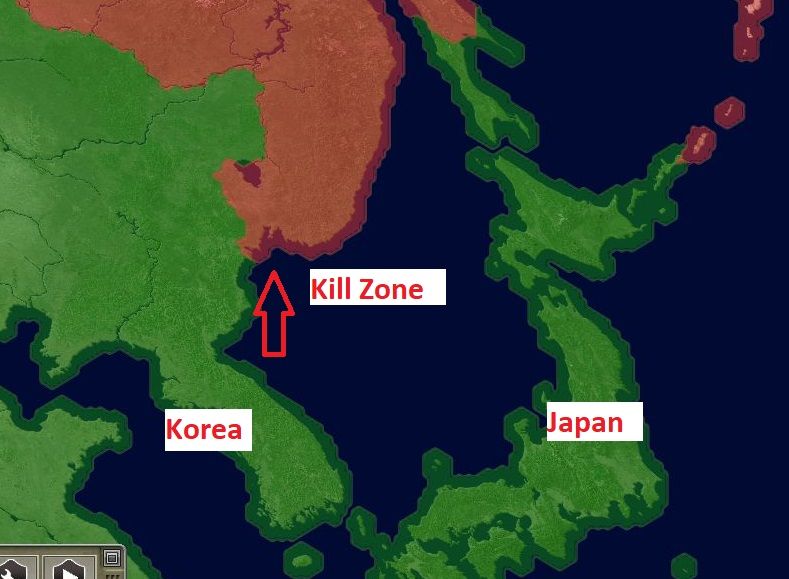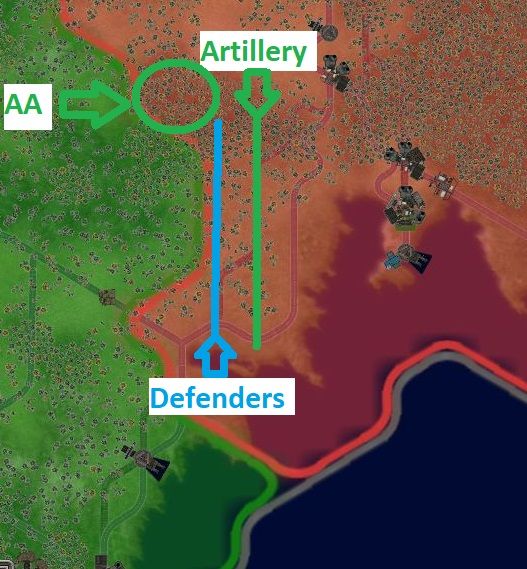 Simple really. I have the artillery and AA 1 tile from the border which is fine for the artillery, and keep the infantry behind the artillery. I run 1 stack of infantry across the border on the north side of the kill zone and move the short range AA to the border, pull the infantry back. China sends a lot of fighters which my AA destroys or at least hurts badly, they send poor units from the village in the south up along the rough terrain border while being pounded by artillery. I pull my AA back before the Chinese ground units get there, and once they get hurt enough they start going back south - all the time being bombarded. Half die, some survive, a few survive multiple trips and get an experience star. Once in a while I move my infantry to the border and help slaughter everything that comes along until I start taking damage, then I leave it to the artillery again.
At home I have been producing non-stop 10 Civilian Cargo ships with 30 day builds, good speed, can hold 3k cargo. 2 gun emplacements are now at each of my villages, just in case and my build capacity is 15 land/10 naval/5 air. I have some almost modern units which I have started to produce as well with a stack on each of my home villages and the rest produced sent to Africa. The
A41 Centurion Mk.1
and the
M-75
, with some very nice and modern units available as soon as I finish a non-tradable tech. I have some nice battleship blueprints but can't tie up my shipyards for 2 years making them. Still not bothering with planes at all, though I would use patrol and sub hunters if I had the tech to make decent ones - which I don't.
As soon as I feel I have killed enough Chinese units I'll send my force in that area at the northernmost Japanese home island, it has only the one port and some room between villages and should have the lightest defense. And Africa is now open to me since UK and all their colonies are no longer my ally - but I would risk the wrath of the UK fleet attacking my homeland, if they have any left. I know they still send merchant marines at the US daily and control the Suez canal. And nobody has ballistic missile technology (says it is tradable) which is the precursor to any type of missile design.
"That's O'neill, with two l's"
(Holds up 3 fingers)
---
That was a failed invasion.
I knew it would be rough getting out of any pier/port built up area I landed at, but it was just too much for my old units. They can't hold much in supplies and their ability to kill garrisons is too poor for that type of operation yet. But they were old units I was going to scrap if I bothered to send them home to a barracks, I have more modern units being made now. Still, I thought they would at least take a beachhead and hold it.
April, 1966.
I am at peace with the world (so only occasional wars as I go after Africa some more). I am hoping this keeps UK from declaring war on me, reduce some tensions with everybody else, let me build up some basic oil and coal production in Africa, and give me time for a production run of
BBG-61 Iowa
while I focus on getting techs. I MUST do this for defense, I know the US researched the F-104 Starfighter
and it's variants
2 years ago, but I just saw this in my coastal waters and it shows just how far I am from the cutting edge. They've had time to research the techs, then the unit design, then fit them into the production queue somewhere, and have enough of them that one showed up in my waters.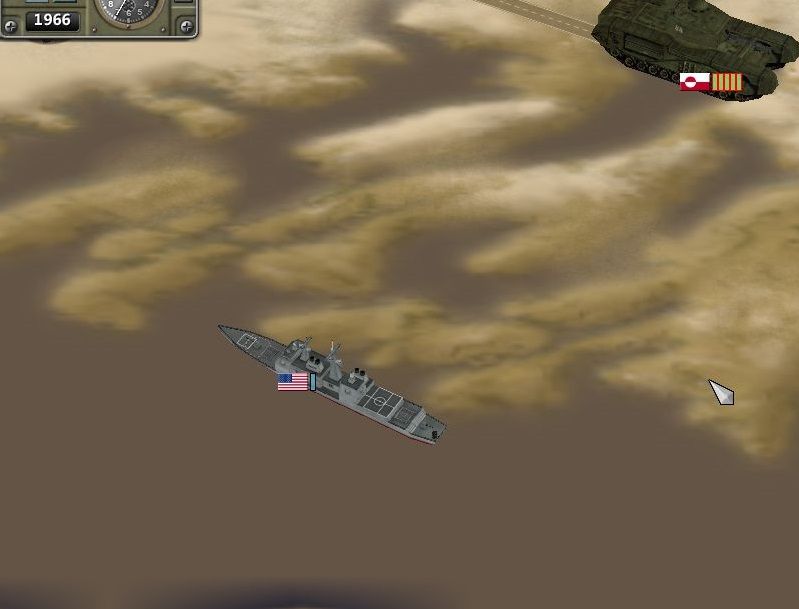 I wonder how many of you can tell what class that is. Boxy superstructure is a give away. =)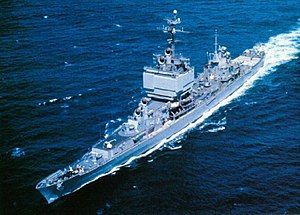 Next is Tunisia (again), they have no port so a land attack. Then Algeria... which I have 10 treaties with and only 70% casus belli, but I want to start connecting my territories in Africa so I can make defense and road construction easier.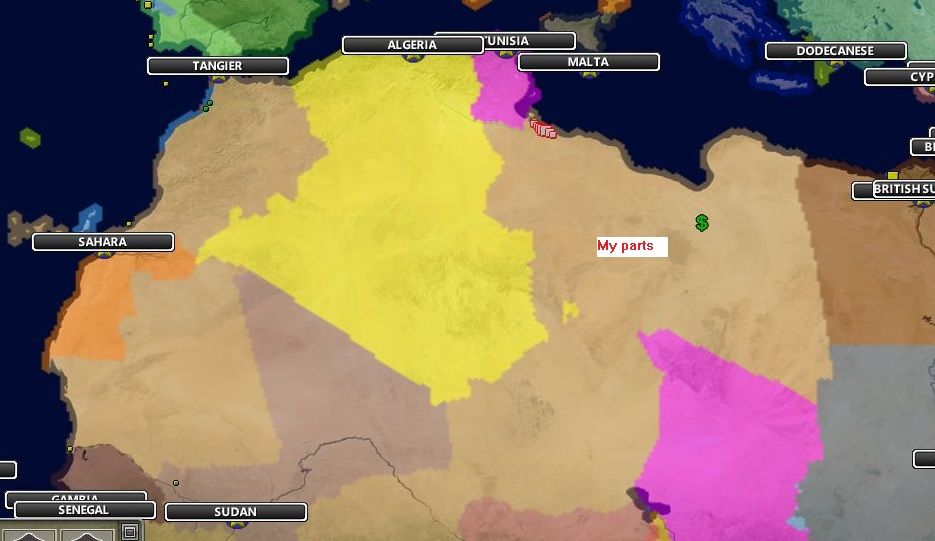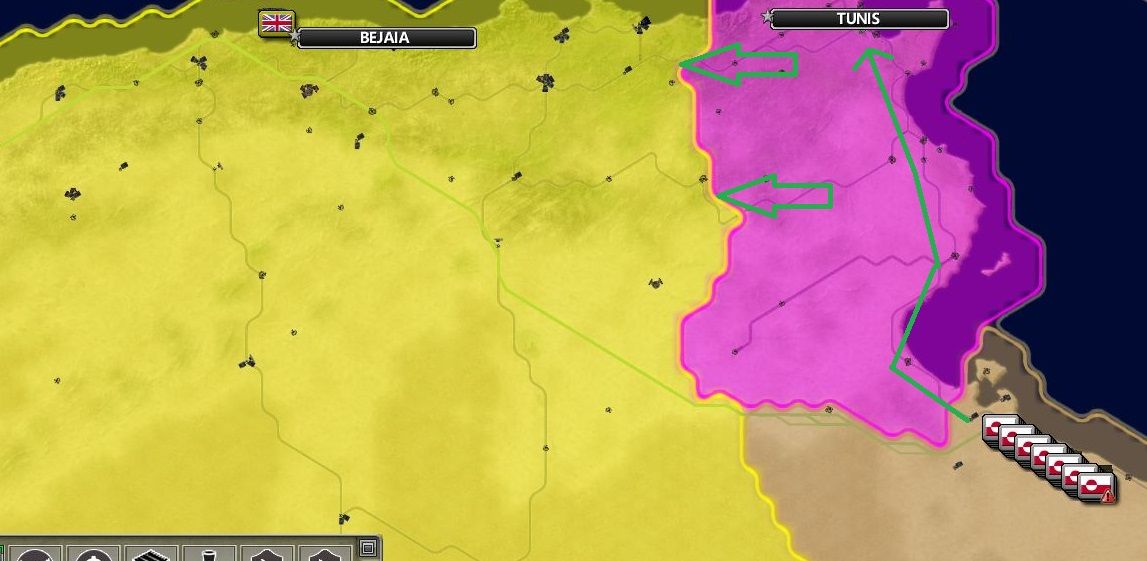 They both fall easily but my prospects for war are few. I have enough casus belli with Sahara, Eritrea and Ruanda but - Sahara bugged for me, I could not drive my APC or tanks to their capital and even being on the tile next to it would not trigger 'enemy approaches city' message or garrisons (if they have any, might not) popping out. Eritrea is too far for me to bother with, I have no access to the Suez canal now. Ruanda is deep in no-supply Africa and I don't have many transit treaties left. So I go for Sudan instead, and Sudan decides to be a giant pain in my backside.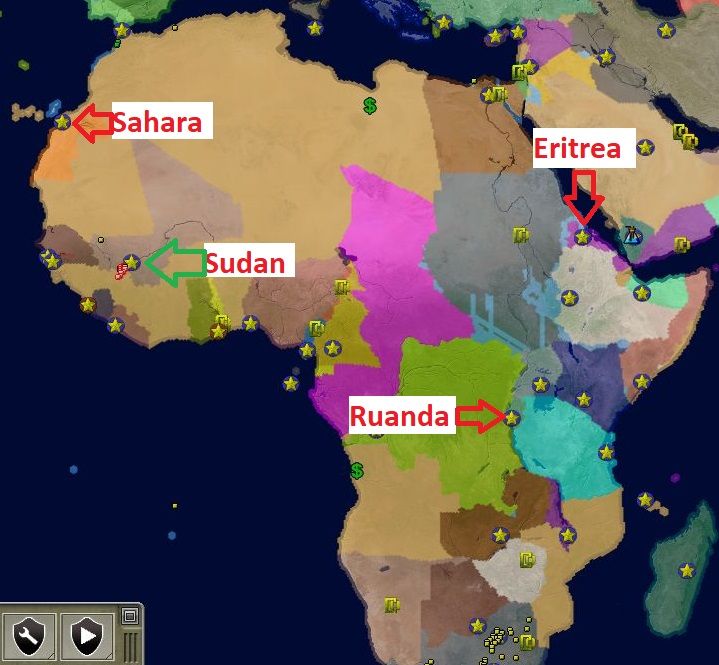 Getting to their new capitals when they move them is time consuming because of stretches of no-supply areas and as soon as I DO take a new capital the UK air force arrives and happily shoots at me inside my own territory which actually hurts my infanty pretty badly. Oh, and Sudan decides to fight to the last man almost.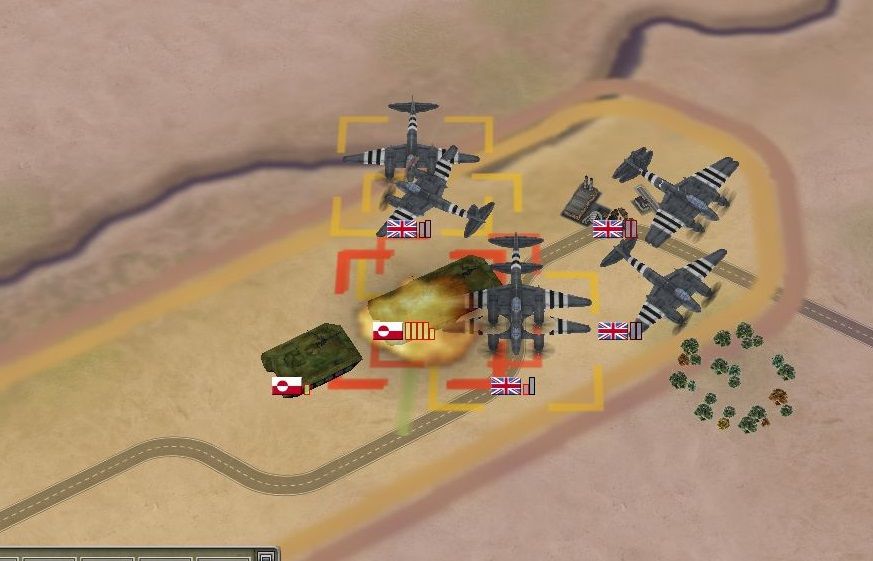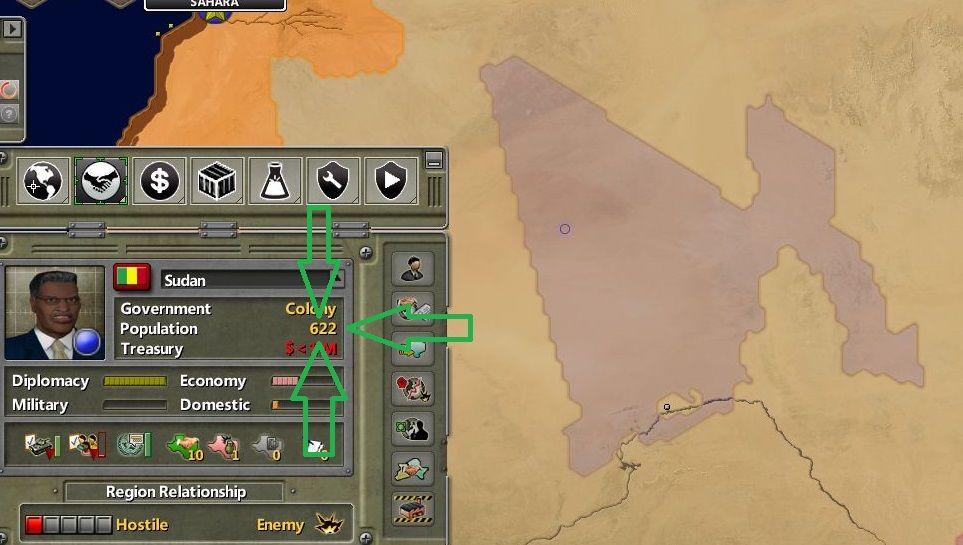 Here is a change that I noticed with the latest update, I am sure there are dozens more I can't see or will see later - when I expect abc and xyz happens instead. Ai loading planes onto carriers! And they did not 'fall off' when the carrier moved.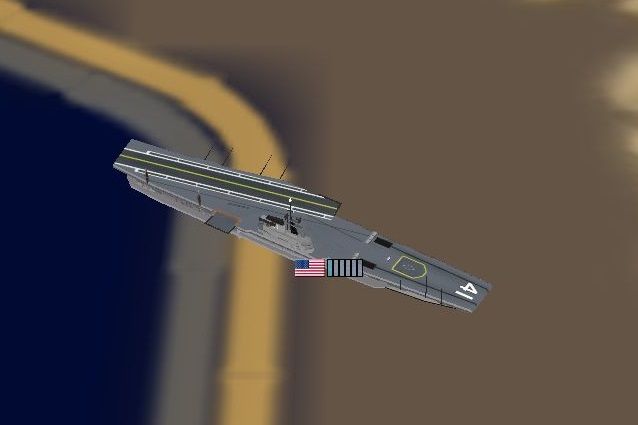 So while at work for the day I went from Feb 10, 1967 -> Jul 30, 1968. That was about 5 hours of unpaused play time at 'fastest' setting on my old tablet. But the big deal is I researched Armor Designs Level 5 which is a giant leap forward in land units (M-60A1! ZSU-23-4! Grad MLRS!). Now I can do reactive armor (T-72M!), spaced armor, improved mechanized designs (M-113, BiMP-1), tank tech 64 (T-62, T-64A but T-72M is better), but USSR is not living up to their potential and not up to that level yet. I do grab the M-60 design though, and the F2H-2B Banshee tactical bomber. It's hardly up to current US standards but better than anyone else, and the same air-to-air rating as the F-86A Saber. Plus can land on carriers and I have 2 Midway about to launch out of the docks. After they launch i'll put in some sub hunting escorts and those should launch at the same time as the 8 battleships. Greenland has a navy! Well, soon.
Next target in Africa is the big one.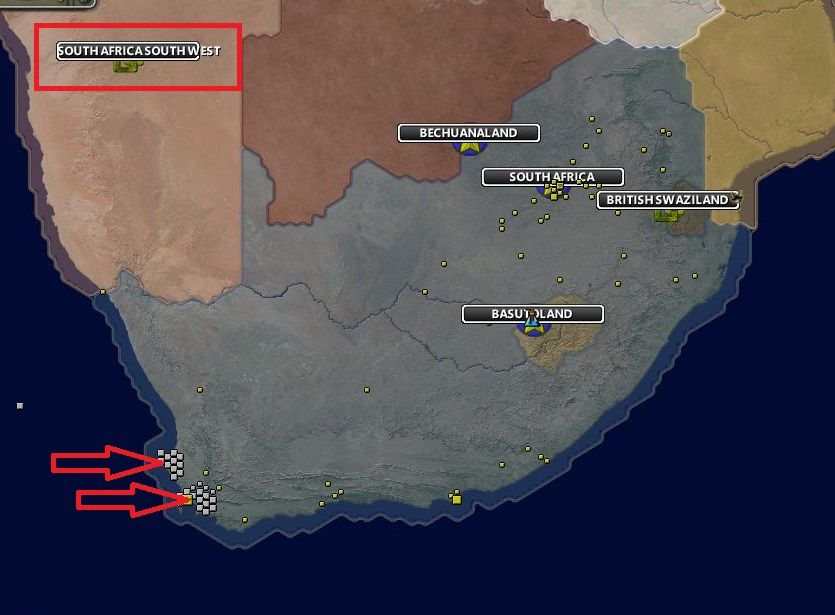 "That's O'neill, with two l's"
(Holds up 3 fingers)
---
First for a bit of what's going on in the world, over 30 years have passed now.
My army has evolved from
Motorized Engineers
to the
Mk. II Bren Carrier
to the
Combat Engineers
to my current army, a mix of
M-75 infantry
and
Centurion Mk I
. I think I will be replacing all of them with just the
M-60A1 patton
, while still not amphibious it has much better range and anti-infantry attacks than the infantry I use now plus the armor strength is a 50% increase over the centurion. Arty and AA are nothing special, same units everybody uses with different names - around 12 soft attack/15 hard attack at 41 range with 4 combat time.
I have an air force finally. 5
F2H-2B Banshee
tactical bombers that can land on carriers and have AA ratings as good as most interceptors. Only the US has jets that I have found, so i'll probably make around 20 of these and wait for new air techs.
My navy has gone from 6
Nelson Class
and 2
Gallant/Hardy escorts
, 4
Umpire subs
to nothing. But I have 2
Midway carriers
that just left drydock, with 8
Iowa battleships
and 2
Charles F Adams
ready to launch in 6 months. All the escorts I can find are specialized, no good jack-of-all-trades yet. My naval tech won't change anytime soon so i'll probably make more of these units but I must say I don't find them an overpowering improvement over the older ones.
My transport fleet has gone from 3
Carinthia Class
transports to 2
Wave Class
for troop movements, and I scrapped the 15ish
AE Civilian Cargo
for 60
Civilian Cargo
. I'm content with the Wave for another decade until I find an amphibious large capacity faster ship to use.
Nobody has Ballistic Missile Concepts researched, not the UK, Germany!, US, nobody - that is the root of all missile techs and tradable - and that will hurt the US later on for unit designs. Nobody has built any unit production facilities, pretty much all power plants being used and built are coal which is the only product still very hard to find. Add those pesky basic non-tradable power techs that take years to research and I think that could be holding the world back. Combat engineers are the best land units around (except for the US of course, and some soviet heavy tanks) and those are limited to US, UK, USSR, South Africa, France, Spain. But what China, Australia, India, etc lack in tech they make up for in cheap to make quantity.
I am still allied to Australia, New Zealand, Malay states (did that one just for cheap rubber I think) but US domestic approval of me has always been horrible, they'll never ally to me but love me because we do a lot of trades. If that falls apart I am in serious trouble but they are still at war with the UK and all their colonies. I have been building gas fields and coal mines slowly, I can almost internally produce everything I need except for power but I have one last +50% power output tech that should fix that. If I turn off research I can now survive financially, but stealing and selling military goods is still how I am bootstrapping my technology. 45% tax rate, moderate social settings, slight emigration over immigration but +3 million population gain/year because education is low. Ban books, give them lots of free beer, watch the family size increase.
My next target is South Africa, I only have 54% casus belli but they are weak. Motorcycle recon mostly with a few of the newer combat engineers (might have bought them even), dirigibles for an air force and they have spammed a lot of AA units. The really bad part is they are still allied to the UK and I have 12 treaties with them from when we used to be allied... I might just sit and build/research for a while first. But the US keeps around 20 interceptors based in Greenland and 3-5 heavy ships in my waters at all times so a war vs UK would only be bad for me in Africa. Currently I see a KC-135 Stratotanker flying around my capital, the US has mostly researched and is
fielding
1980s units while the rest of the (1st) world nations are around 1950s.
World relations, plus how much of Africa I have taken/have yet to take - about 1/3 of African nations are still UK colonies. No idea why I am taking over Africa, it just became a thing somehow - something I usually steer clear of because of the poor development, multitude of nations, and large areas of no-supply.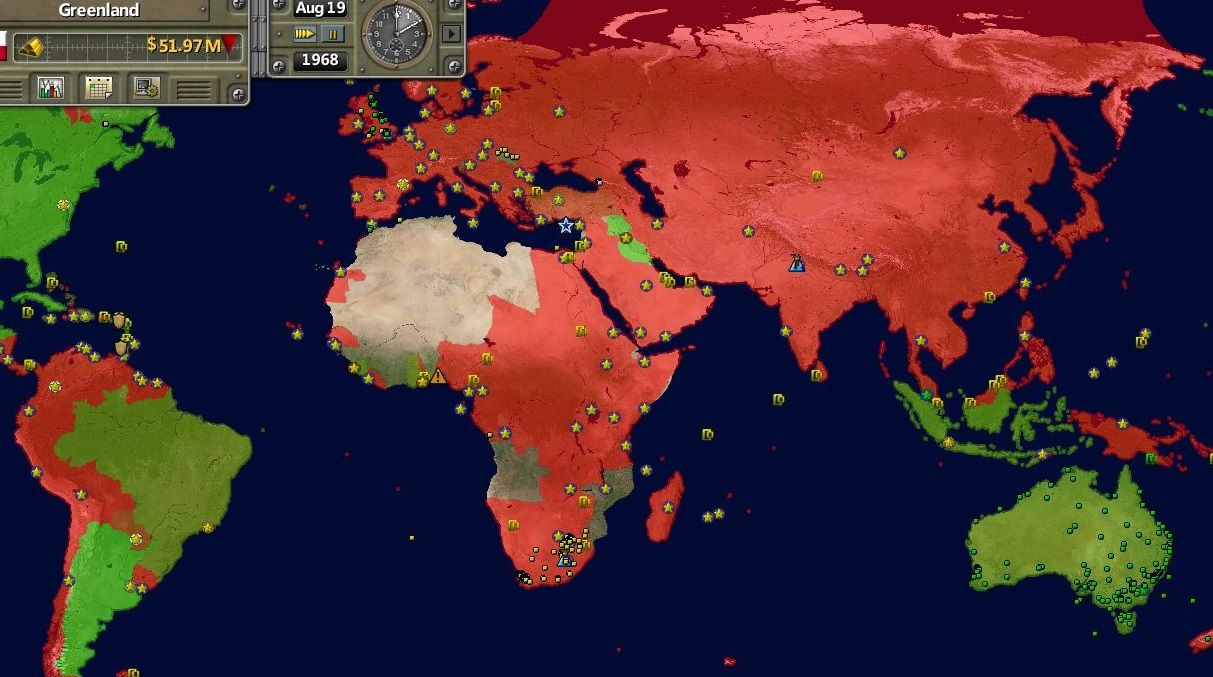 Playing at home on my tower is a different world. At work on my tablet, it can't run very new or graphics heavy games so i'm limited to what I can play on it and don't like to play the same at home so I don't burnout on them. But at work 'fastest' is around 'normal' at home, I have lots of time to poke around the world and look at things. At home... zip zip zip, so easy to focus on one thing only and accelerate time around accomplishing that while not seeing other problems that are growing.
The market for military goods goes lower than I will play with, around $4k for them now while they were at a high of $14k about 5 years ago. So now I am stealing them from the US, trading them back to the US in exchange for industrial goods, selling those at $7k on the market, and financing tech research or giving that money back to the US to buy nuclear techs from them and I have never been able to afford. When they run out of those i'll switch to oil.
Whizz and a year of gameplay went by in under an hour, just leeching goods and selling them. South Africa could have contacted aliens and be fielding Armored Phaser Donkeys for all I know, haven't looked around in a full year. But I am close.... finally almost done with Research Reactors which unlocks all military techs past 1965. Not very nice that you must build a nuclear reactor to figure out how to make better planes but it is what it is. I have orbital launch pads unlocked and starting to get into satellite and ICBM technologies, although still stuck researching guided bombs so I don't have missiles yet. Nuclear weapons test, naval reactor tech, commercial reactor techs are way past anything I can do cost-wise.
Finally in November of 1970 I start to research Modern Industrial Infrastructure which will unlock a lot of tech areas. Waste management, Guided Bombs, Satellites are the rest being researched so my costs are low right now - time to hit South Africa I think. Oh, market for military goods recovered and they are back up to $9k per. Once I declare war on South Africa and I am sure UK units start to head there to help out the price for military goods should go up to $13k-16k.
"That's O'neill, with two l's"
(Holds up 3 fingers)
---
January, 1973.
I have been a good pirate the last 50 months. No wars, just sitting quietly and stealing military goods from my good buddy the USA to resell on the market at $16k each and some unit production. And a lot of research. I make sure that my being a parasite of military goods does not kill my host, the US.
I now have researched Nuclear Weapons Test ($9,000 cost over 90 days!!), Naval Nuclear Reactors, Satellites, and still the only country to have done ballistic missile concepts which is the basis for all missiles and missile technology. Pretty sure that means all MLRS, all of the SAM systems, the end-game and some mid-game ships. I alone can make nukes and missiles, and I even have 4 nuclear power plants now. The US has the tech to make them but does not, they still keep building coal coal coal. The UK finally developed basic jets in '72 making them one of the top technological nations, and the USSR - while stuck in 1945-1948ish unit technology - has researched high energy colliders and industrial lasers, gone on to research microprocessors and personal computers and video gaming. This works well for me since that type of tech is needed to unlock the 1970ish advanced avionics and countermeasure techs needed for the '79 air force tech which is where my wanted units are at. US has the Virginia class nuclear heavy cruiser now and the Enterprise carrier, but I have not seen any nuclear battleships. No F-4 Phantoms or F-111 Aardvarks running around. I am researching 11 techs that are either non-tradable or nobody else has (missiles, nuclear).
My military is still 15 decent carrier capable tactical bomber jets, 8 Iowa battleships, 2 Midway carriers (6 air slots with 40k move range), 12 Adams destroyers (meh, but they protect the heavies), and I have scrapped all of my army to upgrade to only M-60A1 and M-113. The US has a better version of the M-60 that I can't get yet, and while I thought I should go without infantry after the so-so M-75 I realized that I need the close combat capabilities of the M-113. I can build the early Long Beach class nuclear cruiser but waiting for more techs to get the unit designs for the Virginia class, then I will spam those.
My goal has always been a good CGN (Virginia, Kirov), the Nimitz CVN, F-14 and variants, missiles, and either upgraded M-60/M-113 or M-2/M-1 before I start serious world domination.
Soviet Union declared war on Turkey after they had a diplomatic coup, then a few months later declared war on Iraq and took them over in roughly 6 weeks. I don't think they went crazy since the Turkey coup might have triggered that war and they waited a few months before the next war, but it's something to watch as they expand - like the USSR would have liked to. The US-UK war ended in 1972 also, I think almost all of the UK's colonies have left and are fair game. Unfortunately the only nations I have casus belli on now are Italy, Germany, Spain (which I pretty much gutted) and piddly island nations. If I want to take over the rest of Africa I better be ready for possible war declarations as consequences for very low casus belli.
The units I have been waiting for to dominate the world are close but not quite there yet. Soon...
"That's O'neill, with two l's"
(Holds up 3 fingers)
---
Time passes.
July, 1975 - US declares war on Nicaragua.
February, 1980 - USSR declares war on Germany.
The seeds of casus belli grow in Africa, supporting the opposition of their governments lets me do more conquering over the years as the casus belli slooowly grows.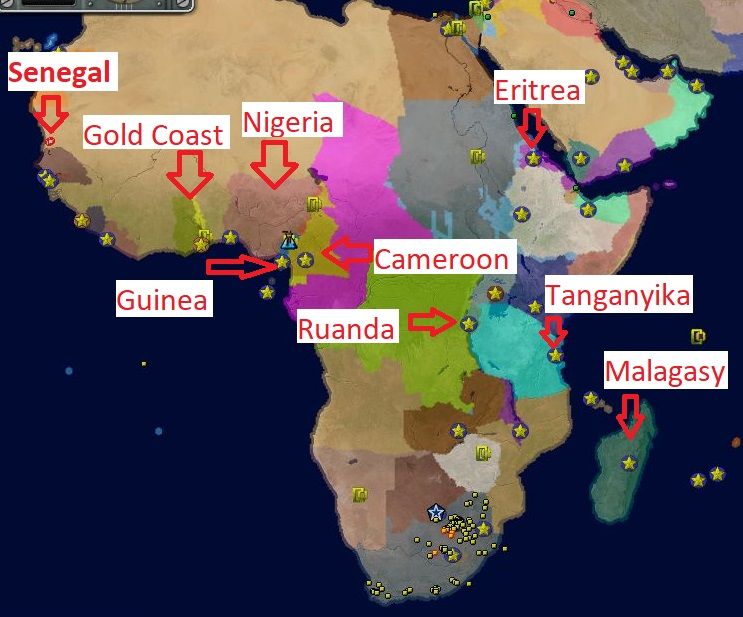 Malagasy (Madagascar) I turn into a colony and support them with goods, cash once in a while, and require them to build enough industries to become self-sufficient in case they permanently go into debt. Also a sea port, air base, barracks so I can give them units. I like to use large island nations as colonies for basing, refueling and henchmen for keeping parts of the world oceans clear. Plus since I hate to scrap my built units when I produce a next generation this gives me a dumping ground for units I don't want the world to have, but like too much to just throw away.
June, 1980. Ireland.
I don't care about Ireland except that it is a staging point for taking on the UK which will come someday, and I badly need a good AA unit. The UK is down to about a dozen colonies left but their air force is gigantic and I want them to concentrate on sending units TO Great Britain, not FROM there to attack me all over in Africa. I will turn the villages there into anchor points of fortifications, radar, gun emplacements, multiple air defense. The lines between them will be AA and good defensive units, rows of artillery near the coast to try and destroy merchant marines and naval units. I am counting on lots of air defense facilities to blunt their air attacks, when Australia (ally) sends an air unit to Great Britian I see hundreds and hundreds of fighters flying around. Old but masses of them. Interestingly enough USSR sent units to help me take over Ireland.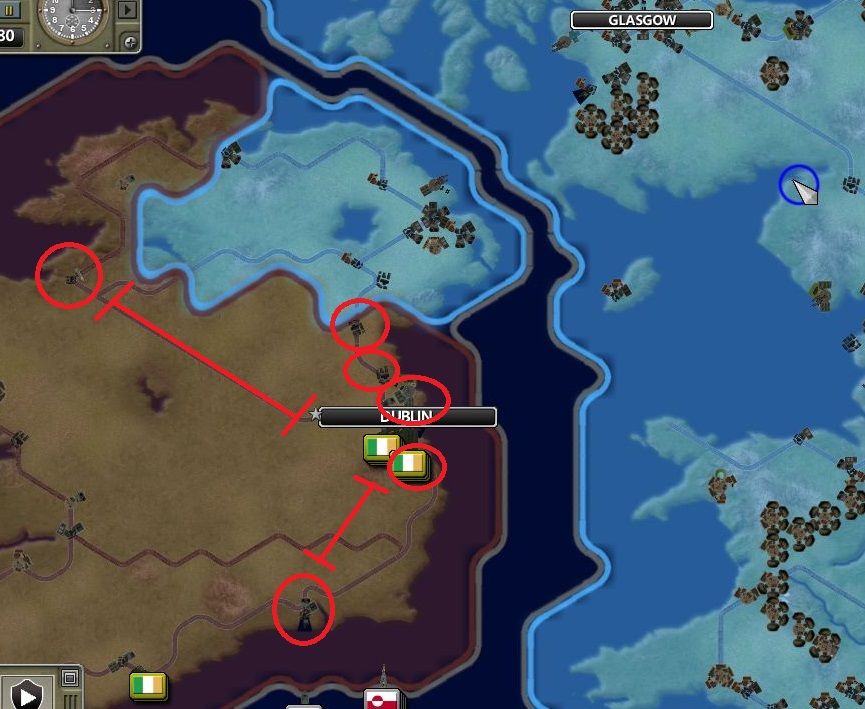 My military is ready as of 1980, I am just low on numbers of course. USSR is still researching all of the pure science techs and have ignored any military techs since around 1943, I think they have latched onto the Internet as a goal. UK does have jets but only a few basic designs. The US... my leeching from them got to the point years ago where they are now buying all their goods and they stay broke most of the time. I trade them some in exchange for industrial goods which I then sell, then go and leech the military goods back. There have been some times I almost went into a financial hole doing that but I have kept them from doing any research for years, and I think unit building as well. They have 1960s units and I have 1979 military techs plus a good chunk of the Soviet techs, I feel comfortable with my edge against anyone except for in air defense - I still don't have a SAM unit that can reach mid level flyers. I also fear the number of units the larger countries can field, for example the US has 800 naval units, 1,200 air and around 4,000 ground units. I am assuming 2/3 are easy kills but the sheer numbers could overwhelm me fast plus merchant marines aren't too easy to kill.
My current Navy: Older units given to Madagascar. 20 Production.
8
BBG-61 Iowa
Class Battleships for bombardment and ship killing. Weak vs subs and air.
20
CGN-36 California
Class nuclear cruisers, very good all-around units.
14 (+ 14 more about to launch)
DD-963 Spruance
Class destroyers. Escorts for the carriers and battleships, a well rounded escort that can take on subs and air.
20
SSN-866 Los Angeles
Class nuclear attack submarines.
6
CVN-65 Enterprise
Class nuclear carriers are ready to launch.
Each sub carries 4
NLCM-1 Gyser
and no other missiles, just to keep loading simpler on the poor player. All other ships auto-load the
Gabriel III
anti-ship missile and all magazines are full. I am still the only country with any missile or nuclear weapons technology. 18 Missile production.
Surprised the Gyser was the first nuclear unit (outside of bombs) I could make, it seems rather good for 1960 worldwide unit. The Gabriel I don't like at all, 7 days to build but in the next stage of missile techs I will unlock the Exocet, a superior anti-ship missile. Carriers.... I am upgrading to the Enterprise but not happy about it. The Midway has 6 air slots instead of 4, has guns while the Enterprise has none, a respectable 40,000km range but the health is just too low. 380 for the Midway vs 750 for the Enterprise, not that they will run around without at least DD giving them anti-sub support. All of these ship designs are cutting edge but purchased from the US.
My current Air Force: Older units given to Madagascar. 15 Production.
12
F-4 Phantom
Interceptors, short legs but can land on carriers.
16
F-4C Phantom
Tactical Bombers, short legs but can land on carriers also and have a good missile capacity.
3
B-52H Stratofortress
Enough said.
6
KC-135 StratoTanker
because those Phantoms are going to need it.
I reallllly wanted to have F-14 before I started anything and air units are expensive plus take a while to build, so I have not made many. I have mostly been dumping the production money into my navy instead. All of these designs are cutting edge but purchased from the US, no other countries have jets. I do have some basic anti-sub helicopter designs but not worth making yet. I do have the UH-1C Huey gunship, but the US did not have the transport design or I would make some of those.
My current Army: Same forces used by Madagascar. 20 Production.
66
M-60A1 Patton
Tanks.
96
IOF-2
Infantry.
83
M110A2 203mm
SPP artillery.
44
Flak 40 128mm
AA.
And these I make just for colonies,
Raven 6x6
recon units.
These are all cutting edge units and the designs purchased from the US. The artillery has twice the damage of any older designs, the AA while decades old has a very good mid-level damage, and the recons I give to colonies so they can run around and push forward in non-city areas when at war. I don't want the minister running my units but I want an AI running the recon... so this is how I get both things done. Same with air tankers sometimes. I feel confident that I can take on any midrange military such as Brazil, South Africa, any country in Europe, Australia. UK, USSR, US, China are in a different league though just on numbers alone. India... I have not been paying attention to their buildup and have no idea what they can field.
I have not done any defensive building in Africa, once in a while (when I can afford it) I build more oil wells and ore/coal mines. My air force is too small to be used with an enemies air units being taken care of first, and my navy is good but too few of them - I mostly fear subs. Packing missiles basically doubles their life expectancy and how many units they can take out but the nuclear cruise missiles would be shot down by planes and 'modern' countries have a lot of planes sitting around their air bases. I have around 30 land units in Ireland, another 30 in africa in case of partisans (haven't had any in a decade but just in case), about 20 in Madagascar and another 30 sitting on my home villages.
More research to do I think, get better anti-ship missiles and a ballistic nuclear missile, build more army/navy units. I break even financially if I am not producing units and keep techs down to 1-3 cheap ones being researched. I really wish I had the F-14 and a better tank though plus I *might* be getting a SAM unit in 300 days depending on which designs I am allowed - north Europe, multiple - you just never know. I might try to take Japan again in a few years while I keep taking over Africa and letting the UK colonies fall away, not sure. Brazil is tasty but I don't need another continent to worry about defending, and Europe is still destroyed from when I scrapped all their facilities - plus that would put me too close to the Soviets.
Last edited by
Leafgreen
on Aug 20 2018, edited 1 time in total.
"That's O'neill, with two l's"
(Holds up 3 fingers)
---
November, 1982. Soviets research Tank Tech '54.
And I have built the better radars around in Greenland, Ireland, Madagascar. Without a serious SAM unit design and lots of them, a dozen AA facilities won't hold that line at all.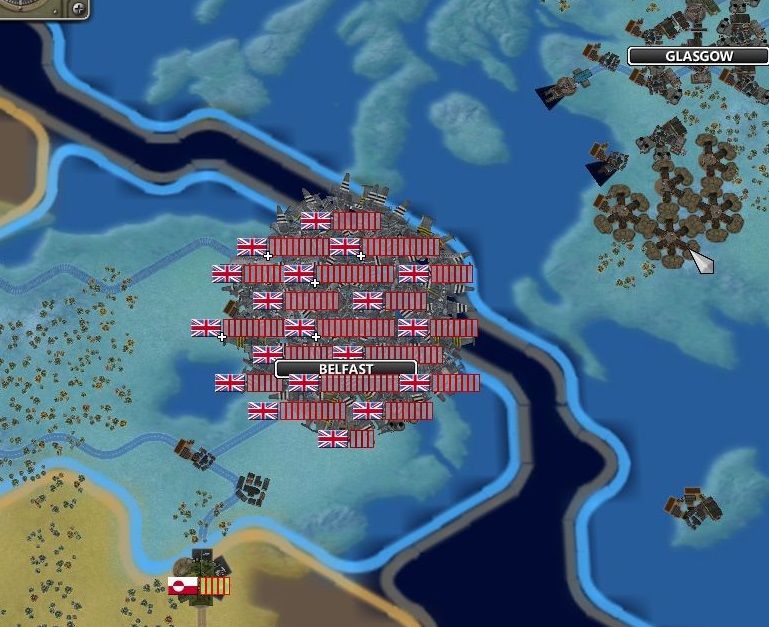 Australia broke our alliance sometime when I wasn't looking, now I am only allied to New Zealand. USA and USSR are still both cordial to me so I am still researching and building ships. Soon I will have to stop building for a year to get better relations with those two.
1984. 4 more battleships that I added to the production finally finished, as well as another dozen CGN. I spammed around 20 of the
FFG-7 Oliver H. Perry
for Madagascar. The Spruance is better but the Perry has a 98 day build time and still a good unit. Plus with an 8,000km range I only had to go rescue a half dozen of them out of fuel. Meanwhile I have been pushing the techs hard and might get some new units soon.
February, 1985. Playing at home on the tower just makes the game zip along, but on my slow tablet I have lots of time to do wars or check on the world. A new unit finally, I will spam these.
FF-401 Yugumo II
is pretty darn mean for a frigate, if it had a better range I would even replace my Spruance with it. But with a 90 day build this will give me a fast naval buildup of units that can toe to toe with cruisers, subs and aircraft. No I am not very advanced yet, Naval Force '86 was the last one I researched - this is from other techs.
May, 1987. Was a long time coming but I have a good interceptor now, the
MiG-29A Fulcrum
. Throttling back on research and mass producing these, with help from 50 of those tasty FF-401 I might have a shot at cutting down the UK air force. Still no SAM units. But time is passing too fast, I have to make a move somewhere soon because it takes me a lot of techs to get one new unit design - but US/USSR/Etc can get a dozen good designs from a single tech if they bothered and they will eventually.
Oh yes, I forgot to mention that I have about 60
LCM-1 Phoenix
and a dozen launchers, 4 of them sitting in Ireland.
"That's O'neill, with two l's"
(Holds up 3 fingers)
---