I have 7 Nanyun transports total, 5 in the black sea and 2 based in the far east. My western 5 begin loading 30 BTR-II each and moving them to Mexico for joint training maneuvers with Mexico and Cuba. After taking back the western neighbors Russia would have to stop and lay low for a while, pushing further west would make the world respond in reality. The only way I could probably take that many countries and get away with it is because of the game economy situation, i'm betting countries would be more focused on 'fix ourselves, why spend money and troops on them' attitude unless it looked like WW4 was about to happen.
Meanwhile I move my other active BTR-II back to North Korea, I will 'assist' them in border control again. Last time I did not expect NK and China to help SK, nor US and Japan to have free run inside NK. The war preparedness forced me to stop and I did not have enough modern forces made but I did reduce China to a 1 dot military and probably not a threat which has made me feel safer in the east since then. Now I am ready to go back for a longer period and hopefully do the same to the other large militaries of the world. I'd like to temporarily take back the land and air units from my colonies since they are irreplaceable and not needed for this fight, but you know how trading for units is so hopefully they don't 'help' me too much in this fight.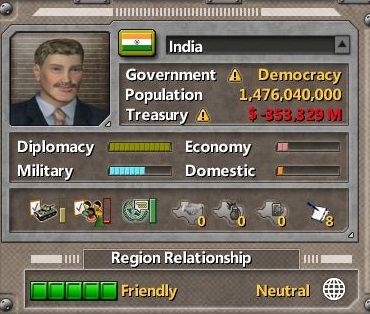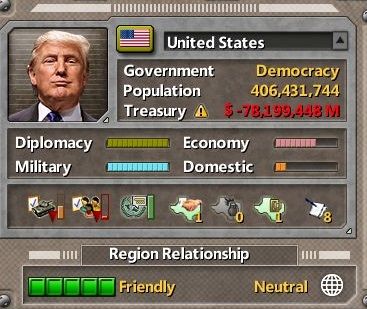 I forgot to scrap all of the unit production facilities I gained from the Baltics, it totaled 3/0/0/0 and they were on for a week. This is the result. Is it possible that diplomacy on hard just accelerates the changes -good or bad- by 5x?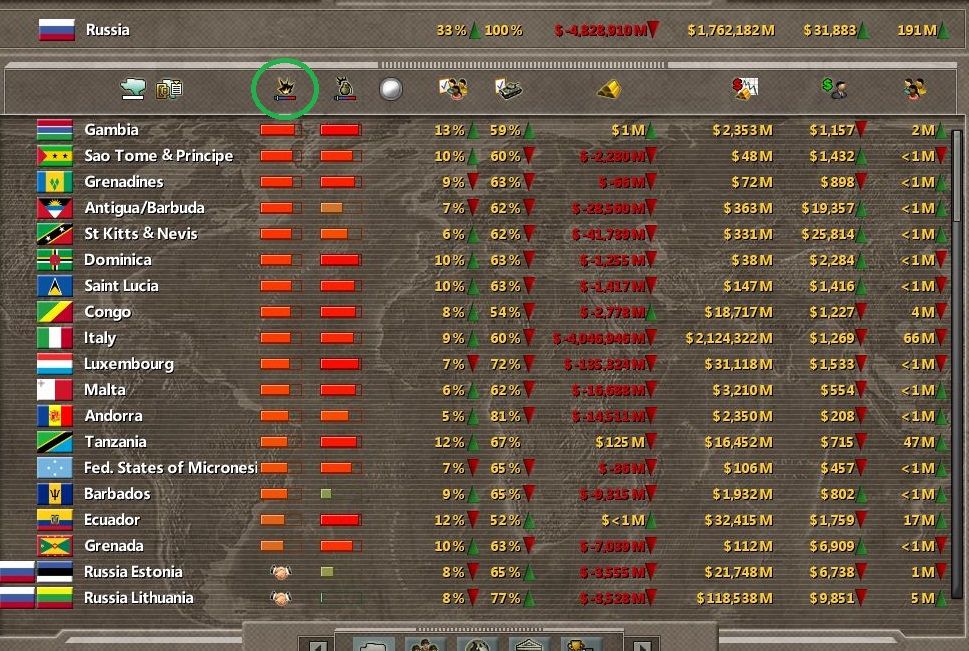 The aid provided to NK in securing their border was a great success but eventually US units stopped coming and Cuban units started to come so it was put on hold again on July 24, 2034. Throughout the 'exercise' I would have been screaming (quietly, as I am sure all the nations fighting there would have been hiding that action) about my horrific loss of aid workers attempting to humanely apprehend immigrants attempting to cross the border. I lost zero units, but if the world was getting slaughtered and knew I had lost nothing
while gaining lots of experience
they might start looking at a nuclear option or a joint pre-emptive strike against me. So I would think.
300 BTR-II and 100 9K62/S-400 Triumf are in Mexico taking part in the HAHA Proto-Canada Burned Your Capital exercises. Maybe this will become a yearly joint exercise. Another 150 BTR-II will be arriving to take part in the exercise as well.
(If I take the US over with light casualties I'm going to call it and post the save file, US has by far the largest military left and after I take them out the outcome is pretty clear for the world - plus I have a
much
harder, creative and cool house ruleset for next game)