So here's the lowdown, I recently surpassed 2000 hours played in Supreme Ruler Ultimate, and I am still finding new ways to challenge myself. My goal this time? To turn Burkina Faso into a global superpower. Unfortunately, in the process I have made a lot of enemies. My only allies are Uganda, Rwanda, and Burundi. Even more unfortunately, these three countries are currently caught up in a massive war that has been going on off and on for the last 5 years against Tanzania, Ethiopia, Kenya, and Nigeria. The high water mark for my allies was about 3 years ago, when Uganda completely overran Kenya and came within one hex of Tanzania's capital. Remarkably, the enemy liberated Kenya and fought their way back until they were threatening to totally defeat Uganda. At this point I decided to intervene in order to prevent more hostile nations from showing up on my doorstep and to prevent my last remaining allies from collapsing. I sent in my army and established static defensive lines along 4 fronts that held for 3 years. However, over time my lines gradually wore down, as the numerically superior enemy began to overwhelm me. I knew that offensive action was not an option due to the enemy's total control of the skies and my outdated and ineffective AA units, so I instead opted to simply try and hold out until a ceasefire could be a agreed upon. Eventually Nigeria agreed to a ceasefire, but the remaining enemies kept pushing, until September of 2027, when the enemy broke through my lines on the eastern front and poured into Uganda heading straight for Kampala.
This is a screenshot of my lines a month before the breakthrough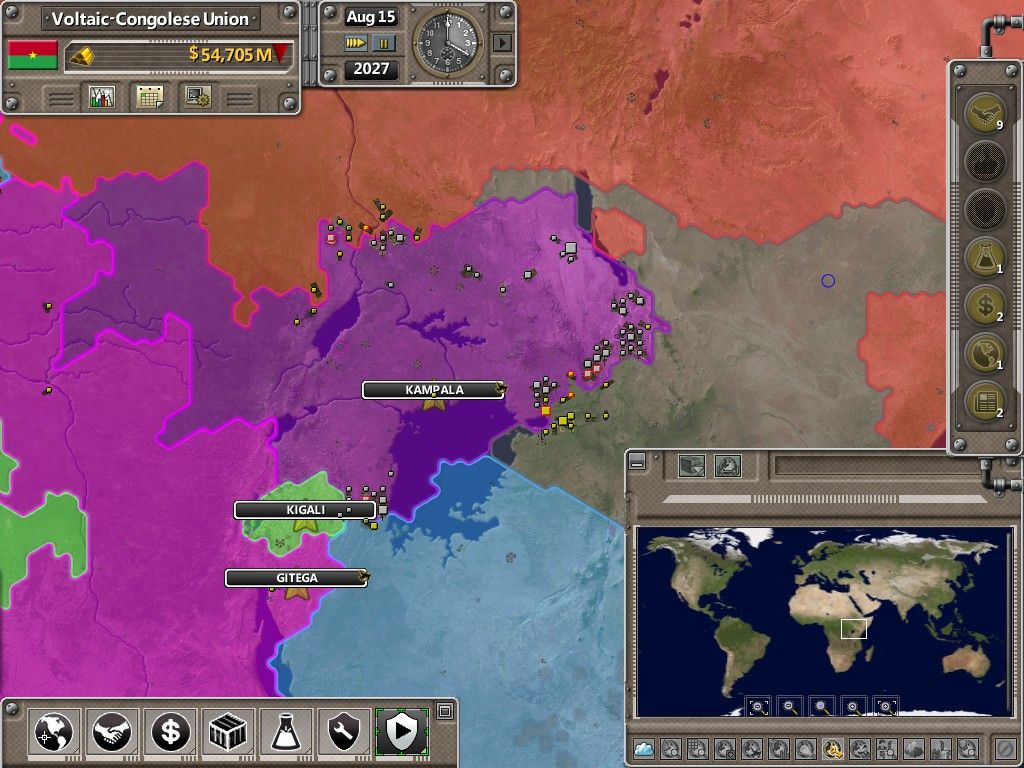 and here is about 2 weeks after the breakthrough, as you can see, I tried to plug the hole with the last of my reserves, but it was too late and they wound up getting cut off.
I am loathe to give up my positions on the eastern front, as they are on the top of a mountain range and thus very impregnable, but it is becoming clear that if I do not I will be surrounded. Currently I am considering three options:
1. Retreat to river lines inside Uganda and force the enemy into chokepoints where I can ensure local superiority for the foreseeable future.
2. Launch an all out last ditch offensive on all fronts. I still have enough force to drive into the enemy lands fairly quickly, however I would take heavier and heavier casualties the farther I go in due to the enemy air superiority and I almost certainly would not be able to take any of the enemy capitals.
3. Withdraw entirely from Uganda and prepare for the defense of Rwanda and Burundi.
Any ideas would be greatly appreciated. Keep in mind I am extremely limited in what units I can build, due to my garbage tech level.