I was looking at the 747 LCF and thinking that is an awfully large payload for a 747 (especially as the LCF was designed to transport oversized not superheavy cargo) so I decided to look at a few 747's.
Boeing 747 LCF (ID 14797)
In-game this aircraft has a cargo capacity of 185 tonne. This is too high. It is around 50 tonnes more than the 747-8F which from what I remember holds the record for the 747 family.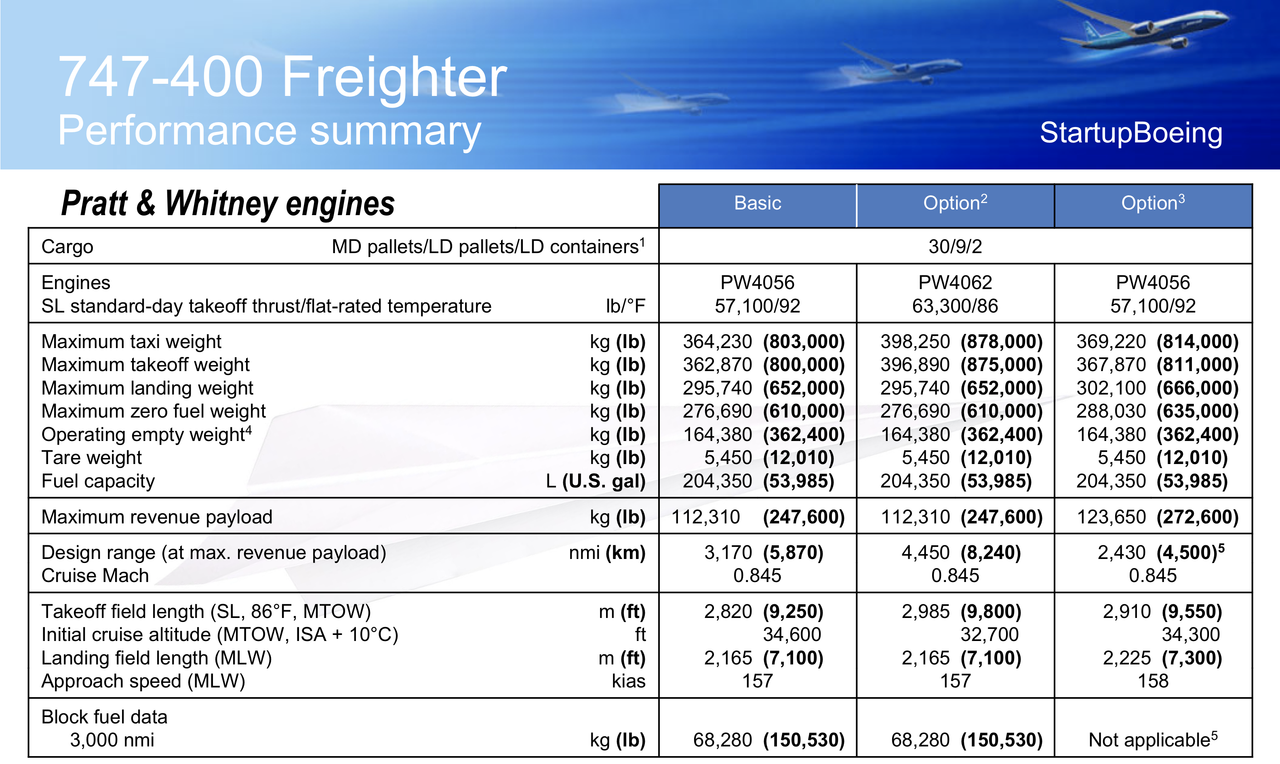 Here is a screenshot from a boeing document about the 747. This part in particular is about the 747-400 Cargo as the dreamlifter/Large Cargo Lifter (LCF) is just a modified 747-400 passenger plane.
The engines are PW4062.
Note the part that says Maximum revenue payload. 112.310kg. That is the maximum cargo weight. You can also go with 123.650kg but note the significantly reduced takeoff weight. That means a much shorter range.
For the record wikipedia lists a total cargo weight of 113.400kg or basically 1 tonne higher.
The screenshot is taken from this boeing fact sheet about the 747
link
Interestingly you already got a 747-400ER meaning you got both a passenger and cargo variant of the 747-400. That is probably overkill. Also this is a specialised version of the 747 used to transport 787 parts.
Perhaps changing this one into a 747-8F. The Freight series of the 747-8 (the latest version of the 747).
747-400ER Boeing (ID 14255)
This is the passenger variant of the 747-400 Extended Range (ER). The Transport Capacity though is set for the cargo variant (ERF). As I do not know exactly what variant of the 400ER this is giving an exact max cargo weight is impossible but looking at a few configurations upper 60's is probably not insane.
You can find the different numbers in this document
link
The relevant numbers is maximum zero fuel weight (MZFW) and operating empty weight (OEW). Basically the difference between MZFW and OEW is the maximum cargo weight.
Naturally this is a wide body passenger plane. Cargo comes in the form of passengers and ULD containers or pallets.
You probably want the ERF variant instead as it can actually load vehicles. The cargo capacity is more or less accurate (I'd personally go with the 112.31). The range however is not. The ER has a much longer range than a fully loaded ERF.
Wikipedia lists the range as either 7585 or 9200km. Boeing notes that it can fly from London to Shanghai which is around 9240km.
Also this aircraft is listed as being available to region groups U and E. From what I understand it is only assembled at the Boeing Everett factory located in the US state of Washington.
Not really sure why it should be available to Western Europe.
To summarise:

Boeing 747 LCF (ID 14797)
Change cargo capacity to 112.3.
Consider changing it to another model of 747 as this is just a 747-400 cargo aircraft for oversized cargo (and you already got a 747-400ER).
747-400ER Boeing (ID 14255)
change cargo capacity to be in the high 60's
Or change it to a 747-400ERF and set the range to just over 9000
Change availability to just U.
Also would it be possible to be more consistent with the naming? This is just a pet peeve of mine but having Boeing first in the name for one aircraft and last in the other just looks wrong.