Although I have arguably missed out the most interesting part of the AAR by leaving most of the invasion against the Democratic People's Republic of Korea out, I wanted to make sure I was interested in the AAR before actually doing it so it doesn't end up being dead like the other two (which I will return to another day).
So anyway. South Korea this is if you hadn't guessed, but with Korean Empire style (because the two are strangely quite different) All of my settings are on Normal or Default because otherwise I'll get stressed and upset.
I chose South Korea because North Korea has already been done, fantastically I might add by Porcupine. You might find influences from time to time because I loved the style so much. But instead of being anti-"Fascist" I'm anti-Communist and quite thankfully there's a lot of that around.
I don't know when I'll end this, but if I don't get the feeling that I'm running out of steam I will go until all four corners of the Earth have the Daeguk fluttering beautifully in the wind.
So to start off, a screenshot: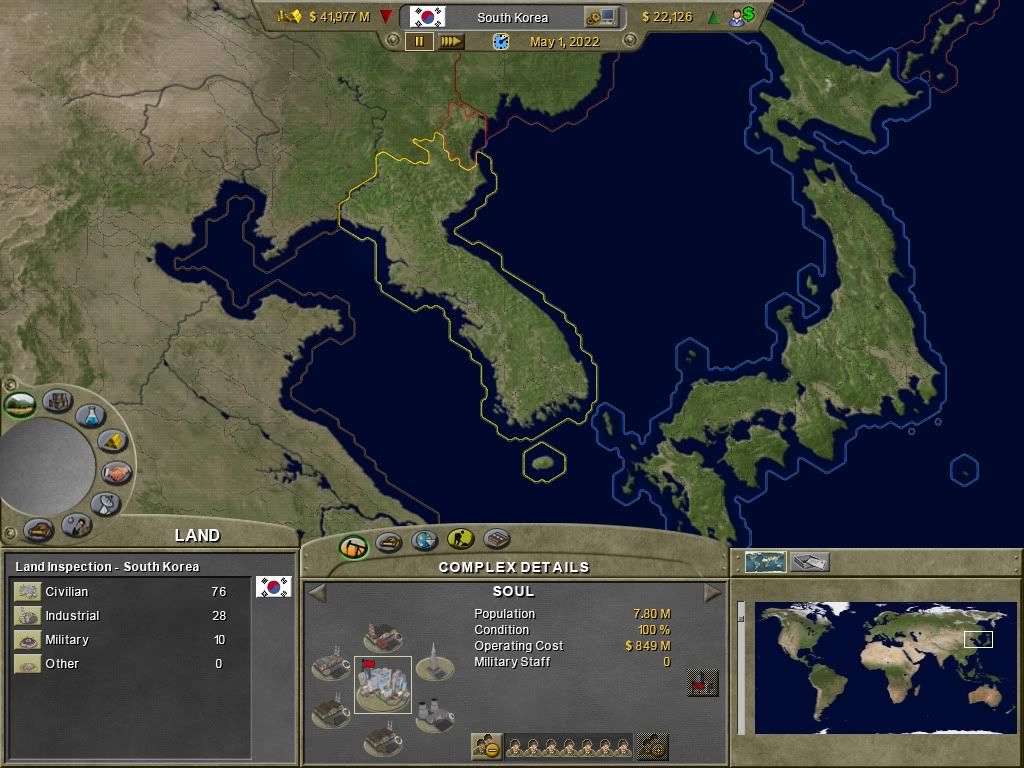 The atrocity that was the DPRK has been tamed so that it only has (weak) control around Chong'jin. However the area is thoroughly defended with artillery, my attacks on this area with small task forces with a mix between tanks and artillery have all been repelled with very big losses and I only have a small force left for my whole army. But thankfully the AI is too stupid and isn't going to counter attack any time soon. Which is quite lucky really but they aren't going to get very far with AA guns and 152mm Howitzers.
So the next attack (which has GOT to succeed) in destroying the whole of the DPRK once and for all otherwise I'll get disapproval issues is going to consist of a single strike of tanks only, there are virtually no other units apart from artillery around Chong'jin. So unless anybody has any better ideas then I'll do that.
How did I get to where I am?
Well quite sneaky really, all I did was mass about three hundred units at the 38th Parallel before attacking. Without a chance to deploy forces in defensive formations the DPRK was overwhelmed and before forces were two weak to take out the three remaining strongholds of the DPRK they had lost a good 400 hundred units and Pyongyang, but the peninsula was still divided and the KPA with it's back dated technology still posed a threat. The Republic of Korea Army had to regroup before launching further attacks on the rest of the North.
The border that you see in yellow in the North is the closest I can get without getting bombarded to death. A spy is wandering about the area (seemingly automatically
) shows that that entire bit of red is stuffed full of artillery, AA guns, and when I get close enough garrisons. Its like a bursting teddy bear, except the teddy bear has prison camps, and guns, and nuclear weapons. And sadly the largest prison camps are still under DPRK control.
I can't think of anything else to put now so I'll leave it at that
feedback is required so it isn't boring.
If wanted I'll do a prequel at the end with a sort of renactment of the Second Korean War. or I might just stitch into into this AAR by shifting all the posts forward. Whatever I don't really know how it'll work but its up to you really.