This will hopefully be my last game on SR2020. Poland have few natural resources no oil it is quite a large area with a very out of date navy and army. With a massive Russian base in karlinggrad in the north. I will also be playing global crisis so Russia will be aggressive from the outset.
The aar will take the form of screen shots complimented by news articles and the odd role-play
Settings
Jan 1st 2012 The elections have been won by the English man ex royal air force chief marshal Stephen Dalton after a landslide victory after months of telling the polish people he can see Poland being as a successful nation as the united kingdom, with a thriving economy and a powerful military. After years of being dealt a bad deal the polish people wanted a change and so Stephen Dalton was elected.
Jan 2nd the Prime Minister (PM) has started his first day in office confirming that all current alleys will remain as such they are listed below, transit treaty's where also signed with around 6 nations most of which will just be used for shipping purposes.
Jan 4th Lots of units have been sold to bring the army into line with the current day polish army also some towed artillery was sold on. The pm stated the sales of the 4 gawron frigates and 2 squadrons of f-18's is to fund new and stronger units. New units have already started being trained with the introduction of the PSF which stands for Polish Special Forces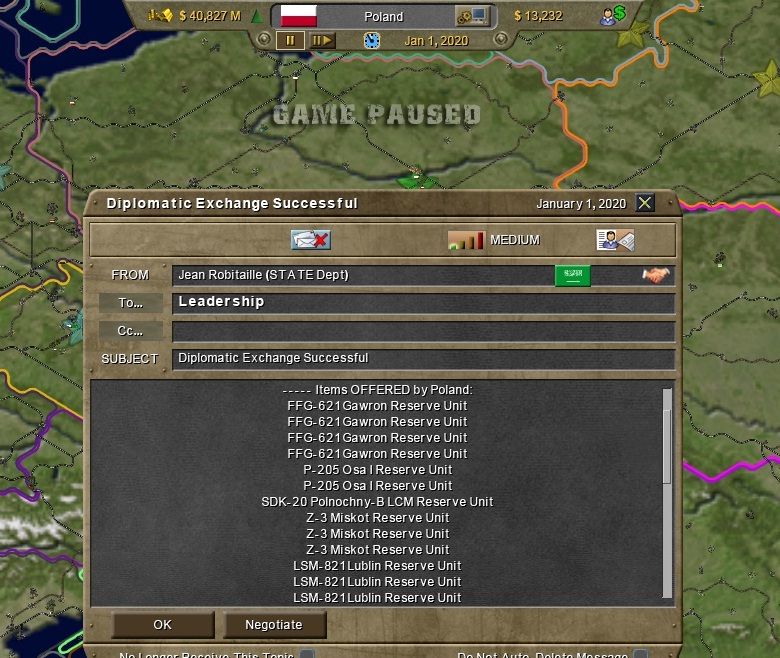 Jan 4th Works starts on 2 new military bases in the north near the Kaliningrad area both will have air defence capability.
Jan 7th The 4 Kobben Class sub's are in dock are under going a small refit so they can remain in service for at least another 2-4 years. While a replacement is arranged.
Jan 10th Russia declared War all planes and navy deployed, several army battalions sent to the Kaliningrad area to push back any Russian advance.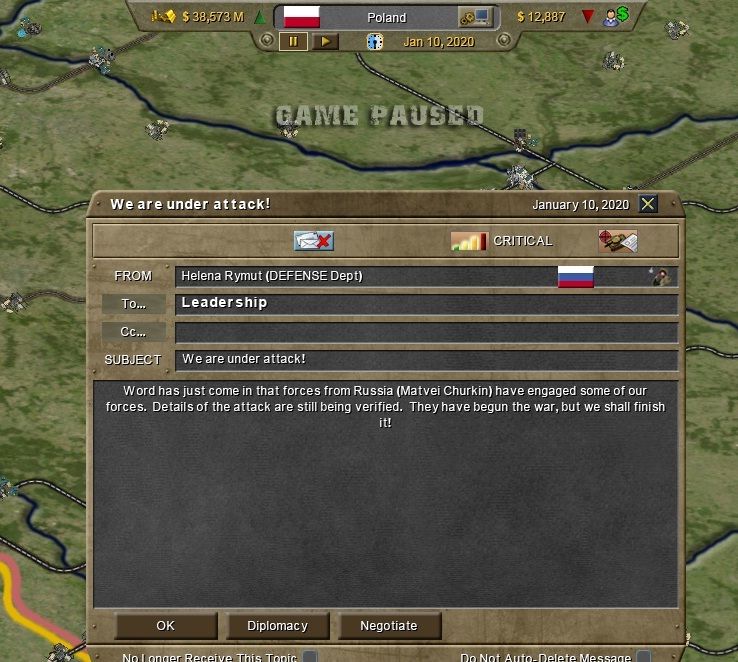 Jan 12th The polish pm has returned from a 5day trip to the UK in which time it's believed the possibility of buying into the euro fighter scheme was discussed. In Poland all driven AA units have been deployed to deal with what is now a good 10 squadrons of Russia fighters ranging from mig 35's to mig 23's
Jab 19th a deal has been struck with the uk for 10 squadrons of euro fighter, 5 tornado ids, a single sentry AWACS, and 3 battalions of warrior infantry amored vehicles only 5 squadrons of euro fighter and the AWAC will remain in service with the Polish Air Force (PAF) after any attacks on the polish homeland has been abated all the rest will return to the UK! No designs have been swapped this was judged too costly for poland by the pm.
Jan 25th With the new troops and squadrons in poland and awaiting orders from polish command the pm ordered a full attack on the Kaliningrad area to push the russian forces out and take the war the russia away from home soil.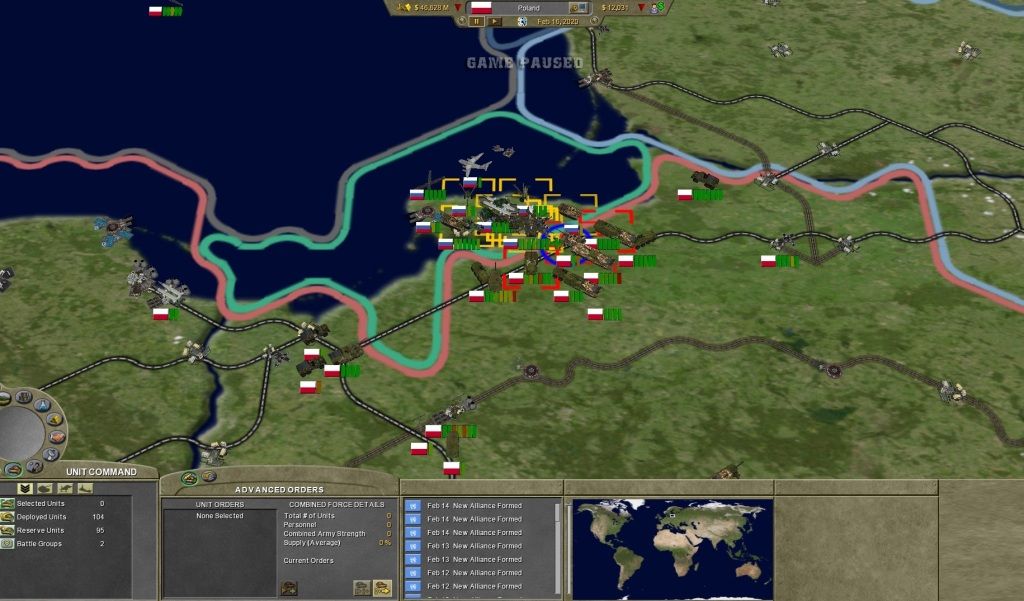 March 8th Kaliningrad falls to the mighty polish army. Although the Russian's have made it clear this is not the end of any war it is still a massive victory for the polish army which is celebrating.
March 14th Prime Minister Stephen Dalton has declared that no war ships is not a option for a country at war with Russia construction of a further 6 Project 620 class frigates is to commence as soon as possible taking the total number of Project 620 class made Up to 7 for filling the original order made in 1984. How ever only 6 will be in service as 1 was lost in the war of Kaliningrad 2 more larger dry docks are to be built while the navy look into possible designs for a destroyer class of ships. The navy is also pushing for a new class of sub's to enter service asap despite the Kobben Class recent refit, but there is no comment on this from the pm.
March 22th The Government has released a list of ships and aircraft lost in the war of Kaliningrad
2 x Squadrons F-16
5 x Squadrons Euro Fighters
2 x Oliver Hazard Perry Frigates
1 x Project 620 class
2 x Tarantul class