January 10th, 2021
Military Operations Room
Chekhov, Moscow Oblast - Wartime Command Post for the General Staff
Operation Perseus
Invasion of the UK
While meeting in Moscow for the year end report, the general in command of the air defence forces of the 1st Air and Air Defence Forces Command had suggested a possible solution to thinning out the British Air Force while our forces prepare for invasion. In the western theater in Europe there are a number long range air defence units positioned along the coast, but far too few to make any impact. He suggested that we also temporarily mobilize more of our long range AA units that are protecting our interests on the home front. He suggests that we need to maximize an air defense umbrella that reaches into British Air space covering a good percentage of their airfields on the eastern and southern coasts. Several of our SA-20-S-400 Triumf batterys can deployed onto the network of oil rigs we recently captured to cover the eastern coast of England. Once in position we can carefully position some of our naval units with long range air defence capablilities to add to the density. And then finally Mig-31s, Su-37s, FA-35 fighters of the Operative Strategic Aerospace Defence Command West can lurk off shore at a safe distance launching long range air to air missiles from 150 to 173 km away.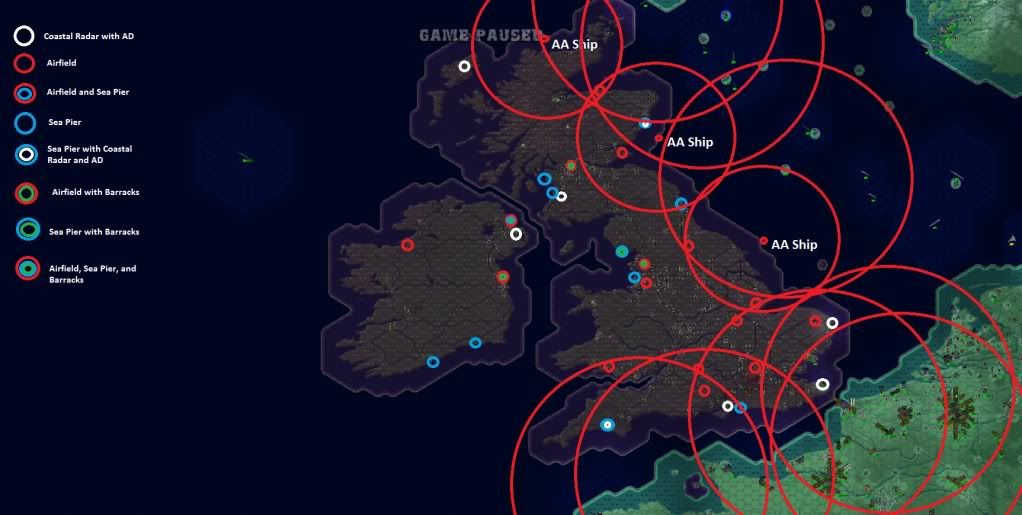 Currently we have about 17 Long Range Air Defence Battalions of SA-20-S-400 Triumfs, SA-10B Grumbles and captured MIM-204 MEADS in the Western Theater. These forces can reach out to 179km to 240 km. We can bolster this force with an additional 5 to 10 within 48 hours. These forces are protecting Moscow and the Kola Penninsula and a few along the Ukraine border and in Turkey. This can be increased 2 fold with LRAA battalions if we borrow from our idle Central Military District and Eastern Military District forces.
We can position up to 5 naval vessels with long range air defence capabilities reaching out to 124km. 3 Prj. 1164 Slavas, 1 CG-1134 Berkut B, and a CGN-1144 Kirov. 2 F-124 Sachsen with a capablity of reaching out to 197 km are also available.