February 28th, 2021
Military Operations Room
Chekhov, Moscow Oblast - Wartime Command Post for the General Staff
Operation Perseus
Invasion of the UK
The Russian Federation President has asked CINCWMD and all unit commanders involved to present and finalize plans for Operation Perseus scheduled to commence in 2 days, March 1st, 2021. Discussed first was current locations and force strengths of all land units involved with the invasion. "Please refer to the Russian Military Organization found in my Various Military Organization Lists AAR for division, brigade, regiment breakdowns" "anyone know how to do a link here"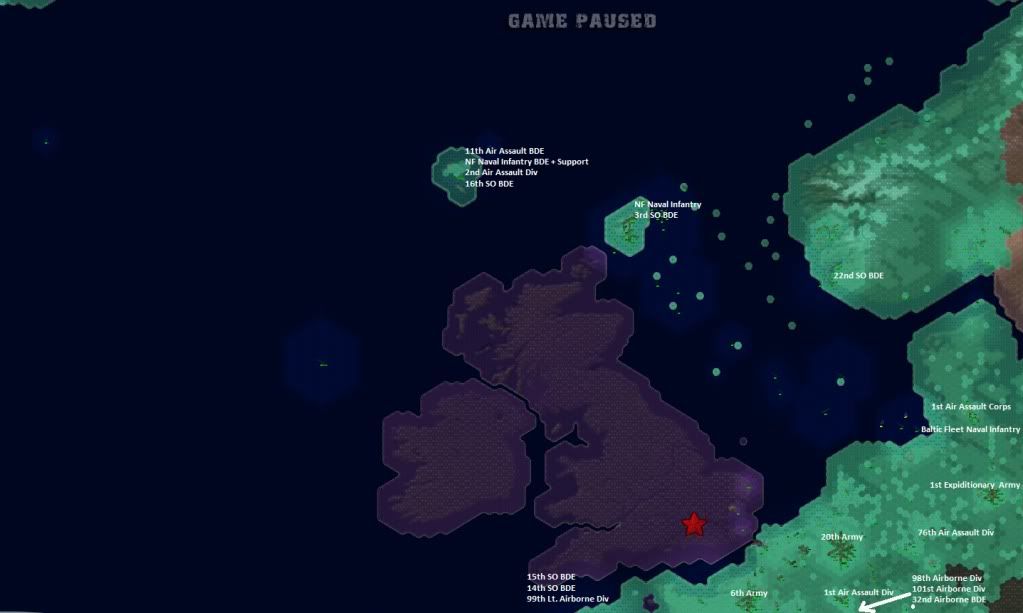 1st Air Assault Corps
17 air assault regiments of light airborne troops
1 airborne regiment of medium (Vodnik) airborne troops
Transport Aviation Command West can transport 8 double regiments and 9 single regiments in one massive operation.
1st Expiditionary Army
6 MCAB (Mechanized Combined Arms Brigade)
6th Army
1 tank division
1 motorized rifle division
20th Army
2 mechanized divisions
2 motorized infantry brigades
1st Air Assault Division
2 air assault regiments of light airborne troops
2nd Air Assault Division
3 air assault regiments of light airborne troops
76th Guards Air Assault Division
1 air assault regiment of elite light airborne troops
98th Airborne Division
1 airborne regiment of medium (Vodnik) airborne troops
2 airborne regiments of heavy (BTR-D) airbonre troops
99th Airborne Division
1 air assault regiment of light airborne troops
1 airborne regiment of medium (Vodnik) airborne troops
1 airborne regiment of heavy (BTR-D) airborne troops
100th Airborne Division
- Deployed in Greenland
2 air assault regiments of light airborne troops
101st Airborne Division
1 air assault regiment of light airborne troops
1 airborne regiment of medium (Vodnik) airborne troops
1 airborne regiemt of heavy (BTR-D) airborne troops
32nd Airborne Brigade
2 battalions of heavy (BTR-D) airborne troops
11th Air Assault Brigade
1 air assault regiment of light airborne troops
2nd SO BDE3rd SO BDE14th SO BDE15th SO BDE16th SO BDE22nd SO BDENorthern Fleet Naval Infantry
3 naval infantry brigades (seperate)
1 naval infantry air assault brigade of light marines
Baltic Fleet Naval Infantry
1 naval infantry regiment of (MT-LB) troops