May 20th, 2029
Algeria controls a huge region of Northern Africa, and Northern Africa is really big. Surprisingly, the Scoreboard says that as a whole, Algeria has LOST 80,000 sq. km. This must mean that it has lost some of its Southern holdings to Mali, Morroco and Niger.
All of the regions that surround Algeria are prime candidates to become the next US state, except for Western Sahara. This because they are all neutral and the US has 100% CB against them, except for WS.
But Algeria is mostly barren, open desert land that would ordinarially be without supply and nearly impossible to cross. Why bother to take empty territory? Because most the barren desert is littered with oil deposits, a richer oil field than that controled in Egypt by Israel: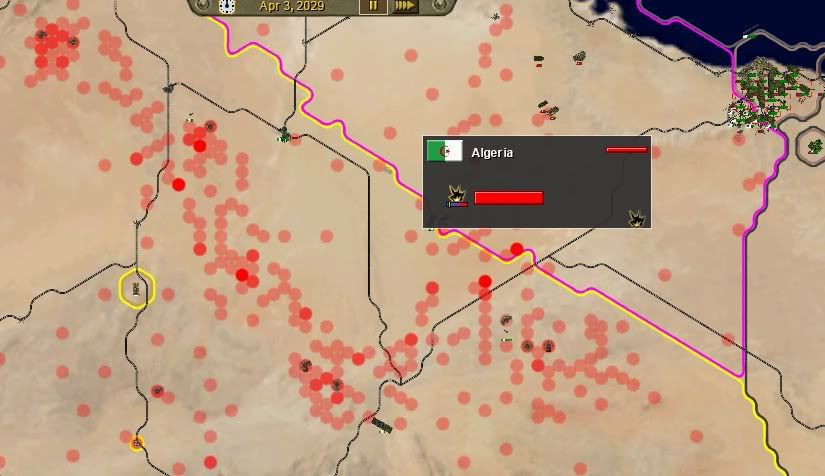 And because once Algeria falls, US borders will be that much closer to the Capitals of the surrounding regions.
In the Ruges mod there are supplementry, compound supply depots located all over the map that amplify supply greatly almost everywhere. They are valuable prizes and will amplify the output of the oil reserves located there. If I capture all of the Algerian supply depots, I will have strong supply when I cross Algerian borders to invade the surrounding regions.
And my recon units can capture the entire region by simply rolling up to the distant border of the neutral regions that border Algeria, nearly unopposed.
There is a cluster of recon units waiting, parked just South of Banghazi back in Egypt. I will need them to scout this vast Algerian desert.
Most of the Supply Depots are lightly garrisoned, but aside from the Algerian Capital there are three "hard spots" - the air field/barracks complexes at Quargla and Tindouf and the Supply Depot at Adrar. I will need AA and armor to take those.
May 31st, 2029
US DOWs Algeria.
Re-formed US units from Tunis advance West along the Algerian coast taking garrisoned towns and villages until they reach the big Algerian research center at Tiziouzou. The center is taken but heavy artillery bombardment from the Capital begins to take its toll on the US attackers.
M777E1 artillery pieces are moved up on the East and South side of the Capital to provide counter-battery, but although US artillery reduces Al Jazair's defenses, all US artillery pieces are destroyed. US forces pull back out of artillery range and wait until ordered to take the city.
June 25th
Armor, MLRS artillery and 62 recon units have been moved into Algeria from Egypt.
146 reserve infantry units and 73 artillery units have been moved from Egypt and are standing by in Tarbulus.
July 20th
All combat air assets have been shuttled from China-Korea and re-stationed at the air fields prepared for them at the US Eritrea air fields. FB-22 fighter/bombers and B-2 bombers are stationed North of Algeria ready for close air-support sortes.
The main base in Egypt is getting farther and farther away all of the time as I advance further West. So the transit time of new units and flight times are taking longer and longer.
The US has partially surrounded the Algerian Capital and has liberated most of the oil-rich area of Southern Libya that was ceeded to Algeria when Libya fell.
The enemy fighter aircraft at Quargla air field have been neutralized and US armor is attacking the soft units still garrisoning the base.
Three supply depots have been captured. Two are being repaired by Airborne ECB Engineers and the heavily garrisoned third depot at Adrar has been taken by airborne Marine units.
Three supply depots and one air field remain to be captured prior to taking the Algerian Capital.
September 1st
My completion of the Algerian conquest is delayed due to my anal desire to capture each of the Algerian hexes and to deprive Israel of them.
September 20th
Capture of Southern and Western Algeria is nearly complete and the Capital at Al Jazair is surrounded.
Naval units are moved to the coast North of the city to provide shore bombardment and precision missile strikes on enemy artillery.
Al Jazair is protected by heavy long-range artillery and AA which make it dangerous to approach by land or air.
September 28th
Algerian artillery has been greatly attrited. A quick armor rush quickly neutralizes the remaining enemy artillery units.
Algeria falls to the US.
Also in the News:
Aug 17 - Bulgaria falls to Italy
Aug 28 - Suriname falls to Brazil
Aug 30 - Nicaragua falls to Mexico