August 1st, 2028
Earlier this year the U.S. shut down the entire pacific North-West defense network - everything North of San Francisco. All land units were moved to Asia, leaving only a dozen AA units at Fort Ord, Monterey and 35 Marine units at Camp Pendleton North of San Diego. All West coast fabs were closed except for the San Diego NSSCO shipyard and the missile fab near Oakland. However many air-fields, aircraft, sea-piers and ships still remain.
Now the U.S. begins a total deployment of all U.S. land units from the Eastern continential U.S. to its new regions in Northern Africa. The only two inland fab/bases, the Fort Bragg and Fort Benning airborne bases, are also evacuated and their entire contingents are air-lifted to their new base on the coast of North Africa at Al Jaza'ir, Algeria. The airborne base at Corpus Christi, Texas will soon be simularly deployed to Tunis, Tunisia.
Most CONUS land fabs are already shut-down. Each region that the U.S. captures from now on will come with one or more land fab, so new land unit fabrication can easily be moved over-seas - the same place where the weapons will ultimately be used. The extensive system of land/air fabs in Eastern Russia will become very important in providing weapons for African and Middle-East operations.
Tank production continues at Fort Hood, Texas. This will soon be halted since tanks are so heavy and difficult to transport over-seas.
The Marine base at Camp Lejeune, North Carolina had already been emptied of its Marine units. All that remains to be deployed are three air-dropable M8 tanks, two M901E ATs and 8 air-dropable artillery pieces.
Panama has already been emptied of land units and is now only serving as a parking lot for U.S. ships. The same goes for Puerto Rico. Cuba and the CIs have been emptied.
Coastal barracks from Charleston, SC up to New York City were previously constructed with this day in mind - all were deliberately built on the Atlantic coast and were equipped with convenient sea-piers and air-strips to allow easy pickup and transport of their units over-seas. Now all nine are emptied of their land units. All units stand by their respective sea-piers and await the arrival of transport ships.
October 6th, 2028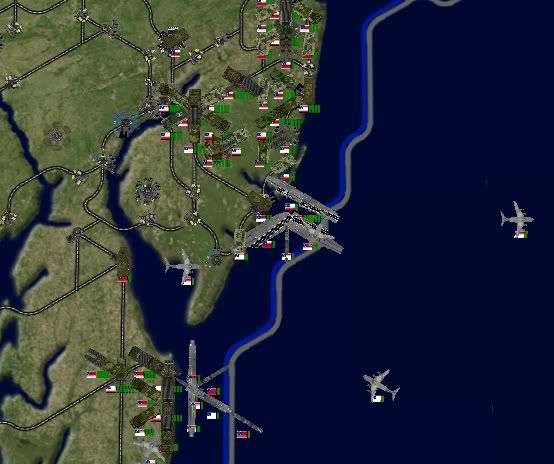 The evolution is performed in stages, one section of coastline at at time, with heavy units such as tanks and armor being transported first.
Many transport ships have arrived at their pick-up points and many more are on their way. All reserve barracks have been evacuated and shut-down.
The loading of 57 tanks has been completed and all tanks are in-transit to Dar-El-Beda on the Morrocian Atlantic coast. The U.S. has only ten tanks in Africa so far.
The evacuation of airborne units at Fort Bragg, Fort Benning and Corpus Christi has been completed and many are still in the air, on their way to North Africa.
It is decided that since XAV infantry units are air-dropable that they will all be flown to Africa. The transport aircraft are now idle so this will give them something to do and it will free up transport ships for the remaining units waiting on the East coast for transport.
The land fab at Fort Hood has been shut-down, but Warrior II units are still being turned out at Fort Bragg. The fab at Fort Monmouth is turning out MIM-212 AA units.
CONUS aircraft production is still going strong. World-wide the U.S. is producing unit like mad - Land/Air/Sea/Missile MilCap = 60/43/5/87, the highest in the world.
December 11th, 2028
The land unit evacuation of CONUS is complete. The only combat land units that now remain in the continential U.S. are newly fabricated units that just rolled off the fabrication line.
I rank these as two of the strangest things that happened in this game - first these 8 transport ships, instead of delivering their units to North Africa as instructed, decided to deliver them to the Bath Iron Works sea-pier in the State of Maine:
Second - these 45 transport ships all decided that there was an important pickup that needed to be made in - wait for it - Greenland: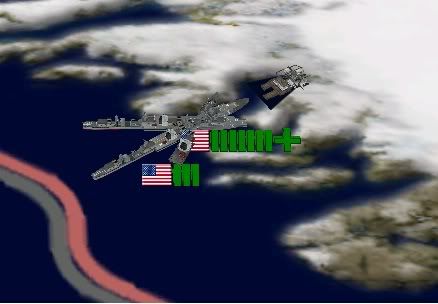 So now all of my little guys have been safely transported to Africa and can be deployed to invade our next target - Egypt.