Pyongyang (KCNA) -- Following the arrival of our glorious 2nd Guards Tank Army from Korea, the bridgehead in the Washington State of the United States of America could be expanded and the offensive resumed.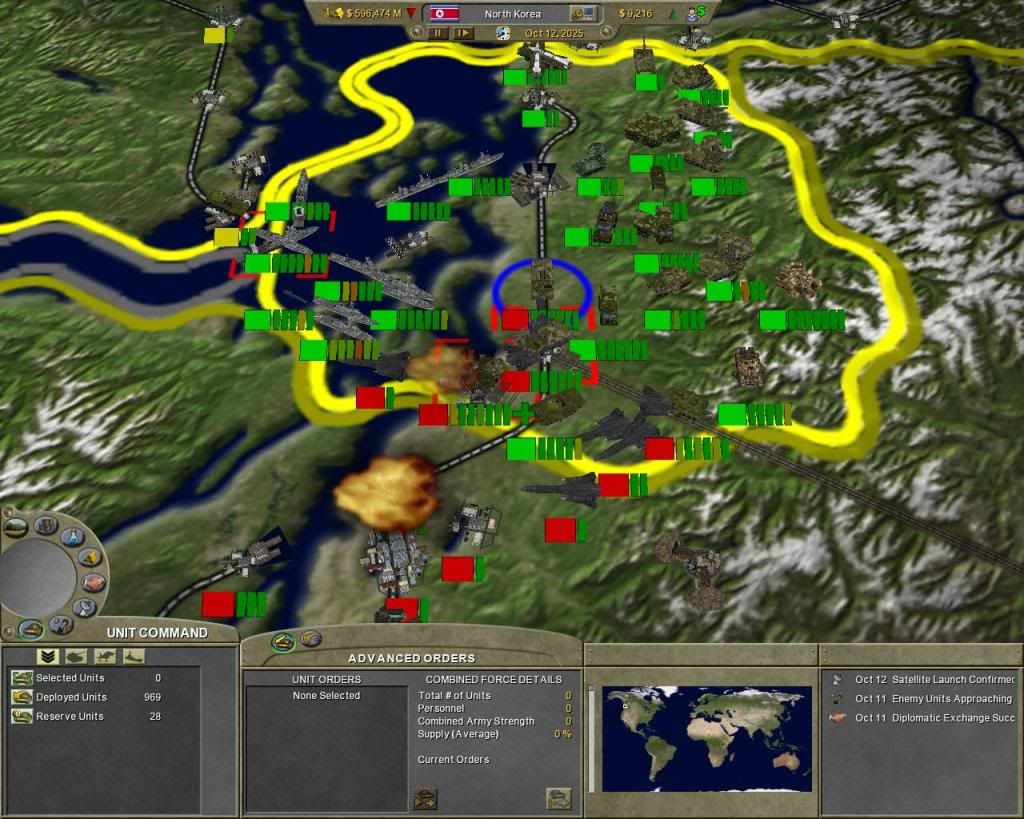 Strongholds held by the feeble gangster-enemy such as Spokane, Portland and Seattle quickly fell to our dauntless and tenacious troops.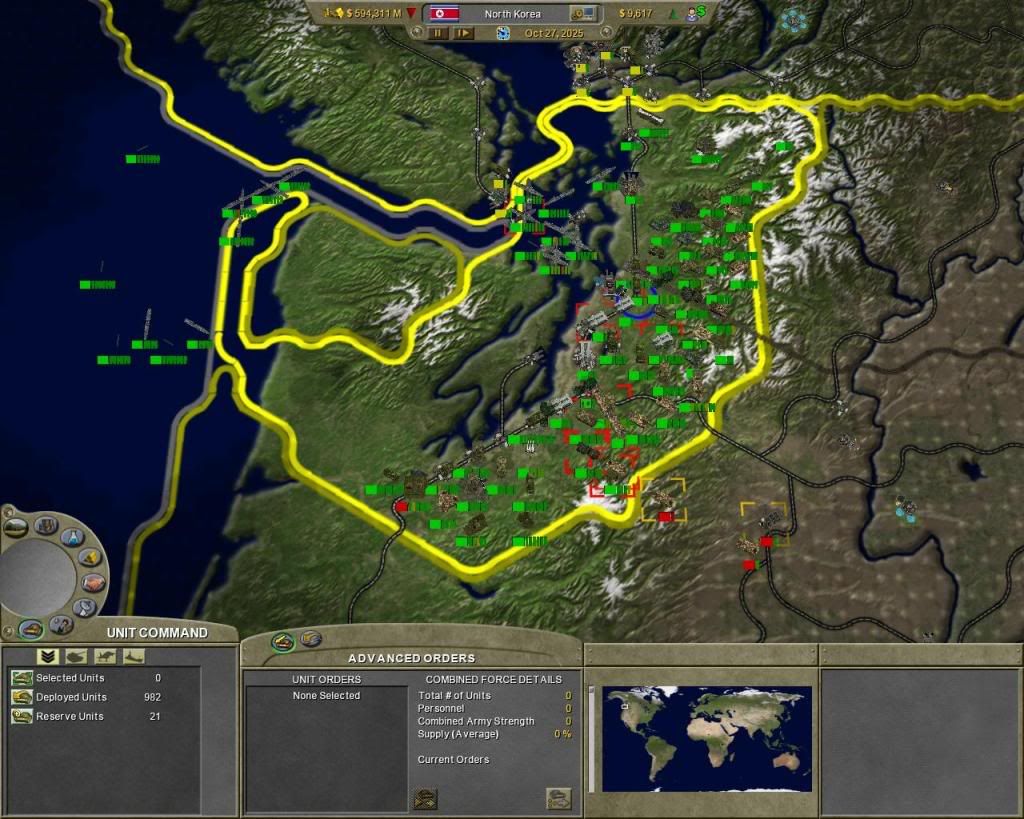 Even the so-called "wonder weapons" of the fascists could not help the misguided enemy against the lionhearted onslaught of the DPRK's armies.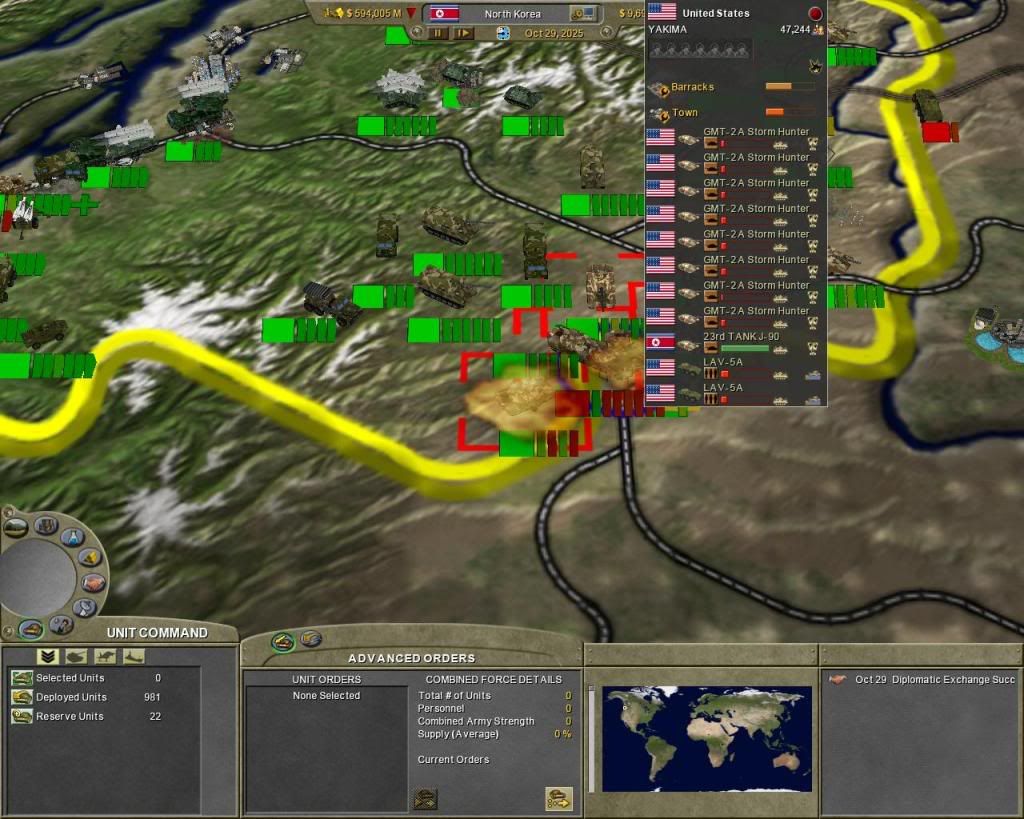 By now, an area as large as Korea has been liberated from the imperialists!!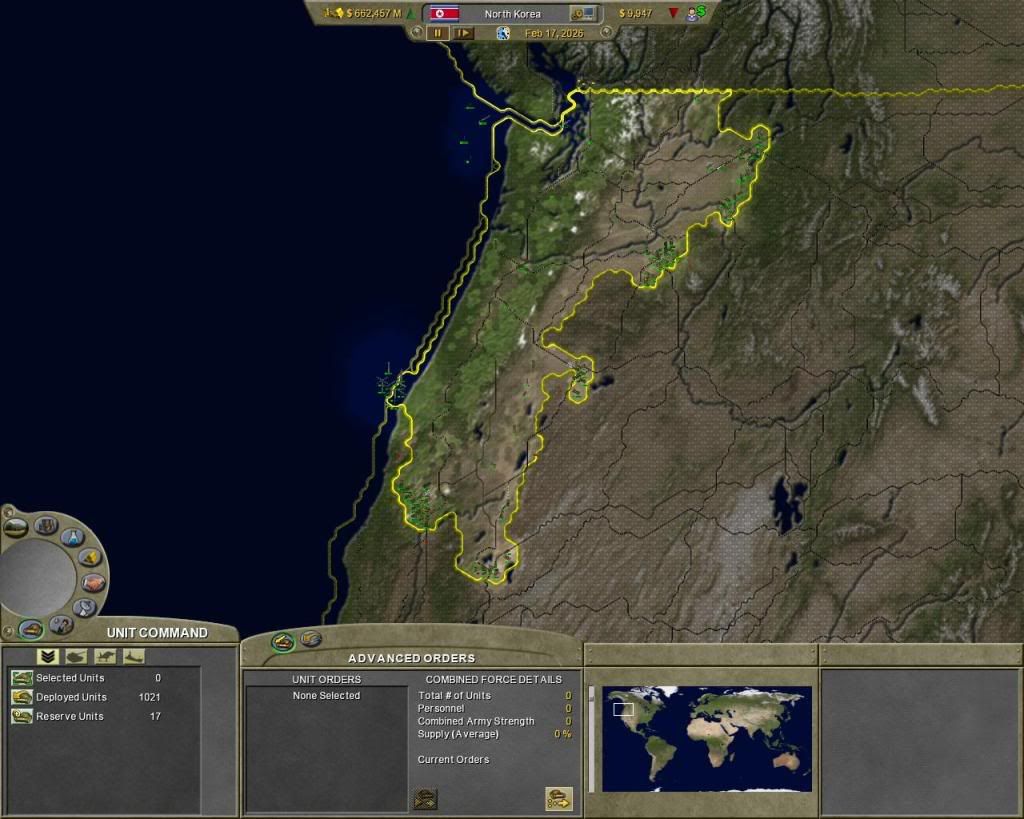 In an act of clemency following these spectacular victories, our Dear Leader has decided to pardon Comrade Vuk-Wolf.
--
I must say, fighting the USA with the DPRK's army is still a somewhat daunting task, even if it may all look quite straightforward from the pictures. The enemy is everywhere, and the front is getting incredibly long. The US Air Force seems to be in love with the F-112 Blackbird II, which is an incredibly bothersome aircraft since it is very high-flying and not easily discouraged by air defence systems. For the time being, I appear to have beaten these aircraft back, but who knows when the next wave will appear.
What is paying off is the arms deal with Libya, which gave me the Fahd-40 APC and the Al-Khalid tank. The Al-Khalid is doing much better than the T-72s and T-62 that I was using previously.
What is also going quite well is the technology race with the USA. They still lead by exactly 30 levels (126 against my 96), but their lead is not increasing any more. The US treasury is still positive, but the debt of the US is growing massively. I expect them to start having problems any time soon.
To counter the F-112s, I have bought the MiG-25 interceptor design from Russia, which I think is quite legitimate. The tech level being 96 now (and no North Korean tank model in sight!) I have decided to buy the T-90s from Russia, which I will roleplay as the M-2001 P'okpoong-Ho. Seriously, though, where is the P'okpoong-Ho?? I had hoped it would appear in the equipment files sooner or later. North Korea has gained only three units that were non-worldwide buildable since tech level 90, one missile design in 96 and two patrol boats earlier on.