Hello!
The current state of the war...in ARMY SIZE.
right now i only have about 1.8 million.
with the allies(Russia,Ukraine,serbia,spain,Romania,france) Having easily over 4 million.
The big contributors being Russia at 2.55 million. Spain at 612,000, and Ukraine at 544,000.
Spain,Russia,Ukraine are hell bent out of getting as much land as possible it seems... With france doing nothing and italy just taking back there land. I beleive Spain has come out the true european power. If i had not broken through the french lines and open up that small area the spaniards would of never have touched me. They were the sleeping giant...and they might be the death of my country if i dont play my cards right.
here is an indeph look at the numbers.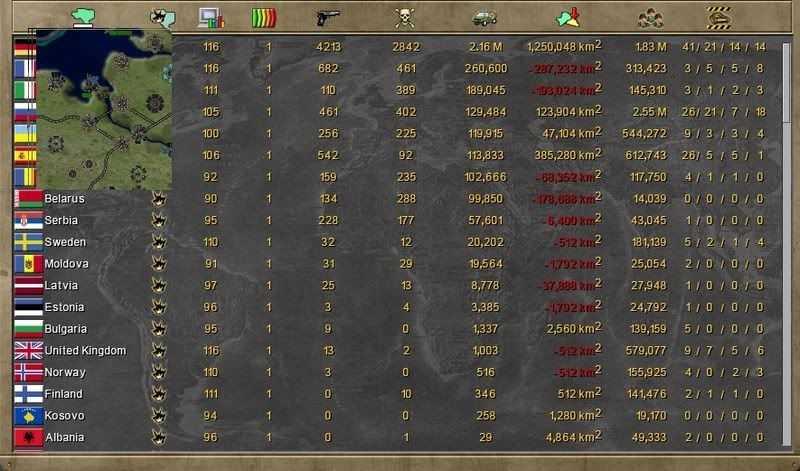 as you can clearly see i lost the most Military Casulities, but they how ever have lost way more civillians! If Supreme Ruler 2020 had that option to view civilian casulities... i would think they would add up too 15 million!
And of course im fighting on all my fronts except of course the northern, which i abandoned completely. I may pick it back up again if i can stop france from entering neatherlands(they already have western germany!).
also id like to say the 20,000 swedes that died were due to heavy bombing! I can only imagine how many civillians i killed of it.(reason saying i sent about 50 air jets to stockholm at the beginning).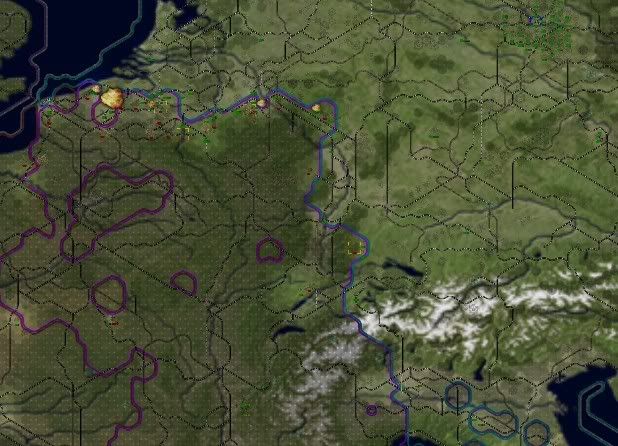 As you can see, from this. Spain has is taking over occupied belgium... now im hoping my garrisons can hold out so i can launch an counter-offensive! If they cannot, i shall use my army from berlin to attack.
Looking a little closer at the spanish offensive in belgium...I have a large number of Garrisons in the area, with one cannon fodder and completely circled in the west. They are using mostly tanks, and i have but on infantry there. And a couple helocopters that dont seem to be doing muuch but retreating. Im gonna have to send my Berlin Defence force over there and push them back.
The counter offensive was a complete success!
But the civillian Death toll was ammense over 3 million died! And the city of brussels was OBLIDERATED by my bombardment! WOOOPS!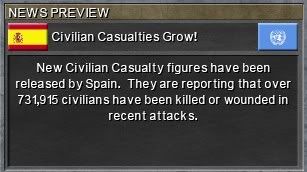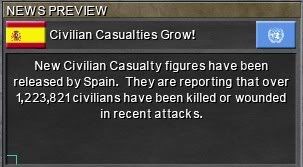 The counter offensive was in deed successful... but it did not last. After 4 days of pushing them back they reinforced with so many it was impossible to keep up...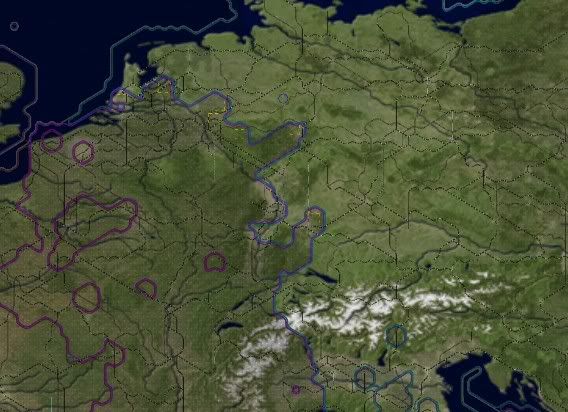 They came with so many so fast... They have just pierced the heart of Germany... idk how much longer ill last. Spain has well over 700,000 and my 1.5 million is dwindling ever so quickly... Although Ukraine and Russia havnt even reached warsaw yet... they are getting very very close..
And now my eastern most town has fallen to the RUSSIANS. DAMNIT!
Shortly after they Russians capture warsaw...
And the Spanish are realy starting to piss me off... no matter what i do... they just keep coming! Im bombing the hell out of there units... but to no avail. Not even affecting them. The Americans must be supplying them...
And here is a pic where the last of my troops stationed in the western front are holding out.
You can also see that they have pushed through by Denmark...and our closing in on Berlin!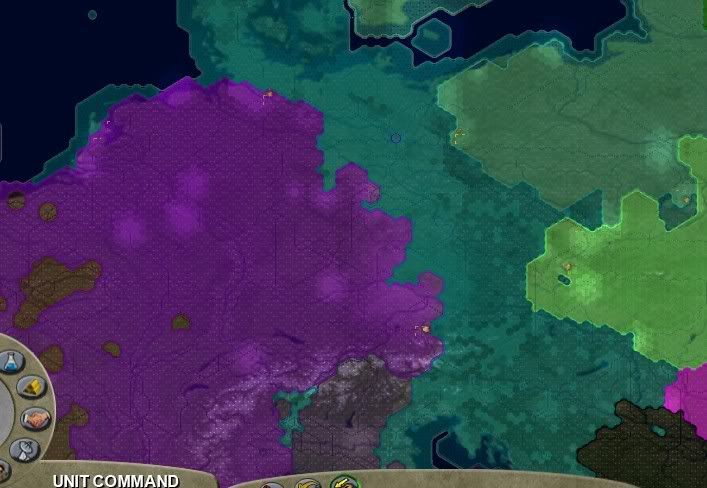 And right now i dont feel to comfortable...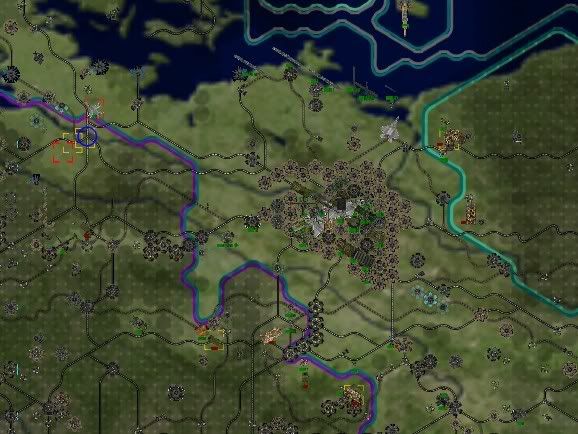 Air strikes are my only offensive right now, and i will use them and try to halt them as much as i can...
But even i cannot stop the fiery russians... After a couple of days and thousands of deaths to the russian army they reach eastern berlin...
as you can see i have many garrisons ready for the defence.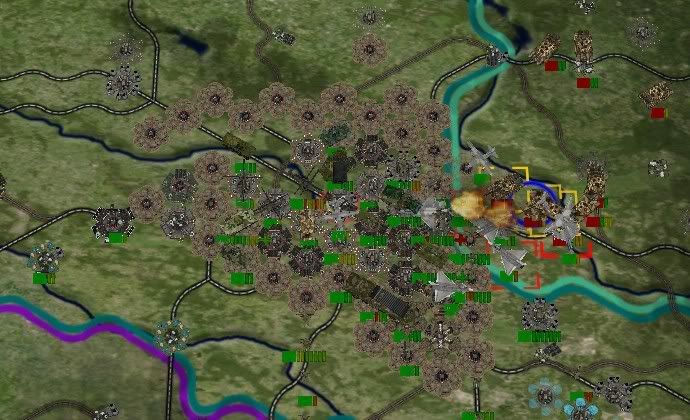 But more and more russian tanks keep appearing.. it seems i can hold them off though. But when spain comes from the west ill be completely cut off from the rest of germany.
A few more days later. The whole of Germany has being cut in half and it seems i do not have much longer.
Berlin is highlighted in the green box... As you can see im now under siege not completely sorrouneded yet...but my garrisons are falling like dominoes. And i am trying to hold out. I have many fortifications and its gonna be intresting too see how well they hold up against the russians and Spanish. The spanish have just captured my last Airport fabrication and i have bairly to no airforce, my luftwaffe is completely dead... They served me till the end so i am satisfied with them, however if i had a couple leopards i beleive i could push these men back but i do not have enough time to do so...
Berlin may fall in 5 days to 5 months so it will be interesting to see how it plays out.