plugger wrote:
Goodaye,
Seeing as you don't mind questions and you're all being extremely helpful, I'll throw another one out.
I can't figure out the trade balance calculations. I've read the dev's post on it above but it doesn't translate to what I'm seeing onscreen. I ran a simple test by putting everything to manual control at the start. I then set four different commodities that where producing a surplus to sell on the export market (ticked 'autoprice' and 'export surplus'. Set surplus to sell to 100% in all cases).
This is what happened.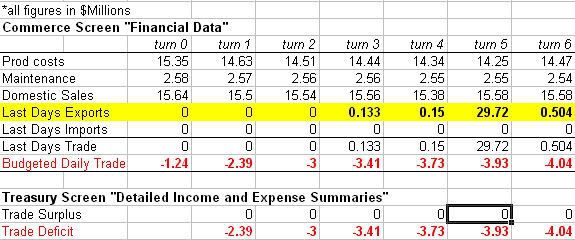 I'm slowly and surely going broke because the Budgeted Daily Trade (which I assume is some kind of estimate based on past results) is translating directly into an ever increasing Trade Deficit. This is despite the fact that I'm actually making a lot of money exporting (the sales are erratic but they add up to a lot).
My postiive terms of trade aren't translating to the bottom line and instead the airy fairy budgeted daily trade figure is coming straight out of my treasury.
What's going on?
Cheers,
Plugger
You wont lose money based on info you show in your report thru trade.The reason for this is that the three catagories your looking at dont affect the balance sheet at all.
They are simply projections.
Budgeted daily trade is a projection that the computer makes based on set principles many of which often dont apply.
For instance IF you are having a shortage of some item, the budgeted daily trade figure will include your purchase of said item EVEN IF YOU DONT BUY IT .
Thereby showing an expense that doesnt actually exist.
In short the budgeted daily trade figure is about as accurate as a politicains campaign, an Enron balance sheet from the year 2000,etc...
Now to compound things , the two other catagories your looking at trade surplus and trade deficit are just breakdowns for the budgeted daily trade
and as such are worthless also.
Now, the one figure on that list that means anything,in fact everything, is the Last Days trade figure, which is the sum of the last days imports and last days export.
This is a TRUE figure that defines ACTUAL revenue due to trade.
Now as to whether or not you made a profit on what you sell, or a loss, thats not really covered any single spot.
BUT thats a whole different issue.
By selling things ,exporting, you make income.-Last days exports
By importing things you make expense.- last days imports
By exporting things above their cost, you make profit -not shown as such anywhere
By exporting things below their cost you make loss- again not shown as such anywhere -AND very important,its shown as
income
becuase it is.Notice i didnt say
profit
.I said income.
By importing things you create expense- shown in last days imports AND in last days trade.
By importing things at a cost below your own cost to produce them, you make an expense that saves you money.- again shown no where.
etc....
Its easy to confuse one of those action groups with others, but it will add much confusion if you do.
To put it simply ,ignore the budgeted daily trade figure and the two figures that are the breakdown for it (Trade surplus and trade deficit).
They have NO effect on your actual financial status.
_________________
This post approved by Tkobo:Official Rabble Rouser of the United Yahoos
Chuckle
TM