actually you can get them to accept a peace treaty,how much work depends on the status of their bars.
Theres a nifty little trick,thats hard to use but works great,for getting your allies to dow on an enemy region.Pretty much each time the enemy dows you, the chances of your allies going after it increase,so what you do is get into a war with an enemy but do so in a way that keeps some color in their diplo bar, then get peace,but keep relations low,so they dow soon after.then get peace again,but keep relations low so they dow soon after,and just keep repeating.
Part of the trick is the bars extend past whats shown in effect.so if you spend years building relations with a target region, you can then dow them, and they will still have color in their bar.This allows you to seek peace right after you dow them, and outs them in a position where they can dow you soon afterwards.
heres an example.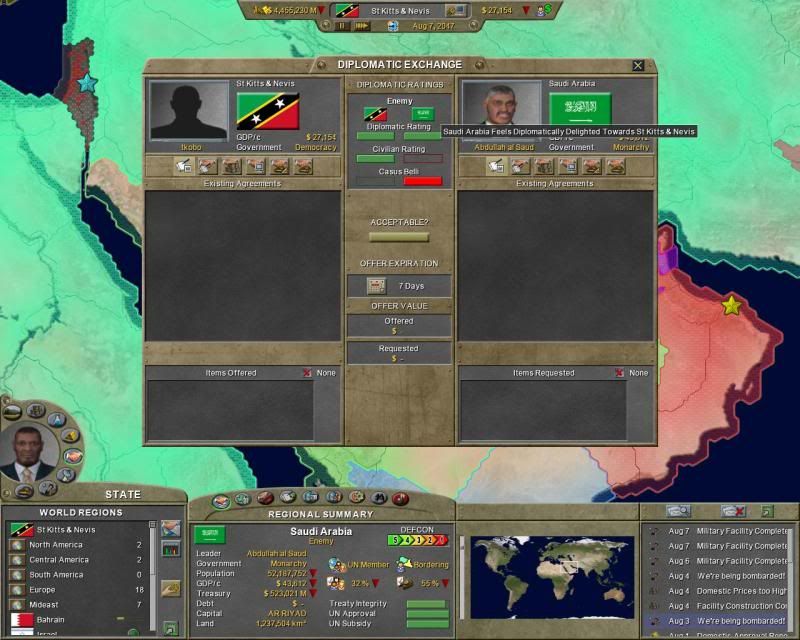 I had about 2% belli on them when i dowed them, yet look at their diplo towards me.I can work this a few times dowing them then getting peace,and slowly turn my allies against them.While increasing the chance they will dow me.
It works best when you get them into dowing you,which doesnt take long and is the surest way to get your allies to go after them.
_________________
This post approved by Tkobo:Official Rabble Rouser of the United Yahoos
Chuckle
TM