I know what a "standoff weapon" is but what is a "standoff unit"?
George wrote in 2010:
"The problem is that when an air unit is landed/refueling, it is treated as a weak ground target, meaning that it can take severe damage from artillery, and from ground attack if there are no non-standoff units in the hex."
And in 2009:
"This is also backed up by the 'standoff' unit policy, which is that artillery and such can remain untouched as long as an offensive unit like infantry or a tank are in the hex. It's not perfect, but it works pretty good."
Well I have spent considerable time and effort "protecting" my soft units with "standoff" infantry units in their hex and this is what I get:
and this: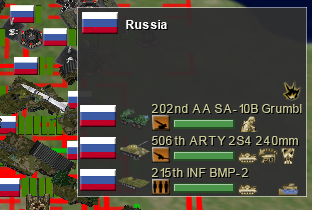 In this second example there were six AAs and artillery. Now the "guardian" infantry and two other soft units are all that is left.
This is all the result of Chinese missile-fire.