I put this in the "balance" section since it doesn't really go in the "bug reports" section.
The Russian Tu-142F Bear ASW patrol aircraft has attack values of 30 and 40 against submarines and ships respectively. It also has (on the left side) a listed combat time of 8 hours. However, it has no ammo storage ability, so it doesn't actually attack anything.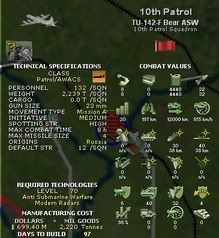 I don't know if this is just an oversight or is supposed to represent some sort of "abstract" attack value, but I just thought I'd bring it up.
Edit: Bad picture resize issue.