My comp crapped up, so i started again and incorparated the lessons i learnt, especially about not up strengthing all units, France and Spain have both falllen, and the "domino" effect is starting to happen all over europe, they keep trying to stop it, but communism is like a plague (my plague) and so far Germany and Italy have no bases between them to build units thanks to my mass of Warsaws, CASOM storm shadow 2's and my nukes. I am going around their coasts and blasting anything i can see. I am also using WS-1B's on land to ground down the remenants of their forces. Then merely it will be a matter of walking in.
I have also built up a decent (for me) b-52 force with over 50 squadrons, I used them over Spain to a very good effect, they wiped out Spain, so when i attacked i only moved about 3 hexes in and they gave up.
I hope this will happen i both Italy and Germany. However, I think that my b-52's wont be able to operate over Eastern Europe due to there being a lot Fixed AA, however, i will "minuteman" them, Then when they come out into the open to engage after i destroy their bases, they will be wiped out by my mixed force of long range attackers.
I have over 1500:1 kill ratio, I hate losing units when a country falls, They should of retreated themselves.
I have also put the new GMT-2a storm hunters into service, and i might consider replacing all my ground attack units with the recon version if it does not take too long to build. I do not have to worry about supply, as i have a stack of 6 super strength heavy supply trucks to keep them supplied. This will prove crucial when i come to big countries like China, Russia and USA.
Ok, basicly, i have changed my mind, i have recently reached tech level 115 with over 31 trillion dollars treasury. I will build the marder 3 and other new units that use the laser weps. They do not consume that much ammo i think, well they shouldn't anyway.
The world is at war, guess who with?, suprise suprise, its the Americans, everyone actually agrees on something! Man, now i can actually see this happening in real life. The world would probably act like it does on sr, they'd do absoulutly nothing.
Corsica, i have reclaimed and now i am moving onto Sardinia, then i will move the whole fleet towards the southern Italian fleet and then move my troops in for the kill.
Then once Europe has been subdued (?) i will begin the final solution against the chavs (not a race so not genocide). China will be most annoyed as they will lose a lot of trade (which would happen in real life) becuase chavs get through some many sports clothes that come from china.
Italy still has a large fleet, but this is now being "worked" on.
Battlegroup Alpha: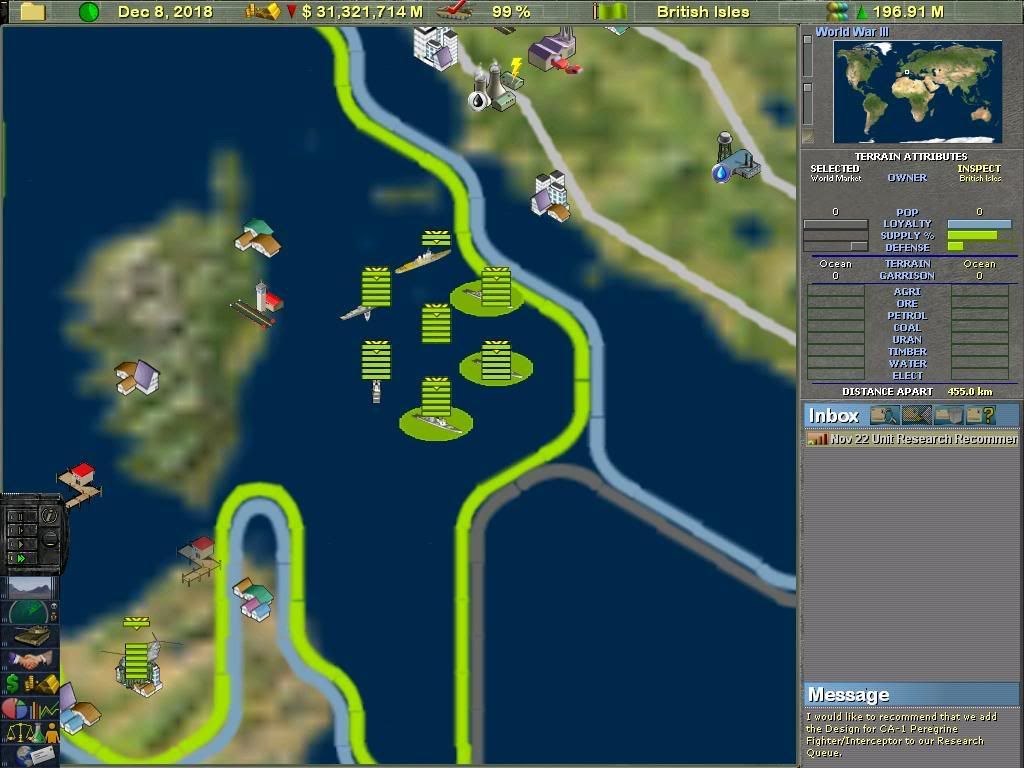 Battlegroup Bravo: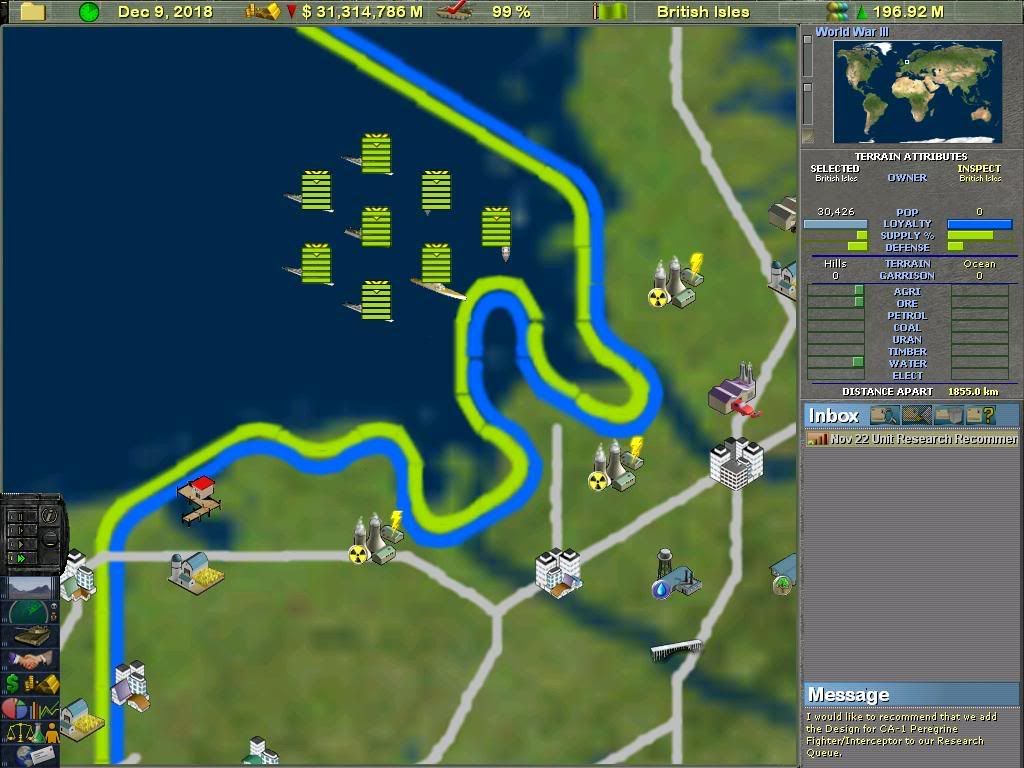 Enjoy .