Game Date: 04/30/22
When I took Austro-Hungry, I was immediately introduced to the Ukraine.
The country seemed to offer little initial resistance, so I moved some units northwards along the Black Sea coast to secure the peninsula at Braila. I encountered heavy resistance and moved up some of my newly aquired Greek combat ships to pacify the sea pier at Constanta. I finally established a stable front there and took the pier.
May 15th - I moved North along the coast again and attempted to take the port at Odesa. I left my units parked at Chisinau. When I returned my attention to the spot, my group had been badly mauled and I was forced to withdraw them.
May 20th - Things continue to go the same way - I casually advance into seemingly lightly protected territory, only to look a day later and discover that the patrol or brigade had been badly torn up.
June 1st - Despite the big forward push that I stage Northward into Europe along my entire front, I seem unable to penetrate the Ukraine. There are few roads and no nearby repair stations. I cannot seem to advance eastward past the city of Khmel'nyts'kyy, which I suspect is populated by Wookies.
June 6th - I grew frustrated and decide to move the bulk of my European forces eastward to concentrate them and invade a helpless country like Ukraine.
June 15th - I finally start to make some progress invading Ukraine, and manage to start taking the towns leading up to the capital of Kyyiv.
June 30th - All of the guests have arrived and the party is about to start. I have a large force just West of Kyyov. I have assembled a rediclous number of heavy units in order to finally take another European country - Ukraine. There is an air base there, so I make sure to move up a lot of AA too.
July 3rd - I ready the attack. I strain out the wounded units and send them to still remote repair stations. I band what looks to be several hundred units and strain out all of the non-combat ones like supply trucks and missile launchers.
Ukraine public support is 17%, and MC is 56%.
Then I sound the cavelry bugle - Charge!
It is a three pronged attack - the main thrust into central Ukraine at Kyyiv, a second smaller group in the North moving towards Minsk, and a third group in the South moving Eastward towards the Wookie settlement of Dnipropetroys'k.
July 4th - The Fourth of July ends with a lovely display of exploding little Ukrainian aircraft bursting against the black sky in blinding golden clouds.
The northern attack group takes Poltava and I start funneling units South to take the seaport at Sevastapol. The Northern group takes Gradno and Branavici. Straggling re-enforcements are still coming into L'viv from the Polish and German border. These units are important, since they will be called upon to take the secondary capital at Minsk after Kyyiv falls.
I have three wings of combat helos (WAH-64s, A-109s and CSH-2s) for air support and I am moving in Cheetah Fighter and Interceptor fixed-wing support. Keeping them safe from the Ukranian SA-12a AA is a challange because there are a lot of them.
Repairs are a pain, since my only repair base is South near Odesa.
"Helpless country"? I bite my tongue.
July 6th - Kyyiv falls and I am rewarded with $19.6 million. Ukarinian MC is now 44% and public approval is a resounding 13%.
I turn my attention to the Kyyiv air base. The remaining little Ukranian airplanes flee to a nearby air strip at Nizhyn.
Battalions of US armor follows them there, turning many of them into bright yellow clouds as well. The remaining ones flee East into Russia.
Ukarinian MC is now 41%.
July 10th - My defensive line in Europe starts to fall apart. Hundreds of enemy units that previously looked like they were out of fuel are suddenly bearing down on my scantily defended frontier towns. France seems to have come especially awake and turned most of my forward towns into islands of stranded Garrisons.
Giving back territory is not so bad, especially when the de-industralized territory and a few minor Garrison units is about all I have to give up. I made the mistake of trying to evac them with helos, which only placed the helos at risk from the sky full of enemy aircraft that has suddenly appeared.
In Germany and Poland a few units have made inroads South, putting annoying dips into my neat lines of defense. Fortunitly, I have two divisions of airborne units that has been waiting for months in Austria and Italy for something to do. Looks like these mobile units there will have to save the day.
Minsk falls and the US receives $1.4 billion. The Wookies move their capital to Karkiv, which is defended by one 80% wasted artillery battalion. The new capital is also adjacent to newly captured US territory just East of Kyyiv. Ukraine's MC is 32%.
July 11th - That Ukraine has not yet capitulated is really a good thing for me, since it gives me a little extra time to capture the large island and port at Sevastapol. I have a bunch of units headed South towards it, but Ukraine could surrender at any minute. So for insurance I have ordered two big groups of Marines, Land Warriers, Rangers and Airborne units to drop into Sevastapol.
Karkiv fell quickly to my forces and paid off with $1.17 billion. Ukrainian public opinion is now 10% and MC is 28%.
July 12th - My airborne units were slow to drop on Sevastapol, but my land units crossed the river just in time and took the island anyway. At about the same time, the bell rang and the Ukraine became the US. I got another $1.3 billion and almost an entire air force of Soviet planes that were clinging to an airstrip near Sevastapol - Transports, MIGs, TU-22M Backfire Bombers - you name it. Many were damaged and needed to be sent to the airplane hospital. Final Ukrainian MC was 27%.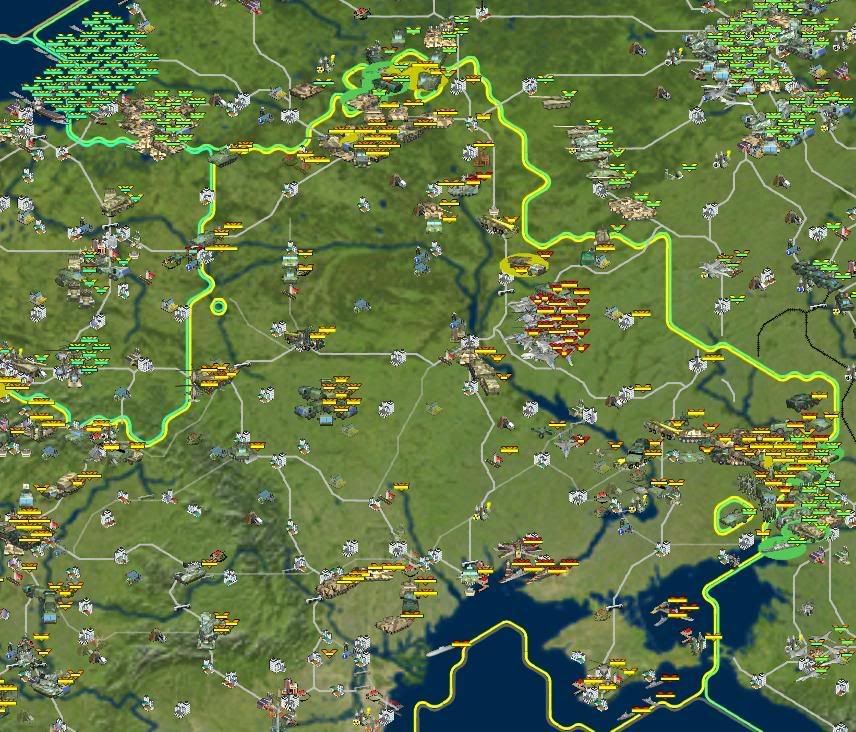 July 13th - This leaves the mop-up operations of taking stray border cities that fall just outside of my new Ukranian border. The only sizable section of Ukraine that escaped me was the far East along the Russian border. My little guys are pretty beaten up.
Germany has gotten frisky again - creating a new Battle of the Bulge. Poland has become very active too and is contesting cities all along the former Ukraine border.