Game Date: 09/30/22
I am starting this entry not because I am about to invade Russia (the Bear) - far from it. It is because Russia is such a huge factor in Euro-Asia that I now must deal with them constantly as I try to finish the game.
Russia borders on China, the Islanic States, Iran, Ukraine, Poland and the Baltic Union. Whenever I conquor any of thes countries, I have to fight another major border war with "The Bear" (see previous post "The Russins are Coming!").
And it is not easy to take food or territory away from a bear. Russian units are tough, powerful, agressive and persistant. They are supplemented by a very modern, responsive, effective, high-performance air-cover.
I dread the stage of the game when I will be required to conquer the entire country.
Their only weakness is the size of their country - its terrain forces them to station their forces in isolated enclaves. When you violate their border, if you are luckly, you will only have to endure the wrath of one enclave - except for their air force. And in typical SR2010 AI fashion, if you beat off the original attack, and send most of the attackers back to their base wounded, eventually the AI seems to lose interest.
That is why I go to my State Department and set Russia on "Path Around' - if none of your land or air units cross their border, they mostly ignore you, unless you have accumulated a BUNCH of them along your border. Then they just hang around like vultures and continue to try your defenses.
My long-term strategy for them is to eventually take them piecemeal - one enclave at a time.
Aug 12 - Ukraine falls and I have to defend my prize from the Bear on the North, East and South.
On the North, I completely withdraw and let the Russians advance as much as they please. They drive me South out of Belurus to Kyyve.
On the East I have left small forces garrisoning key towns and there is very little Russian interest.
On the South, I doggedly contest the territory North of the Sea of Azov, only to be repeatedly thrashed by Russian land units and aircraft. I am stuck. I retain the Sevastipol pinnesula, and the territory immediately North, but I cannot reclaim the South-East territory that was ceeded to Russia at the fall of Ukraine.
Aug 16th - Poland falls and I win Northern territory as far East as the Gadansk. I fight a prolonged battle to establish a stable line of defense against Russia along the Wisla River, South-East to Warszawa, Minsk and Brest.
Aug 27th 2002- The Islamic States fall. I had to cancel the "Path Around" order in order to establish my Northern defensive line against Russia. I think that consequently when the IS fell, Russia took the former western IS border region that I had only lightly defended. They had only light forces there too, so all I lost was a strip of Steppe/desert.
May, 2023 - I have accomplished significant gains against "The Bear". The Kazakhstan region has been shifting back and forth for the last six months.
Since my recent arms build-up, I have finally worked enough units into the area to establish a marginally stable perimeter. The construction of my newly modded "Gun Emplacement" bases has been instrumental in the success of establishing this line of defense.
Since I took Ukraine, the old European-Russain border has been a consistently contested battle-ground. Again, due to my crash arms building program, I have established a very strong Euro-Russian border.
I have now re-captured the South-East Ukraine and am in the process of heavily fortifying and arming it.
The Crimean peninsula is also now firmly under U.S. control.
The Southern border of Georgia has long been in contention (see the topic "The Russians Are Coming"). It is now very heavily fortified, manned with Medium Infantry and armed with Heavy Armor of all types.
I have successfully employed my new plasma weapons against key Russian airports along the European and Crimean sections of this very long defensive perimeter. These weapons have proved to be very effective and in some instances have allowed one bomber aircraft to accomplish objectives that previously required ten times that number.
Russia is so large that it appears to be a huge cluster of widely dispersed enclaves that could each possibly be vulnerable to individual attack.
So, my strategy towards Russia is now that I intend to take the Baltic Union. Once this objective is complete, I will have Russia surrounded on three of its four sides.
I will then initiate an attack along the Southern Georgian border, in order to unite my Ukranian front with my Eastern Kazakhstan front.
Depending upon Russian counter-attacks, I will selectively attack Russian enclaves one at a time until I have rendered "The Bear" into just another rare endangered Asian species.
October 5th, 2023 - Frack that stratagy - I am going to kill the Bear all at once, not piecemeal. I have a big, bad, mean army now and I have the Bear surrounded on two sides. I have 3000 MOBILE units, and 500 leg units, with only a few hundred of these along the Pakistan/Chinese border in the far East. I have TWICE the active duty military staff as do the Sovietskies.
I have been reinforcing the Ukranian border for over a year now - there are hundreds of units entrenched along this 2200 Km front. In addition, there are 110 units around Gadansk by the Black Sea that were not selected to invade the BU.
I have enough units entrenched along the Georgian border to move North and cut off and attack the Bear from the East.
I will detail a force from Finland to take and hold St. Petersburg. The rest of my army in the former Baltic Union consists of two main groups - the armor that went into Finland and the MecAir units that were left around Stockholm. These will all exit to the West, the way they came in - back towards Russia. Once this main body has formed up near Russia, I will order them directly towards Moscow.
I have considered using plasma weapons to take out key Russian bases, but with such a wide, coordinated assault I don't see the point - I don't intend to give them time to repair or re-group.
As for their formidable air force - I will just have to eat that punishment - I am bringing plenty of S.O.T.A. AA with me.
LET'S DO THIS! LET'S DO IT NOW!
October 5th, 2023 - Russia starts out with a MC of 100%.
November 2nd - I am still triaging units from the BU war, and mopping up newly minted "Russians" from formerly BIU territory.
I gathered up other stragglers from throughout Europe and have sent them to group at Gadanzk, Poland.
November 20th - I am defending Helinski from Russian (formerly BU) ships attacking the city. I have entrenched artillery there and there are now just three of the former BU ships left.
November 25th - The problem with holding St. Petersburg is that there is a huge powerful Russian fleet bottled up in the "lake" just to the East.
I selected twenty-five tanks and fifteen M111E1 mobile artillery units to take and hold St. Petersburg. The tanks destroyed the defending units and entrenched in St. Petersburg and the ajoining town. The Tanks are tough enough to withstand the defending naval gun-fire. They fired back effectively whenever an enemy ship come close. I then moved up the "big" modded M111E1 long-range artillery to really repel the naval attack. Once the enemy ships moved off, I was able to remove some excess tanks towards Moscow, and to move other straggler units thru SPB and out of Findland.
November 28th - a large force had accumulated at Gadansk, Poland by the Black Sea, so I decided to start tightening the noose around Moscow. The Gadansk army was ordered to take the traditional "Baltic States" of Latvia, Lithuania, etc. They penetrated all of the way East to St. Petersburg, completing the North-West arc encirclement of the Russian capital.
The units long entrenched along the Northern Ukranian border were released and ordered to advance to the nearest major city outside of Moscow. The Northern units immediately took the city of Minsk South-West of Moscow, which become the new location of the main body.
This violated my strategic resolution to not allow Moscow defensive units any time to repair after one quick strike. Yet I think that the doctrine is sound - if I plasma bombed Russian bases at this point, I will have lost units under repair at these airbases when Russia surrenders. If I plasma bombed the two Moscow airports, then I would have destroyed the landed aircraft there. If I used plasma weapons on airports outside of Moscow, then the aircraft defending Moscow that could become mine would have had nowhere to retreat and may have crashed or fled the country.
November 30th - the former BU remaind heavily occupied with US forces, some of which were moving to the far North to take the Russian city/base at Murmansk. A medium force remained in Sweden, which must be evacuated.
December 8th - the main body of US forces had formed around Minsk. The new front surrounding Moscow was in disarray as the noose formed around the Bear.
Forces from Finland were evacuated thru the pacified St. Petersburg corridor, and were re-formed around the Russian city of Novgarad. They would soon be joined by the back-door holding force at St. Petersburg.
December 14th - Considerable fighting continued in Northern Yugoslavia, where a solid front was yet to solidify. To the North, a solid front existed facing Moscow, although enemy attacks continued and some units were not yet firmly entrenched.
January 3rd, 2024 - The US front facing Moscow had solidified. Defensive sorties from the capital had stopped. I had violated my strategic resolution to not allow Moscow defensive units any time to repair.
Pockets of mobile units still remained thru-out Europe and needed to be sent to the new front.
Forces in Turkey and Northern Iran along the Georgian border awaited the order to attack Northward.
Russian MC was 33%.
Janurary 4th - I recalled all mobile units from Sweden and ordered them to form up in Germany. I ordered all mobile units in Finland to travel thru St. Petersburg and to form up at Novgorod outside of Moscow.
I gathered up all mobile units that I could locate in Europe and ordered them directly towards Moscow.
January 6th - all units from Findland have arrived in Germany. I ordered all of them to head directly for Moscow.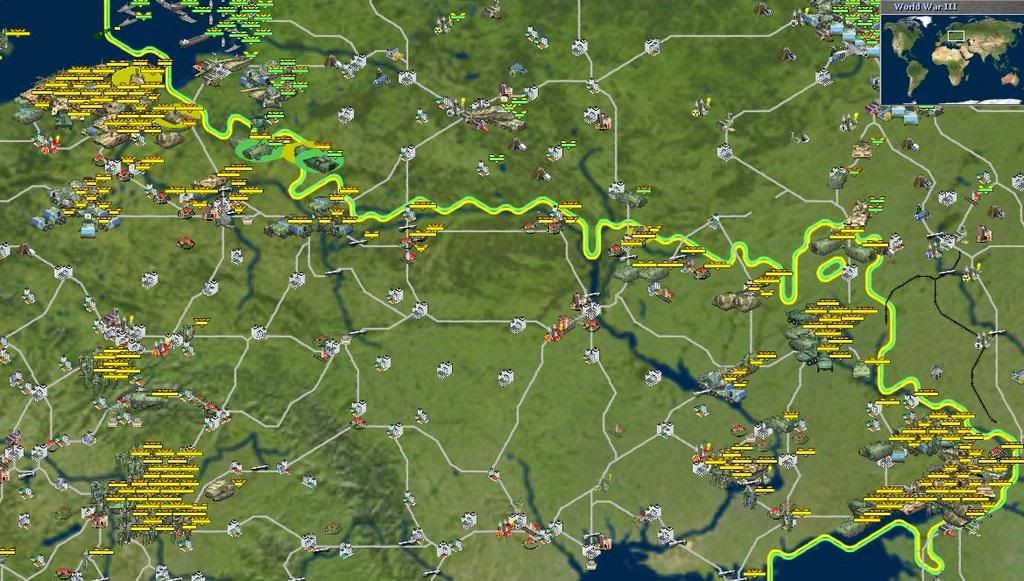 January 11th - I ordered a general attack on the very heart of the Bear.
As the BU column from Germany arrived at the Moscow front near Minsk. I ordered all units along the Georgia front to proceed North to Volograd.
This was a complicated process, since the Georgian units had been entrenched there for a long period of time, and there werea lot of bases that were still actively producing new units. Each site where units were entrenched had to be individually selected and all units there un-entrenched. Each base had to be individually entered and checked for reserve units. If reserved units were found, then the base had to have a rally point set inside of Russia, before the resevere units could be deployed.
As the BU units begin to proceed towards Moscow, I also dug out units all along the Moscow front and ordered them to attack Moscow as well.
January 12th - I attempted to general all columns of units approaching Moscow. I seperated out all AA, Artillery and Troop units and had them hold at the border of Moscow. All Infrantry, Tank, AT units were allowed to proceed to the capital.
January 13th - I checked the progress of the US units attacking North from Georgia - they were making poor progress towards their objective of Volograd. This was a tactical failure on my part - I should have ordered their attack sooner.
January 14th - I just watched the battle rage. Russian aircraft attacks in the Moscow vacinity were furious but ultimately ineffective.
January 15th - The Bear surrendered with an MC of 21%. I got one billion dollars from the Russian treasury and nearly the entire Russian arsonal (I think) of state-of-the-art weaponry. The only Russian possessions that I didn't get were her Far East bases and units in Siberia and the Pacific coast. Nearly all of Siberia was ceeded to China.
I killed the Bear. [and I really like bears ]
I also gained a population of about 161 million, all of which went from a Russian approval rating of 22% to a US one of 44%. Explain that to the WM when they rate the US as a parhia.
Post-mortem: when I started out, Russia had about one million men under-arms. I had about 2.2 million. Once Russia fell, I had 3.1 million military personnel. This suggests an approximate loss of 200 thousand military personnel over-all in the Battle of Russia.
When we started out, I had 6238 units. After the fall of Russia, I ended up with 8853 units - a gain of about 33% against an opponent with only five percent of the Imperial US's population.
In order to man all of these units would take in excess of 3.7 million personnel with the additional man-power requirement of manning all of my military bases.
I think that I need to hold a garage sale. Want to buy an unused SA-20 AA unit?