Game Date: 09/11/21
Real Game Duration: 41 Days
I am now fighting on a staggering number of fronts - Russia, Italy, Iran and Turkey.
I have been gradually weakening Turkey and have taken a great deal of her territory. But most of my units are tied up in the East, so I need to take care of Iran before turning to Turkey.
By September 11th I had just started to invade Iran from the North-West. I did not have many units to spare up there, so most came from the Russian front, which was not yet settled. By now I have kicked Iran around pretty good and they had an MC of 40%.
Iran received a number of portions of Saudi Arabia when it surrendered, so my first order of business was to clean out those pockets of Iranians on my Saudi territory. This proved difficult - they were dug in like ticks.
Once this was completed, I could retrieve my units from eastern and western Saudi Arabia and turn them on Iran.
But on September 11th, this was far from completed and I had my forces spread all over the Mid-East.
After the Saudi surrender there were armies of former Saudi troops right beside the areas that had been ceded to Iran. I thought that they would be perfect for cleaing out these turn-coat former Saudi troops.
I would turn from my command of the Russian front, select all of these now-recovered Saudi troops and ordered them into the ceded Iranian pockets. But when I returned, they had made almost no head-way. I had to personally take command and micro-manage each of the three actions.
One problem I learned is that forign units do not have supply trucks. During the Saudi Arabia invasion, I had sent my third amphibious group to the north-eastern coast of SA at As-Suwayq by the Strait of Hormuz. But before I got a chance to land them, SA surrendered and the enemy troops at the planned beach-head became mine.
I wanted these guys to go next door and evict the Iranians to the West on the point of Hormuz. It turned out that they kept getting beaten up and ran out of supplies, then returned home without finishing the job. I even landed some supply trucks from my off-shore armada for them to use.
I continue to have flare-ups at the Russian front and U.S. units leaving their entrenchment and charging the Russian formation.
September 17th - my army at As-Suwayq was reinforced as the fifty units from my second amphibious landing at 'Adan arrived. They had to force march across the entire South-East desert coast to reach As-Suwayq. They arrived on this day, along with more supply trucks.
I also discovered a FOURTH amphibious group that I had parked at the Southern end of the Suez and had missed when I sent the third group to As-Suwayq. They will be used to beef up the third amphibious group.
September 21st - I stopped the Red hordes from streaming across the Russian border and I could finally see to my real job of conquoring Iran.
I began to withdraw my first two amphibious invasion groups from the South-West coast of Saudi Arabia. I moved them North back to Israel for eventual use in the main Iranian invasion.
We finally took the point of Hormuz, but I had to general it myself.
September 29th - I began the invasion of Iran from the Northern tip of the Persian Gulf, using only those units from the invasion of Riyad and from the North-West coast of the Gulf. They moved thru the marshes at Abadan and headed North-East towards Tehran.
At the same time, I attended to some naval business in the Persian Gulf. In order to safely land my third amphibious force at Bushuhr in Iran, I had to sweep the Gulf to rid it of Iranian ships. I had brought a big pack of Israeli submarines along for just that task. I sent the subs ahead of my fleet of South African frigates and patrol boats that I used to screen my amphibious transports.
Once swept, I took control of the Persian Gulf and captured 1/2 of Irans's oil buy stationing a patrol boat at each oil derrick and planting an aircraft carrier right in the center of the pond. My units had already taken the two Western-most piers. My frigates took the North-Western one with a missile attack, and my units moved in there too - creating a foot-hold on the Northern coast of the Gulf.
My guys had finally taken the point of Hormuz. It turned out that the Iranians had an outpost on the point and would duck in there the minute one of my units damaged them. Then my units would give up and leave and they would pop back out.
My first two amphib invasion groups were still camped on the South-East coast of SA.
October 5th - a small group had approached Tehran from the North-West at Karaj, as my main group approached from the South-West. My first two SA invasion groups finally arrived at the Iran front. I sent one North to re-inforce the group threatening the capital from the North-West. The other I am holding pending a strategy review.
One thing is certain - I will need to make at least one air-borne attack. My deployed air-borne units are currently mixed up with the ground-pounders, so I launched a major recall of all air-borne units and marshalled them just South of the Iranian border. This slightly depleated the Turkish and Russian defensive lines, but such light units are not much good at holding back armored forces.
Iran still had a huge army defending Tehran. Tehran is so large that it is represented by three cities in three hexes. It looked like I would need to take all three cities to get Iran to surrender. It seemed that this could become a very bloody business indeed.
According to the State Department, Iran has destroyed 250 of my units and has lost 526. If this only includes the conflict with me - "the Great Satan", then the ratio is 2:1 in my favor. For Iran, this is considerably better than my cumulative average of 4:1.
I KNOW that I have suffecient units to take the capital - but at what cost?
How much of Iran will cede to Pakastan and to the Islamic States?
What if I lose or deplete most of those units and Iran still doesn't surrender?
I have a number of advantages that I should be able to leverage to avoid a major loss of units - theirs and mine:
1) I have Tehran surrounded on three sides.
2) Iran only has a few bases - one medium base at the capital, one on their Eastern border with the Islamic States and several scattered in the South.
3) They only have TWO air facilities - one air base at Tehran and an air strip on their Eastern border with the Islamic States.
4) Their oil and Southern bases are vulnerable.
To their advantage -
1) Their main base is closely defended - right next to the capital.
2) They have a triple capital.
3) They control the only roads.
4) Some of their oil is in the heavily defended North.
My Inteligence reveals that they have an ace in the hole - they have alliances with Pakastan and the Islamic States (IS).
If I take their eastern-most base at Mashad, the IS guys will come pouring over the border with tank columns. And if I take their air base at Tehran, all of their aircraft will flee to the IS - just like Iraq's aircraft fled to Iran during the Gulf War.
So, here is the new strategy -
1) Destroy their medium base at Tehran.
2) Take the road leading to the Eastern oil fields and the fields themselves.
3) Take and hold Mashad.
4) Encircle Tehran and steadly tighten the cordon to deplete Iranian strength.
5) Take Tehran with three simultaneous air-borne attacks on the three cities.
After destroying or damaging their main base, and destroying all other small bases in the South, any damaged Iranian units will need to go West to Mashad for repair - out of the Tehran area.
Control of the East-West road is the key to taking Mashad.
Mashad must be taken because it will become the alternate capital after Tehran falls. It must be taken in a planned and deliberate manner, since touching it will trigger an immediate and massive IS response that my offensive force must be able to withstand.
Encircling Tehran is the only way to keep damaged units from fleeing East. Weakening it is the only way to take it short of a massive, wasteful all-out attack. Unlike Jerusalem, where multiple small bases and air-fields prohibited any one crippling strike.
Air-dropping three air-borne units will insert enough units to accomplish the task and await relief from the encircling ground-pounders. Hopefully with Mashad out of the picture, the shock and awe of taking the triple-capital will trigger a surrender.
October 13th - I begin my campagne to take the main East-West road. This will be a two pronged attack on the Southern end of the oil fields. One group will take the road from the West and a second amphib group will land in Iran at Hormuz.
October 15th - Loaded ground units from As-Suwayq onto amphibious attack ships for an assault across the Hormuz straight.
Ground forces are steadly taking the road leading to the oid field. Entrenchments are being established in captured cities along the road and fortifications are being constructed by hordes of Engineers flooding in from the East. Enemy harassment from the North is constant.
October 20th - Ground forces in the South have made steady progress and have arrived at the outskirts of the Iranian base at Hormuz. I took the base at Hormuz using a three-point attack: ground units from the West, naval gun and missile fire from the South. After softening up the position I landed my amphib group from As-Suwayq.
November 1st - I am in position all along Southern Iran for a push North.
Eastern fortifications are complete and those in the West are under-construction. The Southern road capture objective has been achieved and I am prepared to take the oil field in the North-East.
This eastern army is insufficient to counter the IS tank formations that will be encountered at Mashad, so they need to be supplemented with an air-borne unit. I also have a huge force still afloat in non-amphibious transports at As-Suwayq. If I can build a sea pier for them to land at, or transfer them to amphib transports, then I can use them to help take Mashad.
In the West, it is past time to take the enemy Medium base at Tehran. I have been stock-piling ACLM missiles for this purpose. I will arm my 16 B-2 bombers with these missiles to degrade the base, then finish it off using Tactical Tomahawks from mobile launchers South of Tehran.
One very large air-borne assault group has been re-organized and is waiting orders South of the Euphrates. Three other groups are in reserve in Africa and need to be re-activated and moved to Iran.
A large formation of medium infantry has been assembled North-West of Tehran and is prepared to move once the medium base is neutralized.
Opposition consists of the huge Army, AA defenses and air units entranched in the greater Tehran vacinity and the heavy tank formation in central Northern Iran.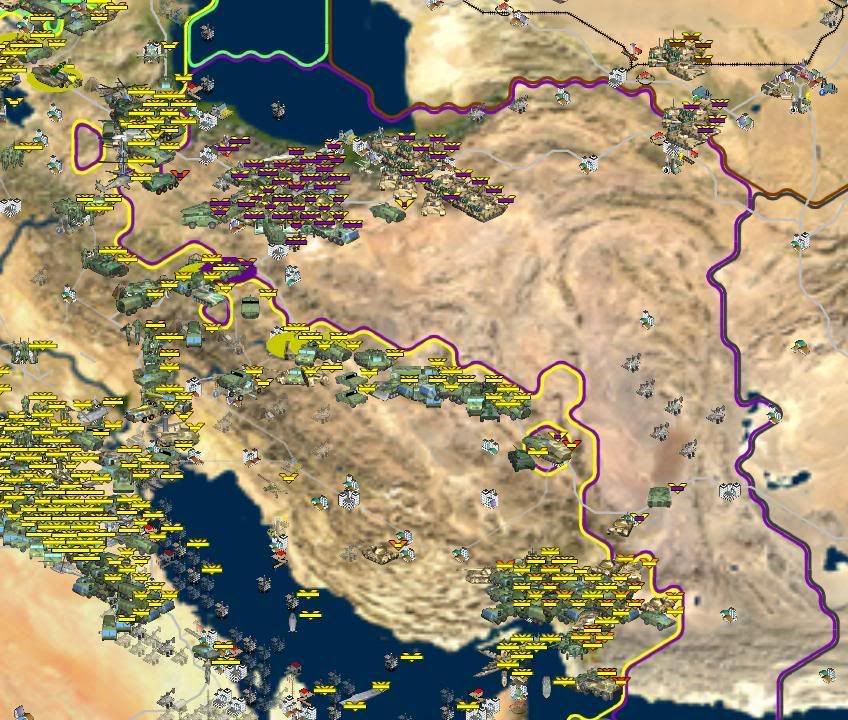 My missile attack on Tehran's medium base was a complete success.
I decided to land my non-amphibious landing force at the single available sea pier in Western Pakistan. I moved a naval task force to the un-defended sea pier near Turbat and the landing force followed. Pakistani tanks from Lahore quickly deployed West to defend. But they stopped dead just East of the pier - allowing my forces to land and escape un-scathed to the North-West. A dozen artillery pieces got stuck between water and the enemy line and it took me a week to get most of them un-stuck.
With this fresh infusion of units from the sea and the steady flow of units from the Tehran line and the Southern road facility building projects, I had a huge army with which to invade Mashad and hold it against IS columns crossing the border to the North-East.
On December 1st they moved North and captured the Iranian oil fields - second objective accomplished.
They now stood entrenched in the Iranian town of Birjad, ready to take Mashad. But I still needed two things: more units and the element of surprise: the quicker I took Mashad, the less time the IS would have to respond.
I deployed my second airborne division from reserve South of Cairo and scrambled the C-130 and C-5 transport planes for an air-drop on Mashad.
I divided them up between three seperate air-strips near their reserve base - the ground-pounders to the nearest air-strip and all mechanized to the further two.
I split the force at Birjad into two groups - on to approach Mashad on the road to the East and th rest to charge it head-on to the North. I rested both groups for a day or so South of Mashad, then called in the air-borne division to attack the town.
I also moved up my forces around Tehran to tighten their encircling grip on the capital. Units on the West moved two hexes East and units on the road the the South moved out of their fortifications and entrenched two hexes to the North.
I synchronized the three attacks in Mashad perfectly - by the time the two mechanized divisions from the South arrived at the outskirts, Marines were already landed in Mashad. The aircraft took no damage.
Then came the predicted counter-attack from the IS in the North. Two armored columns swept down from Ashgabat and Charjew to take back the city. But we were too many and too well entrenched. The attacks were beaten off and the attack began to taper off.
During such intense fighting, it is important to:
1) Keep your strongest combat units on the front line.
2) Keep supply units off the front line, but nearby.
3) If there is no air-threat - remove AA units to the rear, otherwise have the strongest distributed evenly along the front line.
4) Keep checking supply levels in deployed supply trucks.
5) Pull out wounded units before they can be destroyed.
6) Assure that a nearby base is available for unit repair.
7) Entrench everybody into strong stacks- do not let units charge the enemy alone.
December 28th I was still fighting a few die-hard IS units in Mashad when Iran un-expectedly surrendered. My attention had been solely on Mashad and I did not even supervise my units's advance on Tehran. But my guys did not even have to take Tehran - their morale just gave out at 19% MC.
I collected 56 Billion dollars from their treasury. I got nearly everything that I wanted - the Iranian airforce, the oil fields, all of Tehran's defenders.
What little was left was ceded to the Islamic States. Now I have to take it away from them.