Game Date: 07/22/21
Real Game Duration: 37 Days
After I took the Israeli capital at Halab, I also took the Saudi base/town of Sakakah To the East, just to shore up the border. I now have my fleet parked in Alexandrette harbor, to keep the Turks at bay to the North.
To my South-East is Saudi Arabia, spread out like a huge oil-rich skinny donut - hollow and desolate in the center, lightly populated around the edges. In the center hole is their capital of Riyadh and a lot of oil wells.
Saudi Arabia has just 27 oil facilities, half of which are under 50% quality. Their best well is 79%, their worst is 4%. Damn boy, I got more oil in my driveway! Granted that the stretch along the Persian Gulf is rich, but even that does not have any better than 75% oil sites, and only a fraction of the sites are developed. Very disappointing. I cannot believe that the rest of the world gets its oil from here.
And Iran is even worse.
I still have hundreds of units in reserve in South Africa, as well as many in Egypt. I believe that I will move my Israeli invasion force South-East to take the North-Eastern border of Saudi Arabia along the Euphrates.
I will deploy my units in South Africa and move them to the Suez canal and to the Horn of Africa, where I have constructed naval facilities. There I will load them onto South African transports and invade the South-West coast of Saudi.
Guess what - Saudi has NO air base - none. I looked around to see if it had just been captured by some neighboring enemy - nada. That pretty much makes their aircraft one-shot - one hit and they probably will not leave the hanger again.
On May 26th my land units are prepared for invasion, however facilities along the border have not been completed and all sea transports are not on station. Saudi starts out at 53% MC.
By June 5th I have my units deployed and sorted into airborne, amphib and land attack units. I have also loaded transports with Saudi invasion units at the Southern-most African port for amphibious transport to the Horn of Africa.
I re-formed my airborne units, which after the Israel invasion were integerated with the other invasion units, into two large airborne units, with an eye towards dropping one of them on the Saudi capital at Riyadh.
But the larger airborne group got diverted into the Battle for Baghdad.
As I was looking for possible beach-heads for my amphib landings I noticed something the I should have seen earlier - THERE ARE NO ROADS. There is one large ring road that covers the North-Eastern third of the country, but the rest of this desolate desert country doesn't have ANY roads.
June 15th, before the Battle of Baghdad, I started the invasion, attacking the Iraqi city of Karbala from the North. The force was composed mainly of Engineers, Stryker AT, mobile artillery and supply units. I also attacked from the West, starting to work my way down Saudi's West coast. Four additional invasion groups were ready - three amphib and one airborne. The three amphibious groups were still waiting for transports and for supply trucks.
I reorganized my carriers at Alexandria and supplied them with fresh aircraft, fully armed with ACLM missiles. Then I moved five carriers and two LHP's and their aircraft into the Red Sea and the Gulf of Suez. I stationed them off the Southern tip of Saudi to counter the heavy Saudi air at the point of Yemen near Sanaa.
I was pleased to note that two of my damaged carriers had emerged from the shipyard at Alexandria, and that six brand-new CVN-76 carriers had arrived at my Canary Island complex from Norfolk. I hope I have enough carrier aircraft to arm them with. Six new CG-62s too.
July 22th - The invasion was put on hold for a month by that nasty business at Baghdad. But now I can continue to deploy my amphibious groups to finish invading Saudi.
I have over 100 heavy transport trucks waiting at the pier at Tobruq to be loaded onto AOEs. Then I will dispatch three or four ship-fulls of supply trucks each to the three amphib staging piers. The amphibious transports and very large transports are already there waiting to be loaded.
By Aug 13th all amphibious attach units had been safely tucked away inside their transports, and these combat loaded transports were information, waiting a task force of warships to accompany them to their beach-heads.
On August 19th all three amphibious forces were waiting off their target Saudi piers. Each landing force had a task force of warships to take the pier and a pack of submarines to sweep the waters clear of enemy subs and patrol boats.
I began to marshal my resources in Israel for the main attack on Riyadh.
A small salient force had already penetrated the center of North-Western
Saudi Arabia and was just four hexes from the heavily defended capital.
I began to reinforce this holding force with more and heavier units from the Northern and the Southern coastal invasion forces. I could neglect these coasts since the amphibious attacks were about to flood the Saudi coasts with hundreds of units landed at their own sea piers.
I ringed the target with my own AA since there were still two working air strips in the capital. I also brought up about ten missile-launchers, which I am sure got off some shots on their own. I never took control of them manually, just armed their missiles.
I deployed the National Guard that I has squrilled away in reserve at a base near Cairo, and sent them North of Reyhad.
On August 22nd I launched two of the three amphibious attacks - one at the Southern entrance to the Suez and another midway up the Suez on the SA South-West coast. I launched my attack on Riyadh a the same time - shock and awe.
On Aug 25th, the Northern force had landed nearly unopposed and now was making its way South-East for San'a.
I encountered one SCUD missile launcher without any missiles - perhaps the Saudi that owned it was over-drawn on his American Express card.
The second more Southernly force encountered heavy resistance, but due to the sheer size of the landing was soon in charge of the entire Southern tip of SA.
Back in Riyadh, the attack was on -I called up every air wing in the area to soften up the Saudi positions prior to sending in the armor, mobile infantry and attack helos.
Starting out with just attack helicopters would have been foolish, since (as usual) the enemy positions were just covered with hand-held AA battalions. I needed to have the "Mid Air" aircraft take out the AA first.
There is also no use in wasting missiles of such a strongly AA protected position, until the mid-air and ground units can take out the Stinger and Mistral units.
I must say that the aircraft were not very effective, I watched as five F-111 Bombers made repeated passes over a lone AA position and the enemy unit's health bar did not change a bit. I checked the planes's Rules of Engagement just to be sure that it could attack Units and Aircraft - they were configured correctly.
All of the bombers were armed with ALCM missiles, most of which I am sure just got eaten up by little Saudi guys with launchers on their shoulders. The B-2 bomber attack was impressive though - twelve planes with about 50 ACLM missiles each - wow. But again I have no BDA to measure how many ACLMs were wasted by Saudi Stinger battalions.
After the bombers had done what they could, I sent in the A-10s to take over their first air strip that I had just liberated. This air strip's hex ajoined the target hex of Riyadh, so the A-10 continually circled the air strip and took out a piece of Riyadh on each pass.
By now several enemy front-line sites, including Riyadh itself, were clear of AA, so I sent attack helos to assault them.
Then I started attacking with land units, protected with MIM-204 and MIM- 104 AA cover. The National Guard were among the first to try to take out enemy Stingers and Mistral AA on the enemy line. They were not very effective and I had to send large numbers of them to the hospital.
I kept trying to target enemy AA so that I could safely bring in my horde of attack helos. The tactic was not very effective - while I targeted the AA on a hex, the other combat units on the hex would pound the heck out of my single-minded attackers. Finally my land units concentrated on Reyhad itself and broke thru.
On August 27th Riyadh fell and soon the Saudis surrendered. I won 7 billion dollars from the Saudi treasury. Saudi MC was down to 28%.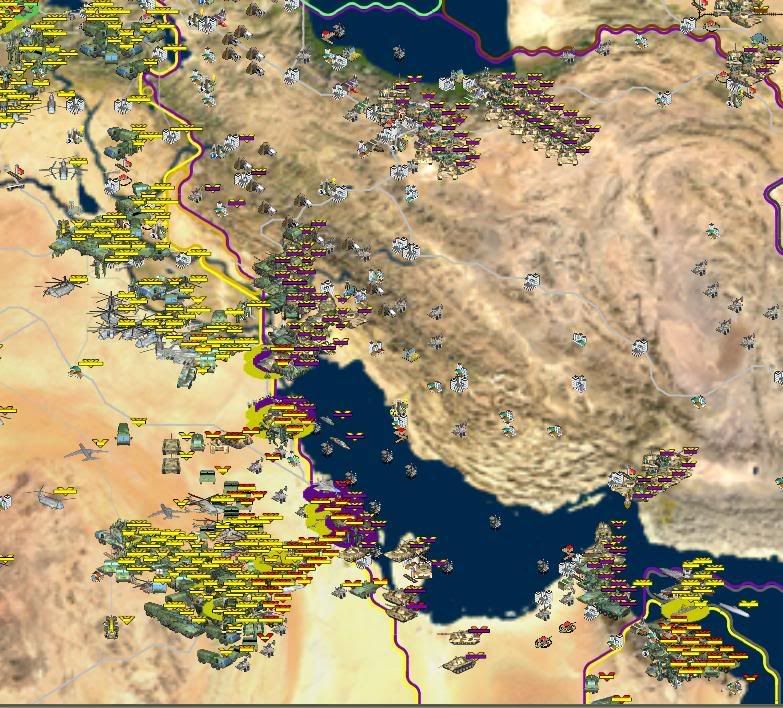 The really cool thing is that I did not have to slaughter all of the Saudi units, or take heavy casualties myself. Instead hundreds of them have turned coat and are prepared to take back those portions of SA that changed over to Iran at the moment of the surrender.
NOTE: On mid-eastern oil - after I captured SA, I spent about four hundred BILLION dollars on re-vamping my oil fields around the world. Anywhere in my empire that I could find a 65% oil well, I surrounded it with other wells down to 50% in size. Any oil field that contained over five facilities got inprovements such as sea piers or railroads. Large oceanic oil fields, like Alaska's North Slope, got a dedicated sea port, in order to spike the supplies to the oil facilities.
I then started to break away Engineers from the combat zone to expedite the new construction in Saudi and Egypt.
So far (01/29/22) the effort has not paid off - many of the new 50% wells have been deactivated due to an oil glut. My oil facility portfolio contains about 1/2 oil facilities that are deactivated or building. The only thing that is certain is that any oil facility under 50% potential is going to be scrapped. Industry efficiency is at 80%. I am hoping that now that I have captured most of the world's oil that other nations will start buying oil from me, even though they are at war with me.
03/28/22 - All oil field construction is completed and I have decided upon a management strategy - I will maintain four or five "super-fields" of oil and deactivate the rest. Eventually, once the concept is proven successful, the many of the deactivated fields will be scrapped.
A "super-field" is a cluster of high-quality fields or derricks with expensive improvements like rail roads, supply depots, sea piers and sea ports, that boost the supply environment of the super-field above 32%.
Each SF is build around a nucleus consisting of one or more very-high quality wells of 65-100% quality. The nucleus is surrounded by all wells that are 50% quality or above. My oil production effeciency is now 83% and I expect it to improve once all of the improvements are completed. I have been successfully running two such operations on the Alaskan North Slope for quite a while. I have constructed new ones in and around the Persian Gulf, the Gulf of Mexico and in Northern Egypt.