Game Date: 02/18/2021
Real Game Duration: 37 days
How do you solve a problem like Israel?
The whole country is an armed camp. Make a reconnaissance flight and the picture is unbelievable - units are stacked on every hex, except for some small streches of desert. And everything is protected from the air by dozens of FIM AAs. In their Eastern desert are rows upon rows of stacked hexes of armor! They start out with a MC of 70%.
Step over their borders and you are attacked by tank COLUMNS and multiple aircraft. For every base or air-strip that you take or destroy, they have five more. And the country is big - they control the whole Sinai peninsula, Jordan, Lebanon and Syria. I dreaded the certain blood-bath that would ensue if I were to make a frontal assault.
They have some weaknesses:
1) They only have one air base.
2) They only have two oil wells left, one right by our border.
3) Their capital is only three hexes away from their coast.
4) They have a weak navy.
OK, their only airbase is nearby so if I destroy that, then their multitude of aircraft can still fly, but when damaged they have no place to repair. Then maybe we can wear them down.
I took a string of oil wells along the Suez canal when I took Egypt. Some of them might have been Israeli. One of their two current oils well is on the far East side of their country in Syria, but it is possibly reachable by long-range bombers. I tried this deprivation tactic on Canada once and it did not work - they continued to trade for oil and continued to get all of their supplies from somewhere.
If I destroy their navy, maybe we can get close enough to their capital to capture it.
They have been quiescent until now. They only time that they attacked me was when I took the Cairo area. They were turned away by my city-entrenched units and by the Suez canal. The canal is only crossable at one point from Israel and I destroyed the bridge. I control the canal, but they can station tanks on their side and take pot-shots at any shipping.
The battle for Israel began quite by accident. Back in the CONUS, I had deployed some armor and ordered it to sea transport to the Middle-East. The AI obligingly called up sea transports units - including 63 AOE that I was parking on the Horn of Africa, at the Southern mouth of the Red Sea/Suez canal.
On February 19th, I was occupied elsewhere when I got the warning message "AOE lost at X:475 Y:179". "What now?" I thought- these units are like children, you have to watch them every minute. Five Israeli tanks were taking pot-shots at my passing AOEs, who were obediently trying to go North along the canal into the Med for a long trip to CONUS.
I stopped all of the ships, but the AI kept grabbing them away. Finally I canceled the transport of the armor back in the CONUS, in order to get these 63 ships to obey me. Then I backed them up into the Red sea.
The Israelis have a string of missile patrol boats nestled among a bunch of their transport ships nestled in the Akaba waterway off the Red sea. I discovered this when I started to pack my own little transports there.
I brought up some combat helos to blow up the nearest troublesome patrol boats.
I couldn't easily cross the canal to go after the offending tanks, so I brought up fifteen BGM-109 Gryphon mobile launchers with MGM-52 Lance and AMCMS missiles and blew the tanks up.
On February 26th I went to work on their Navy. Their patrol boats and transports down South are quiet and need not be touched - maybe I will inherit them if I take down Israel.
The only other naval presence is along their Mediterranean coast. I made a sweep of that coast with my wolf-pack of SSN-8 Walrus submarines. Sure enough, there were about three submarines patrolling there, all of which my Walrus's destroy. They also took out several picket frigates. By March 5th, the coast is now clear for my own naval forces.
On March 7th I attempted the destruction of their single air-base. Almost everything in Israel is protected by FIM AA, rendering both planes and missiles ineffective. This airbase was no different. I pulled up to the shore-line with four SSN-688, ten SSN-751 and one SSN-21 SeaWolf submarine, loaded with Tactical Tomahawk missiles.
The air base was located just one hex from the coast, and it was guarded by just one FIM-92 battalion. The facility in front of it had a lot more FIMs in it, but I stationed my subs to shoot around it. They all opened fire on the Israeli air base.
The attack failed. I had tried to divide the missile fire between the target and the FIM defender, but it did no good.
[Note to GB - hand-held FIM-92 Stinger and SA-7 AA sholder-fired missiles, with IR detectors and contact fuses CANNOT knock down other missiles. Only radar guided, computer controlled AA can do this. Currently in SR2010, one Stinger stallion's can neutralize a missile attack on its hex from a single attacking unit, consisting of hundreds of missiles.
THIS IS WRONG!
Part of the problem is the air defense modeling - there are three classes of air threat -
Close: low slow helos and tactical missiles.
Medium: fast-movers - high-speed aircraft or ballistic missiles.
High: the SR-71 Blackbird or a ballistic missile.
A tactical missile is not a close threat and is nothing like a low, slow helicopter. It should have its own classification, or should be classed as Medium, like the Lance]
On March 13th, I went after the nearest oil well - the one by the border. I moved my mobile missile launchers further South to avoid some enemy FIM AA out on the desert. This attack was successful - the oil well was toast.
On March 15th I re-tried attacking the air base, this time using my 15 mobile missile launchers loaded with Lance and Tomahawk missiles. The Lance missiles took out the FIM AA and the remaining missiles destroyed the air base.
The capital still seems impregnable, so I decided to try to take out their coastal air strip two hexes North of the sea pier. It is protected by four FIM battalions
I lined up six carriers full of planes, plus two LHAs with jump-jets along their coast for CAP. Then I moved in a task force of cruisers with a large screen of DDGs and FFGs. With four FIM battalions on guard, I didn't even bother arming my ships with missiles. I brought the ships off-shore of the air strip and attacked the FIMs with naval gun-fire.
But guess what? THEY DO have missiles. And they will REALLY shoot them at you.
My attack was ineffective and my ships were heavily damaged. Some of the Israeli planes were damaged by my CAP. Since their aircraft now have nowhere to repair, this is a good thing.
I was running out of options - they were as strong as ever. Now that I had started actively attacking them, they were becoming more active along the Suez border. After my naval mis-adventure, I looked and found about thirty enemy units, mostly tanks, trying to attack from the Sinai. With the opportunity to take out that many enemy units, I amounted a strong counter-attack.
I called in all of my tank killing aircraft, including F15E, F-16Cs, A-10, C-130 Specter gunships and AHM-01 Rotor Storm, Blackhawk, Apache and Longbow attack helicopters. One half of the attackers were clustered in the Northern Suez, near the Med, so I called in my BB-7s and my new DDX-21 Destroyers to hit them with naval gunfire. I also deployed my F15A and F15K Interceptor aircraft to handle the inevitable Israeli aircraft.
This worked fine, but then they started to run away for repair before I could finish them off. Now I really got worked up - I deployed my reserve armor from Cairo - M1 Tanks of various models, dozens of M106 Dragon Fur and M109A3 Paladin mobile artillery, Engineers, AT LOSAT AAs and more Strykers. A new supply of AT Stryker MGS had started to arrive at the sea port form CONUS, so I sent them too. I have my premo MIM-201 mobile AA lined up protecting my border, so I sent them along for AA protection.
My invasion was well underway when I discovered that I had forgotten supply trucks (again). I had about 75 of them stashed away at Alexandria, so I re-deployed them and sent them running after the armor. My new plan was to make an incursion to cut off the attacking units from their repair base and kill them. That accomplished, while I had the force in Israel, I would cut South-East and destroy one of their small bases in Jordan.
This would put one of their alternative energy plants behind my lines, so I could destroy that too. I had no intention to stay, since the Suez line was so defensible.
I went after the enemy units, keeping my aircraft away from their numerous FIM AA. Once the ground units had neutralized the FIMS, my air could attack freely. I surrounded and destroyed all of the enemy units. The counter response from the main body of Israel was surprisingly muted. I expected them to release their hordes of units upon me, but that did not happen.
Once all of my intended victims had succumbed, I turned the force South-East for the isolated base. The base was heavily guarded - I hadn't done my recon and it had looked undefended. But I over-came the defending enemy units and took the base. The problem with taking a base is that it is hard to destroy then - you have to either "Destroy" or "Scrap" it, and these both take a long time.
While I was waiting for the captured base to melt - I decided to take out the final Israeli oil well. I launched two groups of my long-range bombers- eight B-2s and about ten F-111s. The B-2s were filled with air-to-ground missiles, but the F-111s were not. That is OK, since bombers have an intrinsic bomb-damage ability, even without missiles.
The bombing runs went OK. The fly-over revealed the breath-taking number of armored units lined up in the Eastern Israeli desert. But the path was clear for the bombers and both groups arrived OK. The F-111 did their bombing and the B-2s launched their missiles at the oil facility. The F-111s went bingo fuel pretty quickly and departed - thru the enemy cities! I had to quickly grab them under manual control and actually pull them out of heavily fortified enemy territory. Thankfully they were not heavily damaged. I led them by the hand back to their base.
Meanwhile the B-2s had emptied their missiles and I had instructed them to bomb the oil facility. When I want back to look, they had given up and were headed back, also into Indian territory. I pulled them out and checked their fuel. These things can fly for 5500 KM and were not near bingo fuel. So I sent them back to bomb the oil well some more. They wouldn't go. They insisted on going RTB so I just let them go back using the safe route.
[Note: the Hex Information screen that you get by pressing the space bar will show info on enemy hexes too! You can use this to perform a BDA on your bombing targets.]
Once the B-2's RTBed, I sent the F-111s back to finish off the target. They did just that and destroyed the oil well before I needed to send the B-2s for a second run. Then they headed back into the enemy units again! I had to rescue them a second time.
OK, it was time to retreat. I started withdrawing my units back West of the Suez. They were about 1/3 of the way back when I noticed that the indicators on the enemy units near the front were staring to turn red. They were running out of FUEL! Hold your horses I yelled to my men. I turned everybody around and brought them back to where the destroyed base had been. There were three hexes between my large force and the Israeli capital I also had to get around a lake that I guess represents the Dead Sea.
I also went back to Egypt and deployed EVERYTHING that I still had in reserve. I was gratified to find about 20 National Guard. I released the remaining supply trucks fro Alexandria. I emptied out both big bases around Cairo - everybody went in an all-out effort.
It took a while for everyone to arrive in Jordan, but when they did I selected them all and pointed them towards Jerusalem. Israel had a military confidence of 67%.
Whenever an opposing unit on the battle line turned red, I sent units to attack it. Oil or no oil, resistance was fierce, as I had initially expected. I had wanted to disassemble Israel, to subtlety make it die from a hundred cuts so that I could take all of that armor lined up in the desert. Now here I was banging on it with a hammer, starting the blood-bath that I had dreaded.
The casualty's went slowly but I steadily progressed those three hexes until my units were just outside of the capital. I really hoped that they would surrender if I took their capital. Fat chance!
All enemy units disappeared from the capital and my units rushed in. I kept listening for the audio message that my men had taken the capital - it never came. I did soon get an E-mail stating that I had gotten 1.2 billion dollars from the Israeli treasury.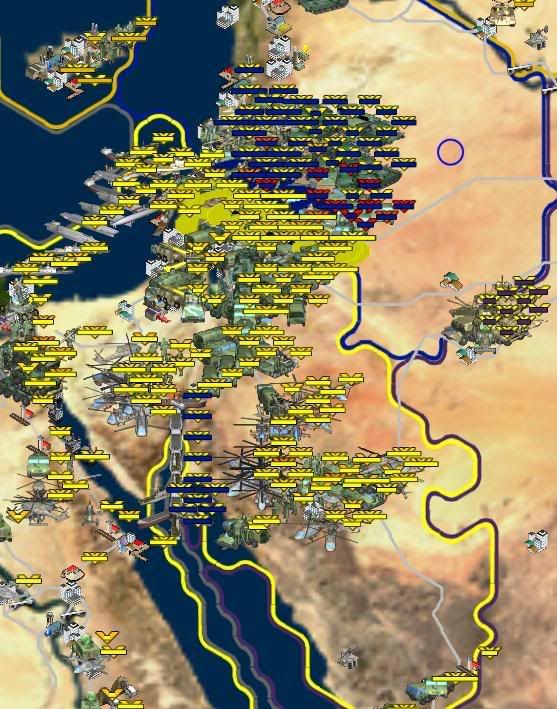 Soon they moved their capital farther North to Halab, in Northern Syria . My men were still a long way from there, but we had taken at least half of the cities and towns of the whole country. Israeli MC went down to 37%. No sign of surrender. My guys kept pushing ahead to completely take the main body of towns around the capital.
I decided to play my trump card - I deployed two large airborne groups that I had been sorting out and building for months. Neither one was near the new capital, but C-5 transports really don't mind. One was near Dlaga on the South Nile and the other was in Sidi Barrani on the Med. I deployed all of my local C-17s, C5s and C-130s for a big air-drop on their new capital.
This was a good idea and it worked fine. Some of my transports got a little bent, but thousands of Light Infantry, Marines, Green Berets, Special Forces and Airborne were dropped with their support Engineers, LOSAT ATs, M113s, M-119s, FARPS and AA, just as planned.
But the capital wouldn't fall. At first I didn't notice, since all of the airborne units did not arrive at once. But as the drop went on, there were so many units being dropped on the capital that they started to spill over into Turkey. And still, lost in that sea of yellow markers, there reminded one or two blue Israeli markers, an indication that the city had not yet actually fallen. My yellow border appeared East of the new capital in Turkey and them West of the capital, but not around the city itself. By this time my main-body force from the West had reached the new capital on their own and joined up with the airborne force.
Still nothing happened - no fallen new capital, no audio messages, no E-mail. I directed the main body to head towards the Med and take Tel-Aviv. They did and I looked around - there were a few coastal towns that had been by-passed so I ordered my units to finish those off.
Finally on April 28th the bell went off and the big yellow message at the top left of the HUD announced that Israel had surrendered. Whew!
I didn't get any more tribute, all of my lovely new, shiny tanks, that had been lined up so neatly in the desert were now destroyed. I can't believe that my guys destroyed all of those tough units.
I got the Southern Israeli fleet of transports and missile patrol boats. It turned out that they had been hiding a large fleet of submarines down there, so I got those too.
They surrendered with an MC of just 8%.
Post mortuary:
I lost 250 units in this operation and 110,000 troops.
Israel lost 800 units and we can estimate 400,000 troops.
My military now has 2.55 million personnel.
This loss was unacceptable to me, so I re-played it and lost only 150 units and 10,000 fewer men. Here is what I learned:
1. Sap their air strength with a line of aircraft carriers and planes off their Northern coast. They will need to be screened at first with a lot of combat vessels with good AA. ASAP take out their only air base, so that the planes that you damage with your carrier aircraft have no palace to repair. After a while they hide at their air-strips and are not nearly so frisky. The air base in on the coast and it has AA. You can suppress the
AA with naval gun-fire, while drawing off the tanks and missile launcher with a ground assault from the West. Once the AA is suppressed, hit the air base with a Tomahawk assault from nearby submarines - use at least eight.
[NOTE: Counter to my previous belief, you can use a missile attack to overwelm and destroy a facility defended by one or two FIMS. You need to "Fire Missile" , "Advanced Order" and "Attack Facility" . As the attack progresses, all units will begin to take damage (first?), then the facility will degrade and hopefully destruct. It takes a LOT of missiles.]
2. Take out their oil. There is one oil well by the border, take it out with planes or missiles. The other one is at the far North-Eastern end of the country and your Tomahawk missiles will be eaten up by Saudi and Israeli AA. Invade the South-West Israeli desert, or do an airborne drop on the nearby Saudi base, take it and then take the single Israeli outpost on the desert there. That will clear enough of the AA that you can access the oil well with Tomahawks or bombers. Taking their oil will really slow them down and solves the problem of their air-cover too.
3. You DO have to invade them and fight unit-to-unit up to their capital, but do it slowly. Gradually move your line East AS THEY GIVE WAY. Aim prongs of you attack at their MANY bases, not at cities or troop formations.
Go slow, take bases only, wait for them to give way - remember, they are low on gas. I accomplished this with no heavy armor, heavy AT, heavy artillery, light infantry, lots of helicopters and supply trucks.
4. They WILL NOT GIVE UP. After you take their capital, they still have 40% MC - what chutzpa! They will keep moving it North-West until there are no more Israelis. Their final capital will be at Halab - air-drop there as soon as you take Jerusalem , otherwise your main force will get there at the same time as your airborne. Keep up your main assault towards Halab. You want to have plenty of fresh units at Halab when Israel surrenders, because then you will have to contend with the invading Turks!
Finally - the strangest thing happened after my second invasion of Israel - you remember all of the neat rows of armor in the Israeli desert that I longed to inherit? They mysteriously appeared after the Israeli surrender, in a different place - in the Western desert by the Egyptian border. They were arranged in large, concentric circles. All of them had red indicators and were nearly depleted. Too Weird!