December 8th, 2029 - Australia surrendered and I began the arduious job of evacuating my units from that continent and dismantling the Australian and Indomaylasian bases that I constructed for the Australian campagne.
I had previously constructed an extensive infrastructure of roads, bases and air strips along the Russian coast on the Sea of Japan, and down the two wilderness penisulas of Sakhalin and Kamchatka. These reach down Southward towards Japan's Kuril islands, thru the Russian towns of Yuzhno and Petropavlosk.
The battle of Japan was my last in this game, so in order to not miss out on using the latest high-tech weapons, I started a crash production run of M5A Kimmit EMG Tanks with laser cannons and Exoskeletons. I used bases near the Sea of Japan so that I would not need to move them too far to get them into the battle.
NOTE ON EXOSKELETONS: The unit's statistics show that it travels at 0 KPH. This is not true - it moves very quickly for an un-mounted unit.
Jan 22, 2030 - Japan started out with a remarkably low MC of just 25%. China and Russia must have mistreated them before I got a chance to.
My strategy was to move my convoy of troop transports from Australia to Valdivostock, just North of Korea, on the Sea of Japan. This would put them in a good position to make an amphibious assault on Japan's home island at the Maizunu sea pier just West of Kyoto.
The tough part was to get them past the Japanses fleet guarding the straight at Nagasaki.
In Australia, I segregated the airborne units from the non-airborne units and sent the non-airborne ones back to Darwin in Northern Australia at the complex of sea piers there. Once all of the stragglers arrived, I planned to sea transport them all to Russia.
February 19th - All twenty of my CVAs have been combat loaded with attack aircraft and were anchored around the island of Formosa, awaiting orders to attack Japan.
February 27th - I initiated actual combat with Japan by nibbling away at their outlying islands, starting with the tiny island group of Ryukyu, which includes Okinawa. Although these small islands in the East China Sea were un-inhabited, touching them still got me a face full of enemy aircraft from Okinawa. I brought in some aircraft carriers to supply air cover, then landed some Airborne Engineers onto the two small, Southern-most groups of Ishigaki-Jima and Miyako-Jima.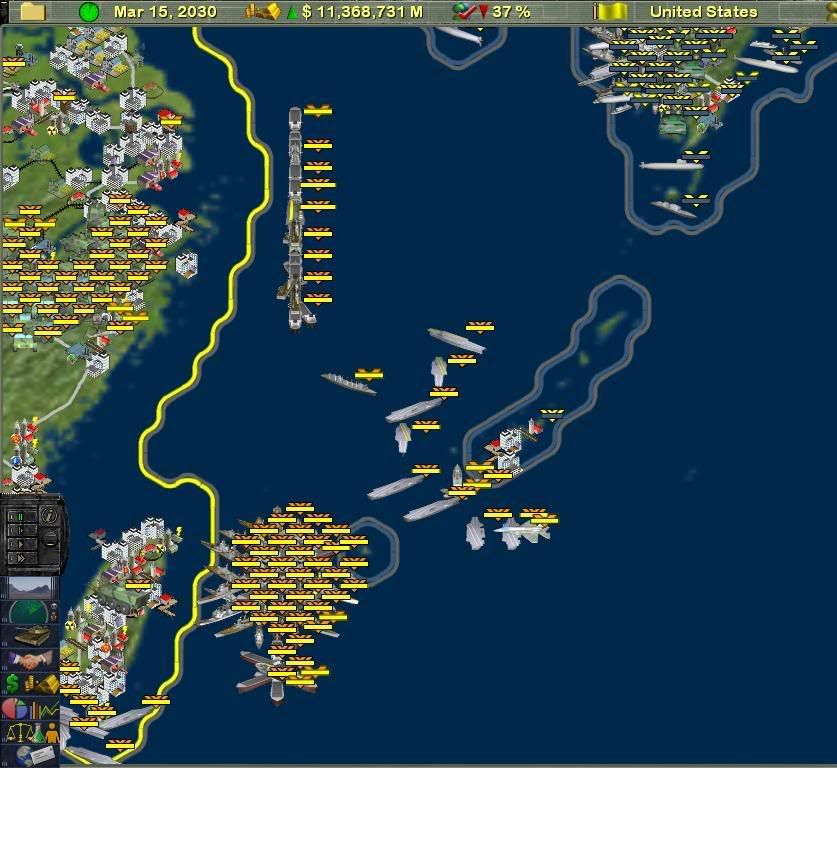 Next I moved North-East to Okinawa itself. First I surrounded the island on three sides with aircraft carriers. Then I flew in a large airborne strike team of Marines, M118A APCs, LOSATS and moded AB supply trucks (my replacement for the slow, unwieldy FARPS). They easily took the island.
I ordered the whole army of 668 units to sea transport North-West to Valdivostock. One hundred and thirty six transports responded to the call and soon there was a huge column of transports and gator ships headed for Oriental Russia.
As my convoy approached the sea of Japan, I started to sweep for Japanese submarines, using my own S-44 Shishumar subs. Surprisingly, no subs were found.
The convoy self-routed itself to Valdivostock, a route that unfortunity passed too close to the Southern tip of Japan, South of Okinawa. Before I caught the error, several transports were attacked by the enemy and badly damaged. I had to re-direct these, unload them and send all units involved in for repair.
I then had to manually intercept each ship in the convoy and re-route them thru Okinawa.
March 15th - The convoy has passed Okinawa but cannot pass the Japanese fleet at Nagasaki. I parked the 135 transports in the Yellow Sea, off the Chinese coast at Shanghai.
The Australian airborne army of 280 units remains "Down Under". I intend to fly them out once I have completed a complex of landing strips for them along the Sea of Japan. I already have a huge reserve force of airborne troops on the Chinese coast North-East of Hong Kong.
In addition, a huge army of 858 units stood assembled, awaiting orders in the Chinese provence of Guangdong, at Canton, West of Hong Kong.
April 1st - In order to take control of the critical straight at Nagasaki, I ordered my combat fleet to take the island of Cheju, at the Southen tip of Korea. They did and quickly occupied the sea pier on the Western side of the island. I entrenched an airborne Engineer in the small town there.
This touched off an epic sea battle between the two fleets - mine in the West and Japan at Nagasaki to the East. The two never met, but began exchanging heavy volleys of anit-ship missiles at each other. When the Japanese made the mistake of leaving port and sailing West to attack, I moved up long-range M-111 Excalibre artillery and a dozen missile launchers to the Southern tip of Korea.
Each Japanese ship that approached was annihilated. Nagasaki harbor was soon nearly empty of Japanese combat surface vessels, leaving only their submarines in the vacinity.
April 21st - Construction was begun of an air-strip complex at Hyesan to accomidate the airborne force still stationed in Australia. The force was moved North to the air complex at Darwin from central Australia.
The sixty-eight transports of the convoy were moved to the sea pier at Qingdao to refuel. The rest were sent to Shanghai.
April 23rd - I halted production of M5A Kimmit EMG Tanks and Exoskeletons and all new units, 44 and 165 units respectively, were ordered to move to sea piers along the Sea of Japan, for later transport to mainland Japan.
NOTE ON JAPANESE SHIPS: The DD-981 KDX-III Korai Destroyer can hit aircraft at a range of 283 KM! They also have a smaller DDG that has a range of about 165 KM.
May 2nd - There were 153 empty transports in the Hong Kong vacinity, waiting to load the main invasion force to the West.
High-performance US AA units now ringed the Western shore of the Sea of Japan.
The airborne assault unit air complex at Hyesan was now 60% complete.
May 4th - Three of the eight air strips at the Hyesan complex are operational, so I ordered the Australian airborne army to fly there and unload.
I became frustrated with the way the air transport works - when your airborne unit call for air transport, the only aircraft that respond are helicopters - SHORT RANGE aircraft. Yet the main purpose of aircraft is to move things LONG RANGE. To move an airborne army a long distance, you need fixed wind aircraft with heavy carrying capacity and a long range. But these are the very units that do not respond to a call for air transport, even if you place all of your helos into reserve (which I did).
Well not anymore - I moded all US and Russian transport airplanes to respond to any request for air transport - and it works great!
Now back to the story - once again, the transport's misrouting took them close to the Southern tip of Japan where they begin to take AA from the Destroyer there with its long-range AA weapons. Again, I had to take manual control of the hundred or so air transports as they made several trips from AUstralia to Russia. I re-routed them to a holding point South-West of Korea, then put them on a safe course to the complex at Hyesan. A few air transports (and their passengers) got a little bent.
May 15th - I got irate with Japan and nuked their seaport at Nagasaki. I left the submarine fleet there alone.
Australia is now pretty empty. I left the air complexes and sea ports on the North and South coasts, just in case I need to go back there again. When Australia fell, Japan took New Zealand (only God knows why), but I doubt that Japan will ever move its captial there.
June 26th - I spend a great deal of time retrieving aircraft from Eurasia and putting them into reserve in China. I close a large number of airport and other un-needed bases.
My treasury has now exceeded 12 trillion dollars and all of my industries have big surpluses.
Japanese coastal waters were teeming with SS-573 Vushio, SS-583 Harushio, SS-590 Oyashio and SS-601 Kaigan submarines. In order to get my troop convoy to Valdivostock, I set up P-3C ASW patrols of the US side of the straight and immediately detected and destroyed an enemy submarine. SS-44 subs took up picket duty in international waters inside the straight. A-21 Viking subs swept the waters in the Sea of Japan, along the proposed convoy route, but found nothing.
I finally ordered the troop convoy to steam into the Sea of Japan.
July 23rd - As the convoy approached their destination, I changed my plans - I unloaded about a dozen of the transports at Valdivostock. However, I redirected the balance of the transports to continue North and unload on the Northern island of Hokkaido.
I had planned to take the Japanese Kuril islands first, but when I looked at them again I just said "Why bother?". Instead I went for the BIG island. Let the invasion begin!
The Korean fleet had led the convoy into the Sea of Japan. Another fleet from Australia was now anchored at Korea. I ordered the original Korean fleet to take the enemy sea pier at Sapporo while the invasion transports formed up behind the combat ships.
We began to take anti-ship missile-fire from two enemy SS-590 Oyashio submarines. They reveal themselves when they fire a missile, thru the fog of war. I needed to call in ASW air-support, but first I had to contend with enemy air cover from the nearby JASDF Chitose airbase.
The ASW helicopters were already in the vacinity. I emptied out reserve combat ships at the Valdivostock seaport and had them join the assault of Sapporo. I then moved the combined fleets in closer to provide air cover, being careful to avoid the submarines.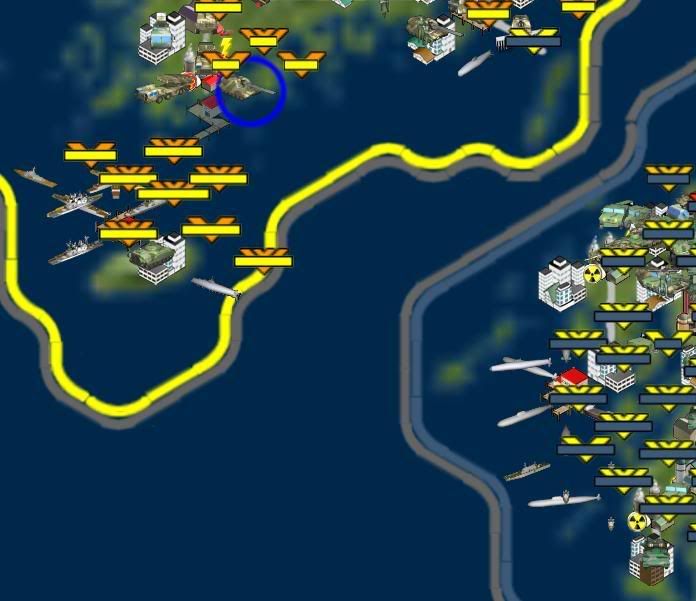 Then I called in the ASW aircraft and vectored them to the enemy subs. The helos made short work of them.
With the subs out of the way, the warships moved in and took the sea pier. The transports landed and unloaded. The units quickly moved towards the airbase. Once they took the airbase, the damaged aircraft all fled South to Tokyo. After several days, all resistance on the island had been neutralized.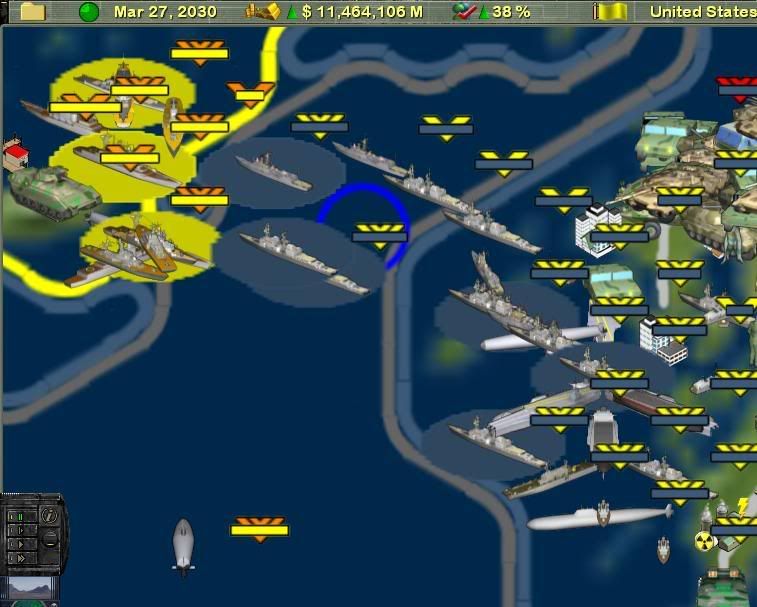 August 11th - The invasion of of Hakkaido was a success. The US was now in control of all of far Northern Japan. Enemy MC has fallen to 20%. All units except for my submarines got beaten up pretty badly, but at this stage of the game I was less likely to worry about the loss of men or units - I had plenty of both.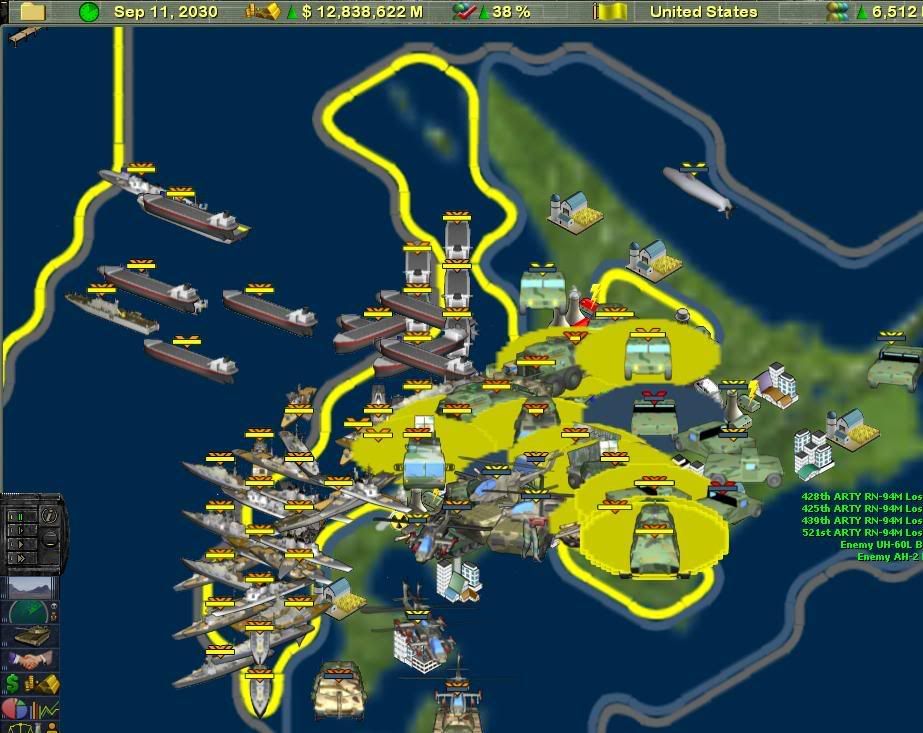 I triaged all involved units and ships and continued with the battle.
August 24th - I ordered 74 Crusiers, Frigates and subs to attack the seaport at Koyoto. So began the main invasion of Japan - the home island of Honshu .
All M5A Kimmit Tanks and Exoskeletons were ordered to sea transport to the beach-head, along with the remaining loaded transport ships. The combat ships quickly took the port and the transports begin to stream in. Units were quickly unloaded, before a large enemy response could be mounted.
The lead units were now just 140 KM from the capital at Tokyo (Tokyo is a twin city) and closing.
Due to the heavy AA in central Japan, there seems little use for the hundreds of airborne units in reserve at the Hyesan complex.
Once all M5A Tanks and Exoskeletons had seemed to arrive at the beach-head, I ordered the 858 units of my main army to sea trasnport to the beach-head. By the time they began arriving, the vanguard of Tanks and Exoskeletons had run out of steam and were retreating, short of Tokyo.
September 7th - Japan's MC was now 17% - I expected them to surrender at any time. Fresh units continued to arrive at Koyoto and I sent them towards Tokyo. Just North of the capital there was an airbase that was also a major target.
Winning was now a sure thing. Only one third of my 3.3 million military staff were deployed. I had 247 units on Honshu headed for the Japanese capital. Japan had 857 land units scattered all over the main islands and 116 aircraft left.
Yet the enemy still had nearly half of a million men left and a whole lot of armor. Fortunitly, not all of their armor wasprotecting the capital. Japan had no source of petroleum, so most of the armor guarding their capital had little red chevrons over them, denoting that they were out of fuel.
Correction! Japan still had THREE oil dericks - in New Zealand! Plink me in the head and call me stupid. I had completly ignored New Zealand!
September 23rd - I had taken one of the two Tokyos and I now had 772 units on Honshu. Enemy MC was 15% and falling.
At this point, it was difficult not to take the second Tokyo, but that is what I intended to do. I had thousands of units (a total of 14,000) that had not had a change to fight.
I deployed all of my powerful attack aircraft - planes and helos.
I gave them the mission of thinning out the enemy units that were not involved in the battle for Tokyo, units in the North and South.
This blitz was twice as intense as the one on Britain one year ago. Surprisingly, this only took an additional 100,000 reservists.
I wanted a grand finale.
As hundreds of bombers and attack helos attacked their targets, I started to divert my units from central Japan to the North and South. Just how low could I drive enemy MC before they would surrender, even before their capital fell?
Two week later I got my answer.
October 6th - The campagne was very successful and I had taken all but the Northern provence of Iwate and the Southern island Kyushu both on the enemy mainland. It was also very wasteful - I lost a lot of aircraft. As is the case with most modern countries, Japan is covered with hand-held AA - ******* FIMS.
October 9th, 2030 - Japan surrenderd with an MC of just 8%. My treasury received $4 billion. Actually Tokyo did fall into US control, but none of my units entered it! Once a country's MC falls slow as 8% their units start to surrender and switch sides. What military assests that I might have won is irrelevant now - the game is over.
It is difficult to obtain these figures, since once you win the game, you can no longer save it or peek in your message box. However the game does perform an auto-save at this point (or it did for me), and you can load that and check out the details, pre-surrender. They do show you the global score-card however.
AND I WON THE GAME!
FELINIS IS THE SUPREME RULER OF THE WORLD