Treasury is still on the rise and heading towards the 4.5 trillion dollar mark. This will help to pay for increased research, military and spocial spending.
My power plants are all nearly finished and will then free up resources that are needed elsewhere.
I am laughing at europe because they lack fuel. So this also leads me to assume that they also lack all the industrial and military goods that they require and this will hopefully also slow them down and lower resistance when i cross europe.
Europe and africe have to be beaten first so that i can concentrate all my forces on advancing eastwards.
However, even though they are out of fuel, i am out of military goods, which means i am unable to exploit their disadvantage. However this will change as soon as my new military goods plants come online and will allow me to continue building units. However if it is still not enough i will have to build another farm wherever there is space for one. Hopefully it wont come to this until i can build fussion plants. this si because i am producing over 30 million m/wh of electricity a day and i think this should be enough hopefully to keep my industry going to at least demand. Then i will expand again in any captured land as i have pretty much ran out of space in my original land.
Treasury has gone to over 4.6 trillion dollars and climbing.
The price of oil has almost reached $20000 a barrel which is over 46000% markup. This is how i am making my vast fortune.
Ok, i just took the pea, 56000% markup and over $23000 a barrel. So never moan when u have to pay over a £1 at the pumps or over $100 a barrel because that is nothing.
Hmm, building are taking forever and so i have built a ring of supply depots around them in order to increase supply so that they build much quicker. Unfortunatly i dont have any engineers because i hate them except for the airborne ones. However, i cannot build any units either, so i am screwed for a while. I am sort of rectifing this, i have put several bases active with orders to build puma apc engineers to overstrength, however, i will have to wait for my military goods production to rise before i can do anything.
Ok i just sold a stupidly high amount of oil for my stupidly high price. Look at how much money it made me. Also i am buying up all of the consumer, industrial and military goods on the market that i can buy. Also look at how much money i have.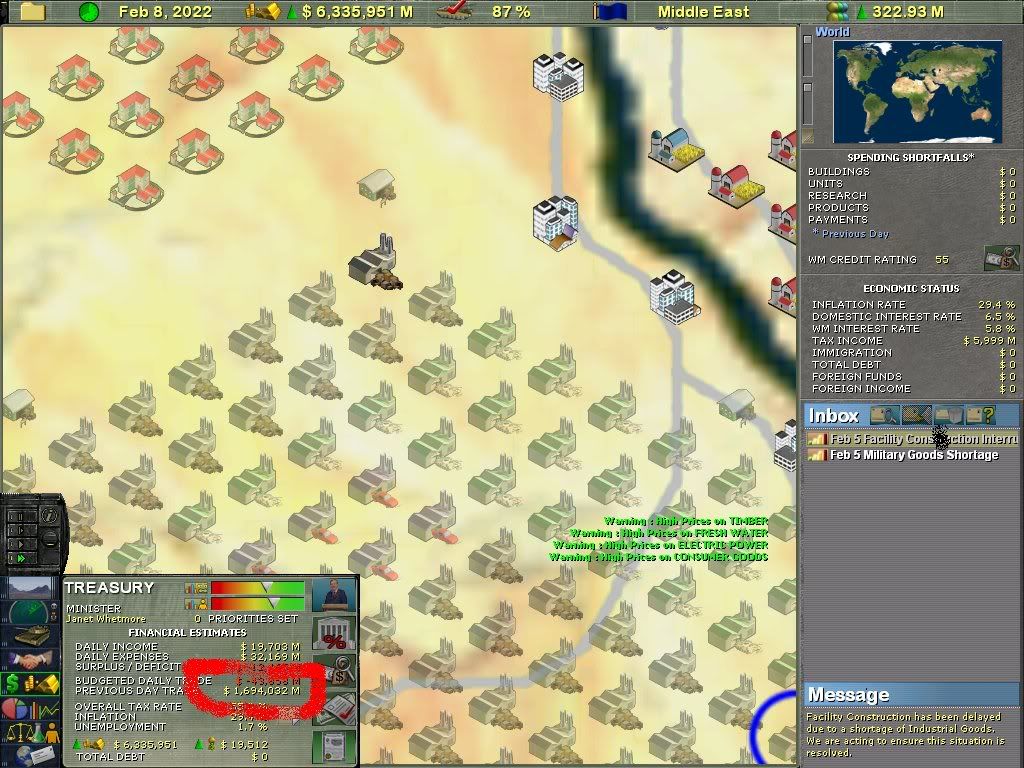 I now have over 6.5 trillion dollars and rising thanks to my oil sales.
One thing i am going to point out is how much i love the limitlessness of the game and i wish other games would have it (especially AOM,AOE). Well done goats on this alone. You have worn me and my comp out before you have worn out the game.